Close Banner
Advertisement
This ad is displayed using third party content and we do not control its accessibility features.
Acupuncture Facial 101: Who Should Try It & What To Expect, Per Experts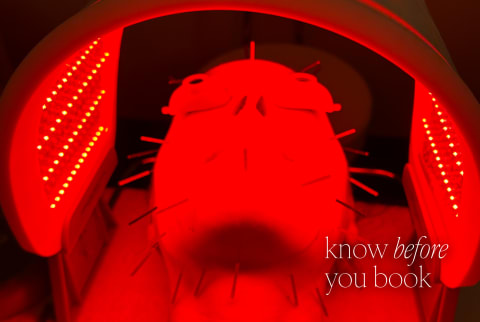 Image by mbg Creative / courtesy of writer
We carefully vet all products and services featured on mindbodygreen using our
commerce guidelines.
Our selections are never influenced by the commissions earned from our links.
Welcome to Know Before You Book, a beauty series where we explore innovative noninvasive skin treatments on the market today—all of which are safe, effective, and designed to improve the health and longevity of your skin. We'll share what to expect, costs, and when possible, firsthand experiences so you can feel confident booking your next treatment.
I've had close to 100 acupuncture appointments over the past seven years—and while my wallet doesn't love the math on that, the results are more than worth it. Still, my nerves spiked a bit when my acupuncturist suggested a facial visit. Did I really want those tiny (albeit painless) needles going into my face?
I'd heard people rave about the benefits of facial acupuncture (think wrinkle reduction1, improved skin elasticity2, and a brighter complexion), so it honestly didn't take too much arm twisting to get me there. After seeing the treatment marketed as a holistic alternative to more invasive skin care treatments, I quickly booked an appointment at my go-to New York City acupuncture studio, ORA.
Here's everything you need to know about my first facial acupuncture experience, plus what to expect if you decide to try it for yourself.
What is facial acupuncture?
Cynthia Gorman, M.S., L.Ac, an acupuncturist at ORA, previously told mindbodygreen, "Facial acupuncture has gained tremendous popularity over the years simply because people are caring more about their skin health now than ever before."
Similar to acupuncture for the body, facial acupuncture is a form of traditional Chinese medicine (TCM) that dates back thousands of years. Thin needles are inserted at various points throughout the face, corresponding to your specific concern or goal.
My personal favorite thing about acupuncture is that the entire body is viewed holistically. Instead of simply applying a topical cream to treat a breakout, an acupuncturist will chat with you to determine what could be causing the breakout (e.g., stress, hormonal imbalances, etc.) and place the needles accordingly.
In other words: Facial acupuncture treats the root cause, not just the symptom.
"Each individual's needs are unique, so we look at any imbalances in the body and treat the impacted organ systems," says ORA practitioner Venessa Lee, L.Ac, DACM, NCCAOM Dpl. "For example, breakouts around the chin and jawline are hormonal so we work to balance their hormones by stimulating specific points in the face and body. We also listen to each patient's skin concerns to see if those might be related to a deeper condition."
Most Western studios (ORA included) pair acupuncture with other facial modalities such as gua sha, microcurrent, and facial massage. This, of course, only adds to the benefits.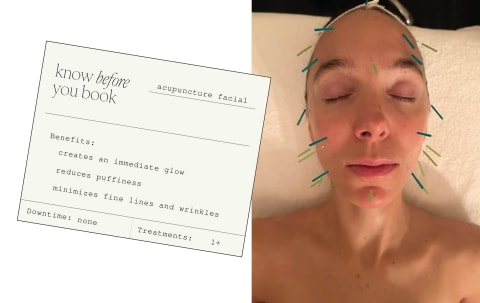 Image by mbg Creative / courtesy of writer
Does acupuncture hurt?
Put simply: Acupuncture shouldn't hurt. Lying with dozens of needles in your body (or face) may not sound like the most inviting experience, but hear me out because it actually is super relaxing.
Everyone responds differently to acupuncture, but in nearly 100 appointments, I've never experienced pain. There have been times when a particular point will cause a dull ache, quick pinch, or a slight tingling sensation, but it's never truly painful—and those responses have always faded within a few seconds.
To be honest, I sometimes don't even notice my acupuncturist has started to insert the needles. And once all the needles are inserted and I'm left to relax, I'm typically comfortable enough to fall asleep.
Benefits of facial acupuncture
Since facial acupuncture is a holistic treatment, it's more of a long-term approach than a quick fix. That said, there are some enticing short-term benefits as well.
Here's a brief look at the short- and long-term benefits of facial acupuncture, according to Lee.
Short-term benefits:
Drains lymphatic fluid to reduce puffiness
Creates an immediate glow by improving circulation
Releases tension around the jaw
Long-term benefits:
Lifts and tones facial muscles
Reduces fine lines and wrinkles
Improves hyperpigmentation
Stimulates collagen production
In another study2, women ages 40 to 59 showed significant improvement in skin elasticity after five sessions.
What to expect from your first acupuncture facial
For my first acupuncture facial, I saw Lee at ORA's NoHo location (which is also where I go for my standard acupuncture treatments). Below, I'll take you through the full experience: photos, videos, and all.
Before
Aside from any mental preparation acupuncture newbies might need, there's really no protocol to follow before your appointment. If your local studio is anything like ORA, you'll enter a state of Zen as soon as you walk through the door.
First, I was guided into the treatment room and instructed to change into a sarong. The room, while set up with supplies and products for the facial, is the same as where I'd traditionally go for my acupuncture treatments. There's a heated treatment bed (just like a massage bed), low lighting, and soft, relaxing music.
Rather than jumping right into the facial, Lee started with a thorough assessment.
She asked me about my skin concerns while weaving in questions about things like digestion, sleep, and stress. I was even asked to show my tongue, which TCM practitioners believe to be a reflection of your overall health.
From there, Lee had me lie down on the bed to begin the treatment.
During
I'll walk you through my entire treatment, but here's a brief snapshot of everything my acupuncture facial entailed.
Light facial cleanser
Lymphatic facial massage and gua sha
Microcurrent
Needles inserted in face and body
Red light dome placed over face
Relax for about 15 minutes!
Needles are removed
Light facial spray and moisturizer applied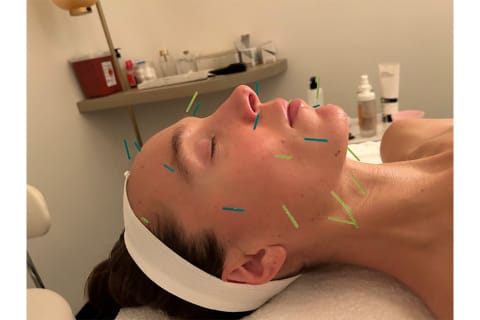 Image by mbg Creative / courtesy of writer / courtesy of writer
My skin was bare, so Lee only used a light cleanser to start. From there, she rotated through a lineup of lymphatic facial massage, gua sha, and microcurrent.
I was shocked by how light the pressure was on the lymphatic massage and gua sha—and even more blown away by the results. I had traveled the day prior, so I was holding a particularly high amount of fluid in my face. Lee showed me a mirror after doing just one side, and there was a clear difference between the two in terms of puffiness.
The microcurrent was fairly similar to the at-home devices I use pretty regularly. The technology is meant to lift and tone the skin while minimizing the appearance of fine lines and wrinkles. Lee spent a few minutes on this before moving on to the acupuncture itself.
Remember those seemingly random questions Lee asked me a few moments ago? Here's where those come into play.
My main skin concerns were redness, fine lines, dullness, and (you guessed it) puffiness. Lee's questioning boiled these issues down to stress and sleep irregularities, so she chose the insertion points based on that. Plus, since my standard acupuncture treatment centers around hormonal imbalance, she added a few needles to those points as well.
Lee says the number of needles depends on the individual needs, but it's typically between 15 and 25. Most are on the face, but in my case she did put a few on my ankles, arms, and hands. The facial needles are inserted at an upward angle, which Lee says helps lift and tone the muscles.
Like acupuncture for the body, the needles don't hurt when inserted. Sometimes I'll experience a quick pinch or a dull ache when receiving regular acupuncture (never painful, I promise!), but I honestly didn't feel a thing with the facial needles (perhaps because they're slightly thinner than those used in the body, per Lee).
Once the needles were inserted, Lee put a red light over my face, placed goggles over my eyes, and left me to relax for about 15 minutes. At this point, any concerns about needles in my face had completely dissipated. I didn't even feel aware that they were there—so much so that I could have fallen asleep if I was left alone for any longer.
When Lee came back, she quickly removed each needle, applied a facial mist and moisturizer, and left me to change and head out on my way—but not without a refreshing anti-aging tonic, which she said included "adaptogenic herbs to boost yin and promote a youthful glow."
After
One huge perk of facial acupuncture is that there's really no downtime. Per Lee, "Some individuals may experience minor bruising or redness that will go away within a day or two."
When I looked in the mirror post-treatment, my skin was glowing (and I don't use that word lightly!). It looked noticeably lifted, with way less puffiness than when I entered the room.
I did wake up to slightly red skin the next morning, but I soothed it with a light repair cream, and the redness was gone by early afternoon. After that, my clear, bright complexion remained.
My skin had such a glow, I didn't even want to wear makeup. I had an event that day, so I opted for my favorite tinted SPF.
I'm lucky in that I don't experience facial tension or jaw troubles very often, but I do have friends who swear by acupuncture for those issues alone.
For me, though, the undeniable glow, incredible sense of relaxation, and sculpted cheekbones were enough to leave me curious about what the long-term results could be.
Shop my aftercare favorites
How much does an acupuncture facial cost?
The cost of facial acupuncture will vary depending on where you go. While the service is offered at most acupuncture practices, it runs the gamut from a few needles to the full-blown facial experience I got at ORA.
The ORA acupuncture facial costs $475 for the full 75-minute service and $250 for 50-minute follow-up maintenance appointments.
Acupuncture appointments are not typically covered by insurance, but some practices (ORA included) do accept FSA and HSA payments.
Who it's best for & who shouldn't get it
If you're terrified of needles and just can't get past that aspect, facial acupuncture isn't for you. It's also not recommended for anyone with an open wound, rash, or infections. If you're unsure whether acupuncture is right for you, it's best to consult with a medical professional.
As for who should try an acupuncture facial, I'd recommend this treatment to just about anyone who wants a quick glow-up or is willing to keep up a regular treatment plan to address concerns like wrinkles, hyperpigmentation, and fine lines. From what I experienced, it's an excellent alternative to more invasive treatments. I'd do it for the lymphatic drainage alone!
The takeaway
Acupuncture is definitely more of a long-term approach to smooth skin (compared to neurotoxins like Botox); my immediate results were enough to make me want to book a standing appointment. Since there's virtually no downtime, I'd recommend trying an acupuncture facial before your next big event.

Carleigh Ferrante
mbg Commerce Editor
Carleigh Ferrante is the Commerce Editor at mindbodygreen. She is a certified Health & Nutrition Coach and a born and raised New Yorker with a B.A. in Creative Writing and Psychology. Her work has appeared in Bustle, The Zoe Report, PureWow, The Everygirl, and more, covering topics such as fitness, travel, home, fashion, beauty, and dating, sex, and relationships. When she's not testing and reviewing products and services, you can find Carleigh training for her next World Major marathon, planning her next vacation, or interviewing experts on her dating podcast, Mostly Balanced.