This One Minimal Makeup Trick Is A Shortcut To Bouncy, Light-Reflecting Skin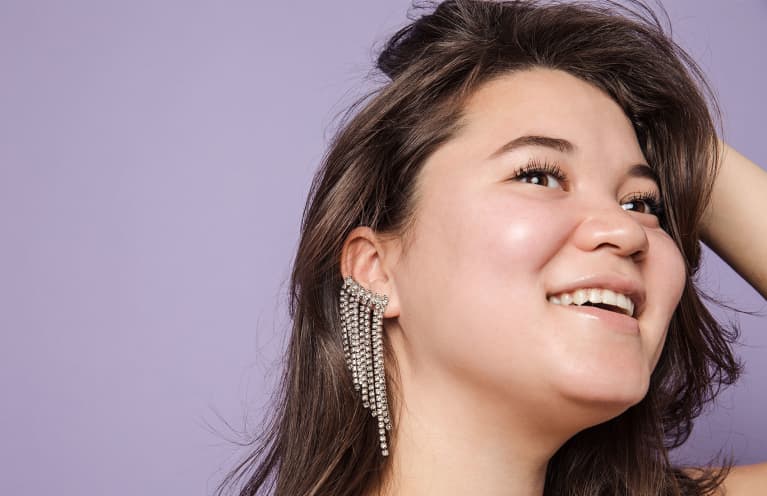 Our editors have independently chosen the products listed on this page. If you purchase something mentioned in this article, we may
earn a small commission
.
It's that time of year: The temperature heats up to a rolling boil, and the coveted "sun-kissed glow" becomes the most popular phrase in the summer beauty lexicon—you know, that natural luminosity that stems from days spent under the sun. We'll spare you a lecture and leave you with this friendly nudge: Shielding your skin from UVA and UVB rays is (and always will be) a top priority; slather on SPF, and fake the elusive glow with makeup.
But sometimes it's hard to nail that soft, gentle glow—the one that seems to radiate from inside. We get it! And on especially scorching days, the thought of caking on makeup seems like a fool's errand.
Allow us to introduce you to the hero product of the summer: glow drops. The bedrock of a subtle sun-kissed look, these nifty vials can do it all.
How to use glow drops for lit-from-within skin. 
First, let's break down the slew of products you can find on the market: At their core, "glow drops" are essentially liquid highlighters, so feel free to snag your favorite shimmery shade. We love Maya Chia's Highlight of the Day for a pearly sheen.
Then you have bronzing drops (like Pai's Impossible Glow) that can mimic a tan without the streaky mess—or the sun damage. Or, if you're simply looking to amp up the dew, opt for a jellylike serum such as Glow Recipe's Watermelon Glow Niacinamide Dew Drops; you'll get that glazed doughnut result without any shimmer whatsoever.
No matter which type of drops you have, you have a few routes to choose from—each provides a slightly different level of glow:
1.
Mix into foundation or primer.
The most classic way to use glow drops is in your first makeup step—be it foundation, primer, tinted moisturizer, BB cream, et al. "Add a few drops to your foundation until your desired level of post-vacation glow is achieved," says makeup artist Alexandra Compton, product development manager at clean beauty retailer Credo. You might want to take it slow, especially if you use those bronzing drops, so you can start from a gentle color and work your way up to a deeper hue.
2.
Mix into your moisturizer.
On barefaced days, you can do the same with your moisturizer: Simply mix a few drops into your favorite moisturizer and apply as usual. Just one caveat with the moisturizer route: If you're partial to a lightweight water cream, make sure you use a water-based highlighter when you mix.
"[An] oil-based highlighter is less likely to play well without an emulsifier holding the formula together (could cause pilling or patchiness)," says Compton. She touts ILIA's Liquid Light Serum Highlighter for all your water-based creams.
Why stick to only a sun-kissed face? "My favorite way to use glow drops is on the body," Compton adds. She suggests mixing a few drops into a dry oil (like avocado, squalane, or grapeseed) and slathering it on your décolletage, shoulders, and legs. (Note: All "dry oil" means is that it sinks into the skin quickly, so it won't leave you with a slick, greasy residue.)
4.
Apply directly to skin.
It may seem counterintuitive, but Compton also loves layering highlighting drops over (gasp) highlighter. By combining a liquid and cream formula, she says you can really achieve that "glossy, reflective 'dolphin skin' look." Or you can always use the glow drops on their own, tapping it onto your cheekbones, eyelids, brow bone, and cupid's bow for some allover sheen.
Bronzing drops have a much more intense payoff when used directly on the skin, so you might want to use those sparingly. However, they're A+ layered over a mineral sunscreen, especially if the formula leaves you with a ghostly cast. Apply a few drops to the back of your hand, blend with your fingertips, and swirl it into any chalky areas—your glow should come right back.
Glow drops (or highlighting drops, or bronzing drops, or whatever you call them) are easily customizable to your desired level of radiance. Feel free to use them on a bare face or a full beat to fulfill your beach goddess dreams.
Want to turn your passion for wellbeing into a fulfilling career? Become a Certified Health Coach! Learn more here.