3 Simple Ways To Shift Your Energy When You Struggle With Comparison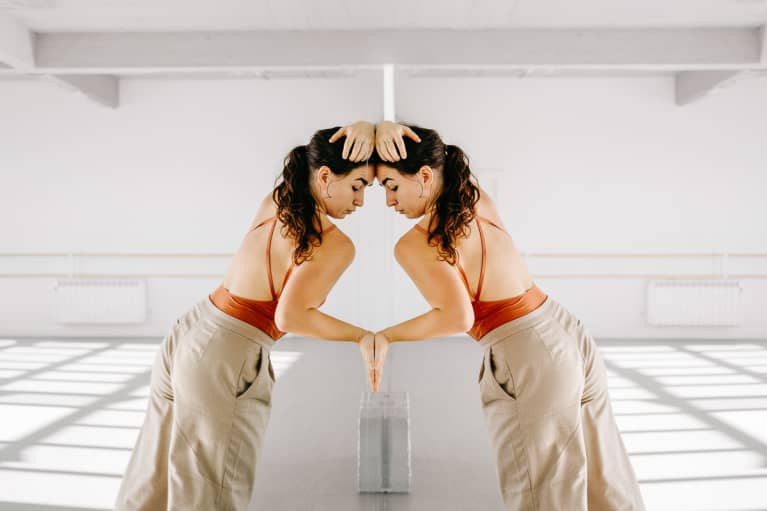 After you've become aware that you're engaging in comparison, the next step is to make a decision that suffering is not what you want for yourself in this moment. It's time to choose a different path.
There's huge power in making a decision like this. Even if you don't know how you're going to bring that change about, just the mere fact that you've declared to the Universe—and to yourself—that you're willing to try can instantly shift your perspective and send ripples of positivity through your energetic field. Here are three ways to move away from comparison:
1.
Choose an experience other than comparison.
Let's make a decision: What do you want to experience instead? What emotion or vibration would serve you better than the toxicity of comparison? What could you invite into this moment that might facilitate peace instead of suffering?
Literally say your new choice to yourself, either out loud or in your head. You might like to frame it as I choose X, for example:
I choose love.
I choose peace.
I choose happiness.
If you're feeling really struck down by comparisonitis, choosing one of these high-vibing emotions might feel like it's too far out of reach. In that case, you can choose something that vibes closer to where you are emotionally but that will still relieve you of suffering and remove the negative emotional charge. For example:
I choose stillness.
I choose to surrender.
I choose to let go.
It can help to plan out your choice in advance so you have a go-to affirmation ready and waiting in your head. My own go-to option is usually I choose love. I'm quick to whip this affirmation out whenever I head toward the rabbit hole of suffering.
Comparison is a heavy, low-vibrational energy. It can really weigh you down and leach your energy and time. So to close the loop and end the cycle, it's important to shift your energetic state to a lighter, higher vibration. And the fastest way to do that? Movement, baby!
Moving your body is super effective when it comes to shifting energy around. I mean, really, just try to stay in a funk when you're dancing around your living room or jumping up and down or walking out in nature. Seriously, I dare you! Here are some ways you can shift your state:
Crank up a Beyoncé song, and dance it out in your kitchen.
Walk.
Run.
Stretch.
Do star jumps.
Dive in the ocean.
Jump rope.
Do pushups.
Bang out a few yoga moves.
Jump on a rebounder.
Get sexy with yourself!
If you're at home by yourself, it's easy to try one or more of these options. If you're at a party or at work, you might like to duck off to an empty bedroom or boardroom to do some sneaky star jumps or pushups. And if none of these options are available to you right now, then keep on focusing on your breathing.
Another incredible way to shift your state is to practice gratitude. Comparison often involves being in a "lack" mindset and focusing on all the things you don't have. By turning your mind to gratitude, you can shift your focus to all the things you do have.
To raise your vibration, you can start to run through everything in your life you're grateful for—your health, your home, your partner, your comfy bed, or whatever blessings come to mind. It's extra powerful if the things you're grateful for are related to the source of your comparison. For example, if you've been beating yourself up because your friend scored another promotion while you're still stuck in a job you don't love, shift the spotlight to all the things you're grateful for about your job:
I'm grateful that I can pay my bills each week.
I'm grateful that I'm learning new skills every day.
I'm grateful that I have two really great friends on my team.
I'm grateful that I get to watch and learn from my boss.
I'm grateful that I have a roof over my head, clothes to wear, and food to eat.
No observation is too small or silly to be thankful for. You can write them down, say them out loud to yourself, or just list them silently in your head. Whatever option you choose, really lean into the feelings of thankfulness and gratitude, let them fill you up, and you will feel your vibrations start to shift and rise in no time.