You're Not Imagining It: Your Hair Is Duller Post-Winter — Why & What To Do
mbg Beauty Director
By Alexandra Engler
mbg Beauty Director
Alexandra Engler is the Beauty Director. Previously she worked at Harper's Bazaar, Marie Claire, SELF, and Cosmopolitan; her byline has appeared in Esquire, Sports Illustrated, and Allure.com.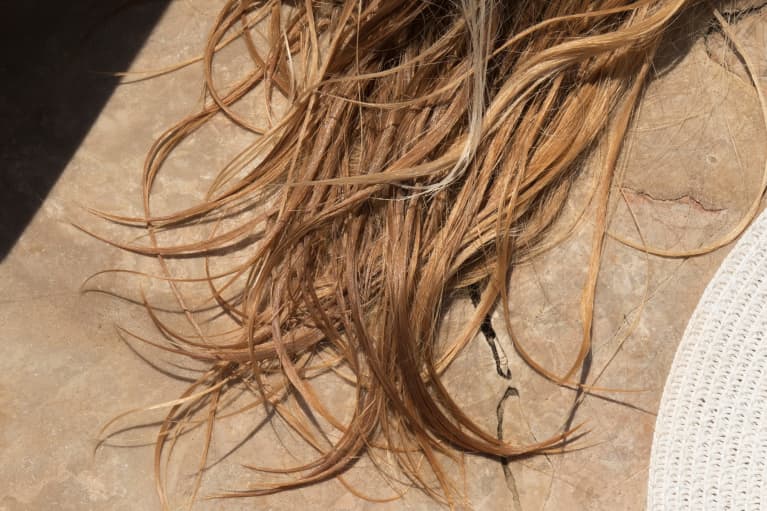 The statement came up over a virtual meeting: I feel like my hair is so dull lately—what can I do to get it ready for spring and summer? Soon the chorus was in agreement, with everyone chiming in that dullness was the beauty concern du jour—both from those in the meeting and those in the respective group chats we're all part of.
Well, folks, you're not imagining it. If you feel your hair is a bit lackluster post-winter, there are real reasons as to why. Winter weather and conditions can do a number on your hair—even for the most diligent of hydrators among us.
Why we have dry, dull winter hair.
Here's the deal: Your skin and hair change with the surrounding environment. As both are outward-facing, they come into contact with a wide variety of stressors that affect their health and appearance. And so when our skin and hair reflect seasonal or environmental changes, it should come as no surprise that we may need to make tweaks to our routine to help our bodies respond to these external aggressors.
So what's the deal with winter and hair? Well, it comes down to a few factors. The most obvious is the weather. There are two reasons, actually: When outside, arid, cold air can make strands more brittle and damage-prone. Then when we retreat indoors, the cranked-up heating systems can dehydrate the hair, too. It's this one-two punch of oscillating temps that really does you in. "In the winter your hair is exposed to radiator heat; car heat; dry, cold fresh air," says stylist Leonardo Manetti of Rob Peetoom in Brooklyn. "Thus, in the winter it's most likely to be dryer; this can cause extreme dryness or static in hair depending on the texture."
Additionally, you likely are turning up the temp in your showers (perhaps unknowingly), which can dull out hair. "In the winter, you are dealing with hotter water being used in the shower," says Megan Taylor, stylist at Gloria and Company in Fairhaven, Massachusetts.
And while those are the main reasons your hair zonks out this time of year, there are a few weird reasons you may be experiencing some dullness. First, hat hair can make strands more static or lifeless. Or product buildup from dry shampoos may be mattifying the strands—since people may be stretching time between washes during these months. Buildup may even come from overusing styling creams and serums, especially those that sit on top of the strand and don't easily rinse out (read: those with silicones). Not to mention: You may be due for a trim, as damage and split ends can make hair appear more disheveled.
So it may take some time to coax shiny strands out from their winter slumber. And there's no right answer for everyone, too. Those with curls may need to focus on hydration, while those with flat, fine hair may need a dose of clarifying shampoo. But take a peek at the suggestions below to see what is right for you:
You're not imagining it. Dry, damaged hair is the result of winter woes. But with the right treatments and tips, you can bring your strands back to life.