Stylists Explain How To Transition Your Hair Routine Come Winter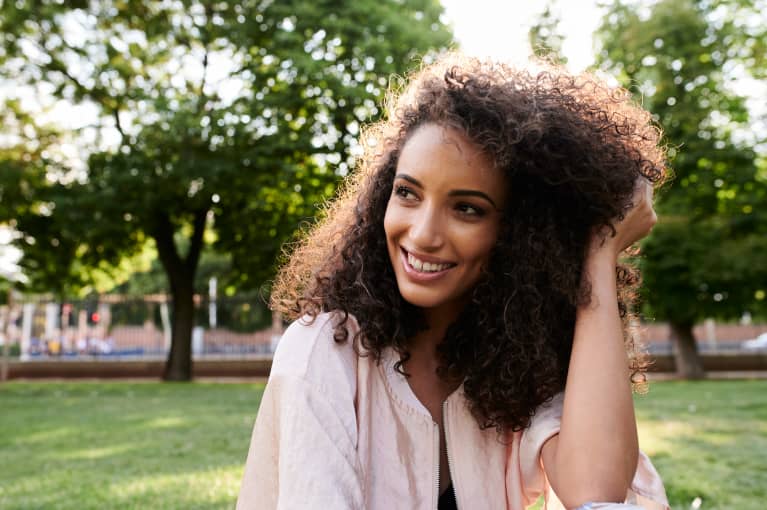 Our editors have independently chosen the products listed on this page. If you purchase something mentioned in this article, we may
earn a small commission
.
Like your skin, your hair goes through changes with the seasonal transition. In the summer, you may be used to bouncy, full-bodied curls that flatten out come fall. Or in the humid months, you may not be able to get any lift or volume at the root—but come winter you succumb to flakes and irritation. Yes, your hair is affected by the environment, and you really adjust your care plan with the changing seasons as well. "Some can feel like they are dealing with two different heads of hair between seasons," notes stylist Leonardo Manetti of Rob Peetoom in Brooklyn.
So, how do you deal with these changes? Well, it doesn't take a complete hair care overhaul, but you do need to make some tweaks, say stylists. So grab your favorite hair mask, re-up your favorite oil, and get to hydrating—here, top stylists' tips for dealing with hair changes right now:
1.
Increased dryness from cold air, showers, and indoor heating.
Every change in your personal environment comes with new ways it might mess up your style. Sure, in the summer you may have to deal with sun damage and color fading easier, but the winter comes with some pretty annoying assaults on your hair as well. "In the winter your hair is exposed to radiator heat; car heat; dry, cold fresh air; and direct sun exposure," says Manetti. "In the winter it's most likely to be dryer; this can cause extreme dryness or static in hair depending on the texture."
But it's also lifestyle choices we make in the winter that can affect our strands as well. Not only does the weather affect our hair intrinsically; it also affects our behaviors. "In the winter, you are dealing with hotter water being used in the shower as well as heat from not only blow drying more but from heating your house and your car," says Megan Taylor, stylist at Gloria and Company in Fairhaven, Massachusetts.
What's your fix? Well, some of this is unavoidable, but do try to take warm (not hot) showers and limit your time under the blow dryer. You should also use more hydrating products in your routine—which we'll elaborate more on later.
2.
Curls become more manageable—yet with less natural volume.
It should come as no surprise, but your hair type plays a very big role in how your strands react to the weather. (Your hair type affects everything in your hair care routine, after all.) So if you have curls or coils, you may welcome the break from humidity.
"For more textured or curly hair, some typical changes you will see from the spring and summer to fall and winter is when the moisture in the air—aka humidity—changes to more dry, thinner air is that the hair that was once frizzy and unmanageable is now more calm and easier to maintain, whether that be embracing the natural curl or using hot tools to smooth," says Taylor. "Most people with textured, curly hair express that their hair feels flatter in cooler weather."
Of course, the dry air comes with its own set of moisture challenges (read: you'll want to hydrate more, as we've noted), so do be mindful of curls looking a little dry, and tend to them as needed.
3.
Straight hair gets some lift.
In the summer, those with straight hair or waves may find keeping some volume at the root near impossible. Between the sweat, humidity, and increased sebum production, hair tends to fall flat around the scalp.
"People with finer or straighter hair might find that the moisture in the air in the spring and summer that once weighed down their hair and caused it to feel and look flat is now a thinner crisper air that causes body and volume to be more obtainable," says Taylor. "They may find, however, that their hair is more prone to static electricity due to that lack of extra moisture."
4.
You have to deal with hat hair.
Cozy hats keep you warm but do a number on your style. "Curls can go flat or get disrupted in hats and scarfs—well, same for fine hair, too, as it may have a hard time holding shape," says Manetti. "These hair types tend to have static and no bounce-back or, a better way to say it, less elasticity. Try using a hood coat instead of a tightfitting hat."
5.
People get dandruff or dry scalp more in the winter; use appropriate scalp treatments.
While dandruff and dry scalp are two different conditions, they often have similar symptoms (flakes and irritation), may be present simultaneously on the same scalp, and always mean you need to pay better attention to scalp care.
Dandruff is a complex condition that happens when your skin is extra sensitive to a form of yeast that grows on the skin naturally. The result is flakes and inflammation. There are several natural ways to tend to the condition, which you can read all about here.
As for dry scalp, "It is also typical to notice in the winter that not only is your hair more dry, but your scalp is as well," says Taylor. Consider using a soothing scalp mask, like those made with aloe.
6.
Shampooing becomes a bigger issue—limit your washes.
How often do you wash your hair? It's a complex question that looks dramatically different for everyone, as it depends on your hair type, scalp type, as well as lifestyle factors. One factor that may come into play is your environment and the weather. You may consider spacing out your shampoos a bit more during the winter months, or even incorporate co-washing.
"Over-shampooing can definitely contribute to dry hair, and it won't help with the static electricity either," says Taylor. "Try to get into the habit of shampooing every other day or every two days."
7.
You likely have more time for treatments—take advantage of it.
Cold weather calls for cozy indoor weather, no? And since—especially now—we are likely spending more time indoors, take advantage and add a few more treatments than you might otherwise
"Since we all spend more time at home in the winter, create a regimen that restores moisture in the hair on a weekly or biweekly basis," says Manetti. "I love having my clients use the Circle Chronicles Masks from Davines if they are not looking to commit to a larger-size mask. They have something for everyone, and it is an individual pack that you can normally get two uses out of depending on the amount of hair." You can also check out some of our DIY masks.