5 Expert Tips For Smooth Underarms — Just In Time For Warmer Weather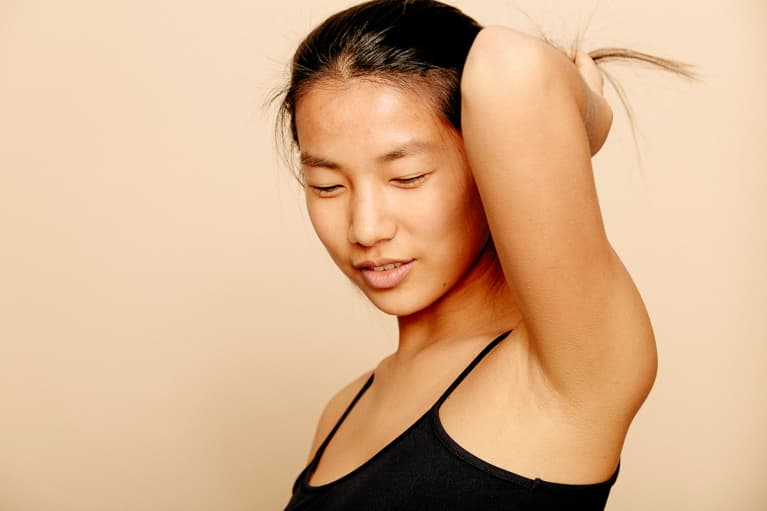 Our editors have independently chosen the products listed on this page. If you purchase something mentioned in this article, we may
earn a small commission
.
Just as achieving healthy skin requires time and patience, so does achieving a smooth and lasting shave. Countless problems can arise from ignoring proper prep and aftercare, including razor bumps, ingrowns, and a shave that doesn't last. What's more, delicate areas like the underarms call for even more precaution. You can find tons of products on the market that claim to help you achieve smooth underarms, but these are all for naught if you don't use them correctly.
That's why we tapped experts on how to get the smoothest shave (and what cringey mistakes to avoid). Find their advice, below:
1.
Always exfoliate before shaving.
In case you haven't heard, clearing dead skin before shaving can have a huge impact on a silky outcome. "The goal here is to decrease friction as much as possible, which is what irritates your skin," board-certified dermatologist Brandith Irwin, M.D., founder of SkinTour.com and MadisonMD Skincare, tells mbg. She recommends using warm water and a gentle exfoliator to physically scrub and soften the hair. If you're looking to save a few bucks or just prefer a DIY project, you can make your own body scrub at home—here's all the info you need to do so. When applying the scrub, use a very light touch: Do not press on the underarm area (like you might the back or legs) as it's very sensitive skin.
Also worthy of note: If you know that your underarms are easily angered (read: can burn with trying new deodorants and chafe with rough fabrics), feel free to skip this part. Not all skin types are made for exfoliating, and that's OK if you can't.
2.
Be mindful of where you put chemical exfoliants.
You'll want to stick to physical exfoliants like gentle scrubs in areas like the underarms and bikini zone rather than chemical exfoliants, as the latter can be especially irritating to those areas. "You do not want any kind of chemicals in or around tight, closed spaces, like the underarms or the inguinal folds, which are around the pubic area, because it can be very irritating," says board-certified dermatologist Neda Mehr, M.D., board-certified dermatologist, founder of Pure Dermatology Cosmetic & Hair Center, and founder of clean skin care brand Dermbx. "When skin is on skin, it can be very occlusive and cause those chemicals to be concentrated 10 times higher than expected."
Bonus tip: If you do use chemical exfoliants on other portions of the body (like an AHA body lotion), make sure to avoid applying them directly after shaving, as it will likely burn—think lemon juice on a cut type of burn.
3.
Use a clean razor with a fresh blade.
If you think all razors lead to the same shave, you're mistaken. We know scouring the internet for the best razor can get tedious (which is why we've compiled a list of 11 of our favorites), but here's the thing: No matter how nice your razor is, it won't last forever. In fact, it's important for the health of your skin and the quality of your shave to switch out your razor periodically. If you overuse your razor, the dull blades can actually injure the skin.
Luckily, more and more shaving companies are providing subscription services now to make it even easier to switch out your blades when the time comes. Our favorite subscription is the Billie Razor Starter Kit. Either way, make sure to have a regular rotation of razors.
"After trimming, the skin should be patted dry gently, and then a gentle hydrator may be applied to reduce any post-trim irritation and dryness," board-certified dermatologist Tiffany Clay, M.D., previously told mbg. If you're shaving a larger surface area (like the legs or arms), you can use your regular skin care moisturizer, like mindbodygreen's postbiotic body lotion. But when shaving the underarms or bikini area, stick to products made specifically for this purpose like Fur Ingrown Concentrate.
5.
Beware of over-shaving.
"One mistake that I often see is people over-shaving and getting a nickel allergy and then not seeing a dermatologist soon after. So they keep shaving and shaving when they have an allergy, and that leads to hyperpigmentation in darker skin types and redness and irritation in lighter skin types," Mehr explains. Not to mention, you should avoid shaving over irritated skin in any form—allergic reaction or otherwise.
So if you haven't introduced any new products and follow the above tips, persistent irritation may be a sign you have developed an allergic reaction to the blade. As always, consult a dermatologist if this irritation sticks around.
Shaving shouldn't be a one-step process. Achieving a smooth, irritation-free shave that lasts takes work, but the result is worth the extra few minutes. Remember to exfoliate before, use a fresh and high-quality razor, follow up with a moisturizer made for sensitive areas, and never shave over irritated skin. If you follow these tips, you'll be on the road to your best shave yet. And if you're partial to a wax instead, here are a few expert tips for optimum results.