Your Silkiest Shave Yet: The 11 Best Razors For Sensitive Skin

Beauty & Health Editor
By Jamie Schneider
Beauty & Health Editor
Jamie Schneider is the Beauty Editor at mindbodygreen. She has a B.A. in Organizational Studies and English from the University of Michigan, and her work has appeared in Coveteur, The Chill Times, and Wyld Skincare.
February 15, 2023
We carefully vet all products and services featured on mindbodygreen using our
commerce guidelines.
Our selections are never influenced by the commissions earned from our links.
How you decide to remove hair (if at all) is entirely personal—whether you're partial to a wax, sugar, thread, or shave.
For those with sensitive skin, though, that last venture proves tricky: It seems even with the strictest shave etiquette—exfoliating beforehand, shaving steadily in the direction of hair growth, and moisturizing right after—you may still face razor burn, painful ingrowns, and nicks.
That doesn't mean you must surrender the trusty razor! You just need to make sure your tool is suitable for your easily irritated skin.
To find the best razor for sensitive skin, there are a few components you'll want to look out for: multiple sharp blades (so it can catch the hairs in one glide), a flexible, ergonomic head, and some even deposit moisturizing ingredients (like shea butter) as they float over your skin.
Ahead, 11 options that meet the criteria.
Athena Club Razor Kit
This five-blade razor comes cushioned with skin guards infused with shea butter and a water-activated serum, so it glides effortlessly over your sensitive skin. Plus, you can customize how frequently you want to receive replacement blades (experts recommend swapping them out every five to 10 shaves), so you'll never face a dull shaver, ever.
Razor Kit, Athena Club ($9)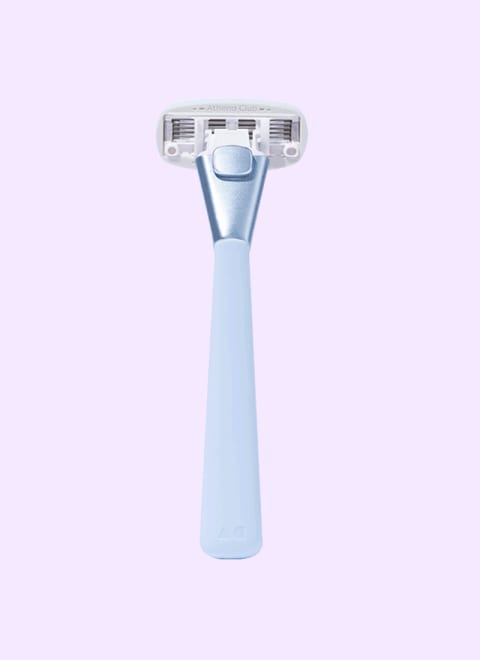 mindbodygreen
Flamingo Razor
This rubber-gripped razor has a flexible hinge to reach every curve and cranny—the knees, bikini line, and the like. The blades (again, there are five) are made from high-quality Swedish steel and yield the smoothest shave.
Flamingo Razor, Flamingo ($9)
mindbodygreen
Eco Roots Safety Razor
Safety razors offer a super-close shave—the blade is flush against your skin—so you won't have to keep dragging across the area (which means less irritation) or find ingrown hairs trapped underneath your skin. This stainless-steel number is also made of 100% recyclable materials (just toss it in the metal recycling bin) and comes in plastic-free packaging, which is an extra win.
Safety Razor, Eco Roots ($36.50)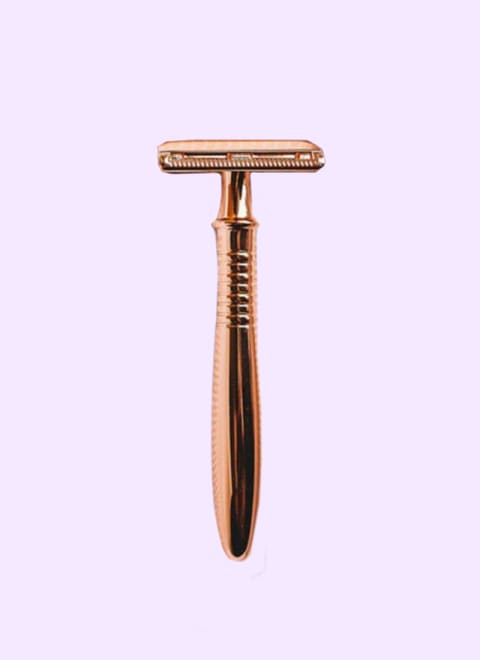 mindbodygreen
OUI the People The Single Rose Gold Sensitive Skin Razor
Oftentimes, people press down too hard with their razor—this tugs the blade against the skin and can lead to razor burn, especially if your skin runs sensitive already. That's why this gilded razor is already weighted; it's formulated with just the right amount of pressure you need for a silky-smooth shave. All you need to do is wield the tool with a featherlight touch.
The Single Rose Gold Sensitive Skin Razor, OUI the People ($75)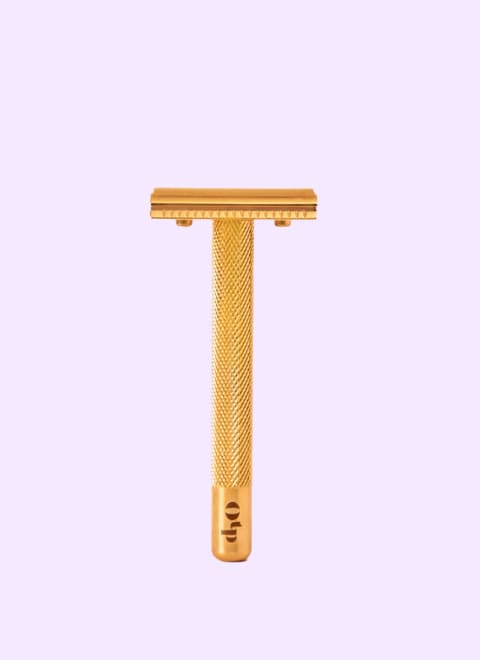 mindbodygreen
Hollywood Browzer Duo
For those shaving the delicate skin on the face (also known as dermaplaning) or around the eyebrows, you don't want to use the same heavy-duty razor you'd use on your body. Instead, opt for a gentle, handheld tool to softly scrape away unwanted hair and peach fuzz (not necessarily for beards, which may require a sharper blade for those coarser hairs). This number has safety guards on both sides of the blade, too, so you won't cut or irritate the skin with your short, downward strokes.
Hollywood Browzer Duo, Hollywood Browzer ($20 for two)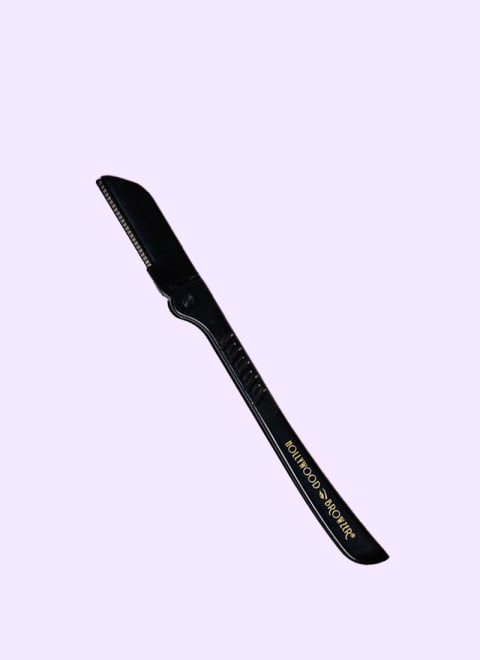 mindbodygreen
Billie Razor Starter Kit
These precision-sharp blades are housed in a charcoal shave soap, so it draws oil and impurities from the hair follicles with each glide (meaning less chance of ingrowns down the line). Billie also offers a subscription service, in which you can replace fresh blades once a month or every two or three months, depending on how often you shave.
Razor Starter Kit, Billie ($9)
mindbodygreen
Alleyoop All-In-One Razor
This is the cutest little touch-up razor to toss into your bag, meant just for those uh-oh moments when you realized you missed a spot on the back of your leg. Each rotating pouch includes a refillable water spray bottle (so you never have to dry shave, even on-the-go), a shea-butter- and coconut-oil-infused moisturizing bar, and, of course, the triple-blade cartridge. It truly changes the razor game.
All-In-One Razor, Alleyoop ($16)
mindbodygreen
joy+glee Starter Kit
How many times have you dropped your razor on the shower floor trying to reach behind the knee? Well, this five-blade shaver includes a rubber, slip-free handle—no more accidental nicks. A quick questionnaire about your shave habits, and you'll even have a customized refill schedule for brand-new blades.
Starter Kit, joy+glee ($10)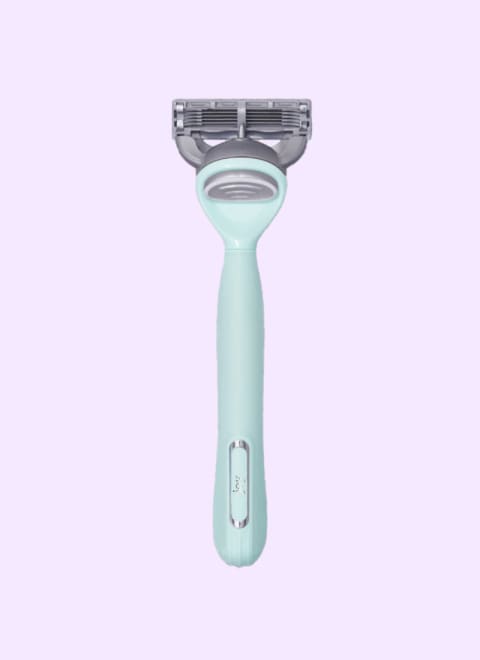 mindbodygreen
Philips Bikiniperfect Advanced Bikini Trimmer Kit
A precision trimmer is especially helpful for the delicate bikini region, which can get easily irritated due to friction from underwear and clothing. With this option, it's so easy to whisk away stray hairs without swiping the tool over the skin—it's also formulated with hypoallergenic foil to prevent irritation, as well as five length settings to trim at any growth stage.
Bikiniperfect Advanced Bikini Trimmer Kit, Philips ($64.95)
mindbodygreen
Flawless By Finishing Touch Flawless Nu Razor
Another electric option, this razor features an 18-karat gold-plated head and a blade with more than 200 hair-removing contact points. It also has an LED light, just in case your bathroom has subpar lighting—you'll never miss a hair.
Flawless Nu Razor, Flawless By Finishing Touch ($39.99)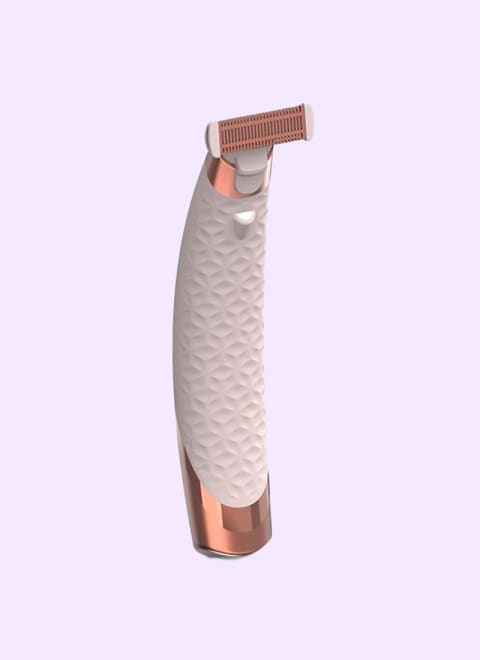 mindbodygreen
Remington Smooth & Silky Bikini Shaver & Trimmer
This trimmer makes grooming a breeze: It has an adjustable guide comb, so you can opt for a close shave or trim down to whatever length you want. It's compact, foolproof, and has wet and dry functions—so you can pop it in the shower or take it on-the-go.
Smooth & Silky Bikini Shaver & Trimmer, Remington ($6.91)
mindbodygreen

Jamie Schneider
Beauty & Health Editor
Jamie Schneider is the Beauty Editor at mindbodygreen. She has a B.A. in Organizational Studies and English from the University of Michigan, and her work has appeared in Coveteur, The Chill Times, and more. In her role at mbg, she reports on everything from the top beauty industry trends, to the gut-skin connection and the microbiome, to the latest expert makeup hacks. She currently lives in Brooklyn, New York.