Close Banner
Advertisement
This ad is displayed using third party content and we do not control its accessibility features.
The Only Guide To Applying Eyeshadow That You'll Ever Need: Tips From The Pros

By Dorian Smith-Garcia
mbg Contributor
Dorian Smith-Garcia is a diverse writer across beauty, fashion, travel, parenting, consumer goods, and tech. She has written for Inverse, Healthline Parenthood, The Confused Millennial, XONecole, Glowsly, and The Drive along with a variety of other publications.
We carefully vet all products and services featured on mindbodygreen using our
commerce guidelines.
Our selections are never influenced by the commissions earned from our links.
The makeup world is ever-evolving, with new tips, tricks, and products launching what feels like every day. And even for the makeup obsessed, this can mean staying on top of trends and application methods so that your look is timeless rather than dated. But at the same time, some makeup products can feel more intimidating than others.
And never was this more true than with eyeshadow. While eyeshadow is considered a staple item that isn't going anywhere, it's come a long way from its origin story. Eye makeup has been around since before the time of Cleopatra. But with so many options from powders to creams to liquids and even glossy looks, it's completely understandable if you walk down the makeup aisle and feel overwhelmed.
Thankfully, we're sharing some essential how-to's, along with tips from industry pros so that you'll always have the perfect eye look!
Eyeshadow defined + types.
Before we dig into what you should know when applying eyeshadow, let's start by talking about the most common types of eyeshadow you'll encounter. Depending on the formulation, some options might be more beginner-friendly, while others will require a slightly sharper learning curve. For a full list of our favorite natural options—check out our eyeshadow roundup here.
Powders
Probably the most traditional or classic option for eyeshadow is a pressed powder. Available in matte, shimmer, glitter, or pearlized shades, this is the brand standard you'll most likely find when you walk into any makeup store or down a beauty aisle at your local drugstore. While pressed eyeshadow powders are the standard, you can find loose powder pigments as well.
Powders can be applied with your fingers or brushes. You can also increase the intensity or turn them into liner shades by using a damp brush. Depending on the quality, powders can have serious staying power and be richly pigmented so that they appear true on all skin tones.
Creams & gels
If you're looking for something that can be easier to work with—including those that can be applied like powders—a cream or gel-based eyeshadow is a great option. These shadows can usually be applied with a brush, fingers, or a blending sponge. And in some cases, they're sold as eyeshadow crayons or pencils, which can make application significantly easier. One drawback: If you don't prime properly, the formulation leaves this shadow medium more likely to crease. Similarly, those with oily skin and lids may need to engage in more prep work to prevent colors from shifting throughout the day.
Liquids
While the idea of a liquid shadow can seem intimidating, this option can offer megawatt color payoff. Normally, liquid shadows are sold in tubes similar to lip gloss, including a traditional lip-gloss-style applicator. However, you can still apply liquid shadows with brushes, fingers, or blending sponges. In most cases, a little liquid shadow goes a long way. These shadows tend to dry down as well, meaning that you're less likely to experience creasing or shifting with wear.
Glosses
Depending on the brand, you may have heard of glosses marketed as "eye glass," "eye vinyl," or even "lid lacquer." A lid gloss is designed to give your lids high-wattage shine, similar to ultra-gloss lip color. These can be applied with fingers or a brush. These products come in a variety of colors and even in a clear option if you prefer to create a glossy effect over traditional eyeshadows.
One drawback of this shadow type is that it can often feel like you have something on your eyes depending on the quality of the gloss you pick. Of all the options, eyeshadow glosses probably have the steepest learning curve as it's easy to apply too much and look greasy rather than on-trend.
Which application method is best?
You'll note that we mentioned application methods for each eyeshadow category. The short answer to "which application method is best" is: It depends. See, so much hinges on what you find most comfortable and which tool(s) give you the best precision for your skillset.
Some people will prefer to use their fingers to apply shadows, while others like the sharpness of eyeshadow brushes. Similarly, if you're the type who likes to use eyeshadow on places other than just your lids, you may find that a blending sponge is equally effective. And later in the article, we get into individual looks, which will also factor into what method you use.
Essentially, what's "best" is what works for you.
Things to look for in a good eyeshadow.
Regardless of whether you're paying the equivalent of a cellphone bill for the latest Pat McGrath Labs eyeshadow palette or you're a budget makeup aficionado stocking up on Wet 'n Wild or E.L.F. Cosmetics, there are a few key features you should look for to get the most out of your eyeshadow.
True pigmentation
No matter how much you spend, you want an eyeshadow that's true to the advertised color. This means that inky blacks appear that way on all skin tones. Or, that you don't need to swipe endless amounts of product on your lids to get a great color payoff.
Staying power
Similar to pigmentation, you shouldn't have to feel like your eyeshadow won't last if you don't use it with primer. While a good lid primer can do wonders for long wear (think prepping for a wedding day or wearing makeup on a hot summer day), you shouldn't have to reach for a primer every time you want to wear shadow.
Blendability
Unless you're the type who only wears one shadow color on your lids at a time, you'll want a shadow that plays well with others. Whether you're creating a smoky eye, cut crease, or just a pretty ombre effect, you want to pick an eyeshadow that blends easily.
Skin type compatibility
While most eyeshadows can fall into one of the four categories we listed above, that doesn't mean that all shadow mediums are ideal for all skin types. For example, people with oily skin may find that creams, gels, or gloss shadows are more difficult to work with as they're more likely to slide throughout the day.
Global makeup artist Natasha Moore notes that "...the cream formula will not last as long as a powder. It's important to apply an eyeshadow primer to your lids first. Let it dry. Then apply the cream shadow."
Tips every eyeshadow fan should know.
Makeup is all about self-expression and ultimately you should apply makeup in a way that makes you happy with what you see in the mirror. In general, there aren't any hard rules regarding application. But some guidelines can help you create a timeless look or expertly recreate eyeshadow trends or styles:
1.
Always start with clean skin.
If makeup is art, your face is the palette. Trying to apply makeup to dirty skin is the ultimate no-no. A makeup artist (MUA) wouldn't begin to apply makeup to your face without first cleansing it, and neither should you. Keep in mind that this applies to your brushes, sponges, or fingers too.
If you're just wearing makeup for an hour or two, then focusing on richly pigmented shadows that don't fade 30 minutes after application is sufficient. But even if you're picking eyeshadow with staying power, there are times when a good lid primer is essential.
In particular, if you're attempting to wear makeup for extended periods (i.e., all day for a wedding) or are going to be out in hot weather or hot lights where you're likely to quickly sweat it off, or you're attempting more stylized eye looks (think cut creases), a primer is essential.
Depending on who you talk to, you don't always need to pick a primer specifically marketed as an eyeshadow base. New York–based MUA Justyna Santiago adds that she likes to "use concealer to carve out my eyebrows, then apply the concealer all over my lid. Make sure it is blended evenly so that there is no excess product. Then take your favorite translucent powder with an eyeshadow brush and set it." For some clean options, check out our favorite concealers here.
Nailing standard eyeshadow looks.
Whether you're all about timeless styles like a bomb smoky eye or you want to tackle an on-trend graphic eye, these tips will help you ace your look every time:
1.
The key to a good smoky eye.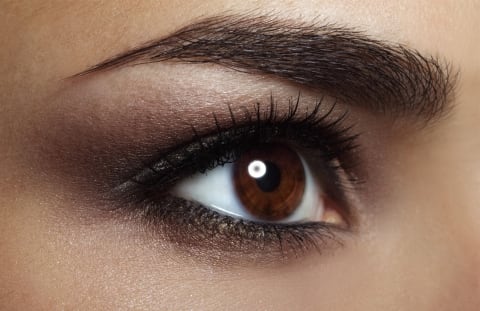 Image by Anmfoto / iStock
Smoky eyes are a classic option that every makeup wearer should master for their arsenal. Gargi Patel, the celebrity makeup artist behind Vasanti Cosmetics notes that you can create a smoky eye using just three colors. "Pick a deep tone like a deep brown/gray/burgundy hue, a highlighter color that is light and shimmery, and a neutral color like a soft pink, light brown, etc."
For best results, use brushes because you need to diffuse the colors. Start by applying the neutral color as your all-over base across the entire lid. Then apply the deep tone just to your crease "starting from the outer corner of your eyes to about a third of your eye." Patel reminds us to "blend, blend, blend, and blend some more to avoid harsh lines."
Finish by applying the light color above your crease starting from the inner eye up to the edge. Note this color can also be your brow bone highlight.
2.
Turn any eyeshadow into a liner.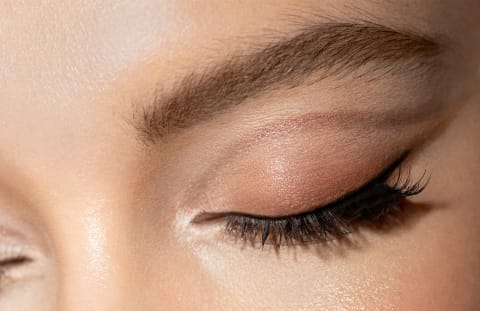 Image by Angela Rober / Stocksy
As your shadow collection grows, you'll learn that these can often be used as a substitute for other makeup items. A popular option is to turn your eyeshadow into a liner. Santiago turns her shadows into liners by using a spatula or tweezers to scrape a bit of shadow onto a flat surface: "I spray setting spray and mix. Then take an angle brush or a liner brush and apply!" A bonus from using setting spray is that your liner won't fade with wear throughout the day. Note: You can also dip or spray your brush with water if you prefer.
3.
Achieve a dewy eye with liquid shadow.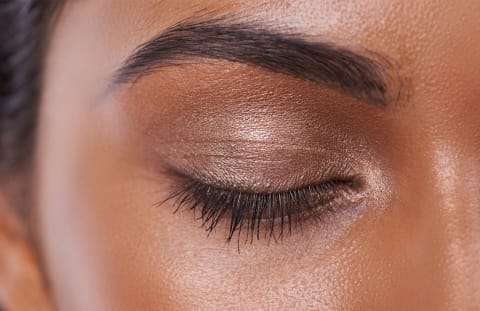 Image by PeopleImages / iStock
Not everyone wants a bold eye, and that's OK. Moore notes that "liquid shadow formula is great when you want an overall glow and don't want too much color on your eye." She recommends applying it with a blender or sponge for a smoother finish. She also notes that you can control the opacity if you "mix the liquid shadow with a bit of concealer using your hand as a palette…keep building the color on your lid until you achieve the desired result."
Some people call this look an "eyelighter" (sort of like a highlighter—get it?). See, you're "carving" your eyelids with a shimmery shadow. This detail helps every eye shape catch the light in just the right places, thus making the orbs appear brighter and wide-awake. Take it from makeup artist Alexandra Compton, product development manager at Credo: "By adding a wash of shimmer to the lid, light is actually catching the particles of iridescent pigment and reflecting back, like thousands of tiny mirrors creating the illusion of brighter eyes," she tells mbg.
Image by Alexandra Bergam / Stocksy
Often the most intimidating of eye looks to pull off, a glossy eye is very fashion-forward. Patel recommends picking an eye gloss with a shimmery, light color that you want to apply over your finished shadow look. "Use your finger to pick up the shimmery color and apply it to the middle of your eye, pick up more color if necessary to apply a second coat."
If this is your first attempt, less is more. You can always add more gloss if needed, but applying too much at first means you'll need to start over.
5.
Making glitter shadow work for you.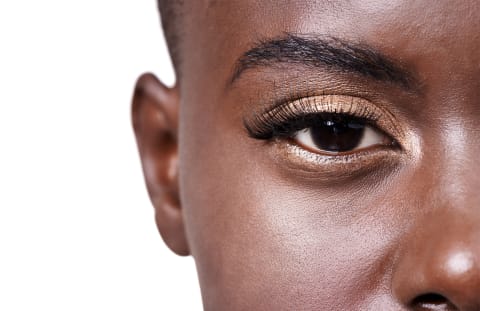 Image by PeopleImages / iStock
Depending on who you talk to, glitter eyeshadow is either the most amazing thing to have in your kit or a headache. Glitter shadows (pressed or loose) require more prep work than regular shadows. For loose glitter, you're going to need to use what's known as glitter glue to ensure that the shadow adheres and stays where you want it. Also keep in mind that if you want to use glitter in your makeup looks, be sure that it's designed for body applications and that you're using glitter glue that's rated safe for your eyes. Or you can go for the pre-blended route, in which case we love options that use sustainably minded glitter—such as this biodegradable option.
The takeaway.
As any makeup artist will tell you, figuring out what works best for you, and what looks appeal the most to you is a bit of trial and error. While some specific guidelines should always be followed (i.e., applying makeup to clean and prepped skin), don't feel like the only way to apply makeup is by following your favorite influencer's tips. Makeup is personal, and the colors and styles that work best for you might not work for everyone else.

Dorian Smith-Garcia
Dorian Smith-Garcia is a diverse writer across beauty, fashion, travel, parenting, consumer goods, and tech. She has written for Inverse, Healthline Parenthood, The Confused Millennial, XONecole, Glowsly, and The Drive along with a variety of other publications. She is a bridal and beauty expert/influencer and the creative director behind The Anti Bridezilla. When Dorian's not writing she's collecting stamps in her passport, learning new languages, or spending time with her husband and daughter.