11 Ways To Make Your Eyes Look Brighter & Well-Rested, With & Without Makeup

Beauty & Health Editor
By Jamie Schneider
Beauty & Health Editor
Jamie Schneider is the Beauty Editor at mindbodygreen. She has a B.A. in Organizational Studies and English from the University of Michigan, and her work has appeared in Coveteur, The Chill Times, and Wyld Skincare.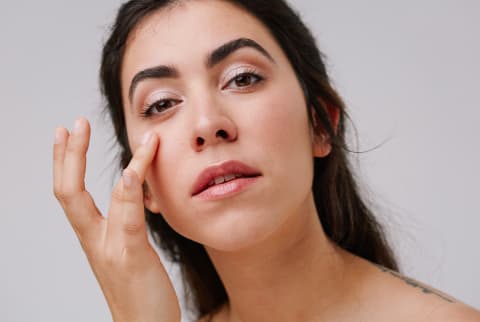 Image by Javier Díez / Stocksy
April 13, 2021
We carefully vet all products and services featured on mindbodygreen using our
commerce guidelines.
Our selections are never influenced by the commissions earned from our links.
Your eyes are quick to betray any signs of stress, inflammation, or lack of sleep; the area is thinner and more sensitive, so when you feel tired, burnt out, or just generally less than stellar, your eyes may greet you in the mirror with sunken shadows and swollen skin.
And while no makeup or skin care hack can transform the outline of your eyes to make them bigger (nor should it!), you can accentuate the eye shape you have and make them appear brighter and well rested. No more sleepy, dull eyes: Below, find expert tricks to make them pop, both with and without makeup:
It's one of the most classic tips to brighten up the eye area: To "extend" the whites of your eyes and make them appear wide-awake, a little white eyeliner goes a long way.
Simply rim your bottom waterline, and make sure to keep the liner handy throughout the day for touch-ups, says makeup artist Alexandra Compton, product development manager at clean beauty retailer Credo. Unless you have a waterproof pencil, "it tends to wear off easily and will almost completely disappear within a couple [of] hours," she says.
If you're looking to brighten up the eye area without a stitch of makeup, might we suggest a gentle, de-puffing massage? Joanna Vargas, celebrity facialist and founder of Joanna Vargas Salons and Skin Care, loves this quick technique to drain puffiness after applying eye cream: "I would do tiny circles in an outward motion toward the temples to de-puff the eyes. You see a result the next morning if you do it," she says.
It's easiest with an eye massage tool (they typically resemble wands, spoons, or mini mushrooms) to glide across the skin, but you can use your fingertips if you're super, super gentle.
3.
Use caffeine for circles & puffiness.
Caffeine-laced skin care products are beloved for brightening up the complexion and decreasing puffiness—both of which are key for well-rested-looking eyes. Not only is caffeine a vasoconstrictor (meaning it can constrict blood vessels and reduce inflammation), but it also has antioxidant properties to nix any dark shadows.
"Antioxidants are brightening ingredients," board-certified dermatologist Loretta Ciraldo, M.D., FAAD, previously told mbg about caffeine in skin care. "When anything oxidizes, it turns to a darkened color (think of an old sterling-silver teaspoon). Caffeine has antioxidant benefits, and this can help brighten the skin."
That said, an eye cream with caffeine (typically listed as green tea) can help "wake up" tired-looking eyes. Or you can always take a couple of moistened green tea bags and place them under your eyes for an instant soothing treatment.
Tending to dark circles is more of a long-term venture, but for a quick fix, makeup works like a charm. Take this tip from makeup artist Jenny Patinkin: "My tip is to apply concealer only where you need it and then blend it all in so that it fades naturally into the rest of your makeup or complexion," she says. (Find the full tutorial here.)
After applying concealer with precision, she likes to further brighten the area by applying an extra hit of concealer on the inner corners: "You can get a little pop without risking any smudging," she notes.
If you're dealing with eye bags, placing concealer directly on the swollen skin only accentuates the puffiness. Rather, try this trick from celebrity makeup artist Mary Irwin: "Use a lighter color concealer directly underneath the eye bag and a slightly darker concealer on the eye bag. It's a visual trick that contours the under-eye," she told us.
You're essentially using two shades to create the illusion of lift—using a light, bouncy concealer underneath a puffy area can elevate the surrounding skin, while a richer hue on top of the bag can help recede any ballooned creases. (See here for the full breakdown.)
"A cat eye will help to elongate and lengthen any eye shape," says Compton. "I like to tight-line my liquid liner (keep the liner as close to the lashes as possible) because a bolder, thicker cat eye can end up looking really heavy and dark." If you're a winged-liner novice, check out this tip to keep the line razor-sharp, every time.
7.
Use liner below the lash line.
"A little liner under the eyes can instantly make them appear bigger," Patinkin once told us. However, you might not want to shade directly on the bottom waterline (unless you're using a white or nude pencil), as this can actually narrow your eyes and make them appear smaller.
Rather, take your liner and smudge just below the lash line. "By creating a subtle, horizontal shadow under the eyes, it creates the illusion that the bottom lash line is lower, which in turn makes the eyes look bigger and taller," she says.
The color matters, too: "Try soft shades of brown for this, unless the look calls for black liner," suggests celebrity makeup artist A.J. Crimson. A black rim offers a more defined look, but if you're gunning for a natural, soft beat, try a taupe, brown, or gray shade.
8.
Create faux lashes with liquid liner.
"This trick requires a steady hand, but it's my favorite retro hack for creating the look of wide eyes and Bambi-like lashes," notes Compton. The hack? Use liquid liner to create faux "lashes" along the bottom lash line. "I like to press the tip of the liquid liner into the base of the lash root and use a light flicking motion to create a 'lash,' she explains. Focus on the outer lash line, and stick to four to five flicks.
Both Compton and Crimson agree: Don't skip the lash curler. It's such a simple technique to instantly open up the eye and lengthen those flutters.
10.
Apply bottom lash mascara on the outer corners.
Bottom lash mascara is a hot debate: Some say it only accentuates dark circles (especially when there's fallout involved), while others believe a bit of mascara on the lower wisps helps frame the eyes and make them appear doll-like. As for Compton? She touts a bit of mascara on the lower lash line—so long as you do it correctly.
She recommends applying product starting from the edge of your pupil to the outer corner. Don't wiggle any mascara toward the inner corner, "as this can close up the eye," she notes. But a few precise coats on the outer lashes can certainly have an eye-opening effect.
11.
Use highlighter to your advantage.
Just as how a bit of strategic highlighter can make your cheekbones pop, you can use a bright hue to accentuate the eyes and make them the center of attention. "Use a highlighter on the center of the lid for a spotlight effect," says Crimson, as it helps accentuate the eye and helps it catch the light.
You can also apply a bit of highlighter under the brow bone to further define your eye shape. See, says Compton, many experts recommend using eye shadow to contour and define the crease (which can help open up the eyes). However, "It's really easy to go overboard with application and end up with a smoky eye," she says. Highlighting the brow bone has the same contouring effect without any shadow, and it lends a more natural look.
Finally, says Compton, "You can also apply some highlighter to the inner corner of the eye and sweep upward toward the brow." A pop of shimmer in the inner corners can always illuminate the eye area.
The takeaway. 
To make your eyes appear brighter and wide-awake, a handful of skin care and makeup tips have you covered. You know, for the days you just couldn't clock in a full eight hours of shut-eye.

Jamie Schneider
Beauty & Health Editor
Jamie Schneider is the Beauty Editor at mindbodygreen. She has a B.A. in Organizational Studies and English from the University of Michigan, and her work has appeared in Coveteur, The Chill Times, and more. In her role at mbg, she reports on everything from the top beauty industry trends, to the gut-skin connection and the microbiome, to the latest expert makeup hacks. She currently lives in Brooklyn, New York.