Is This Common Shower Habit Sneakily Making Your Hair Brittle?

mbg Beauty & Wellness Editor
By Jamie Schneider
mbg Beauty & Wellness Editor
Jamie Schneider is the Beauty & Wellness Editor at mindbodygreen. She has a B.A. in Organizational Studies and English from the University of Michigan, and her work has appeared in Coveteur, The Chill Times, and Wyld Skincare.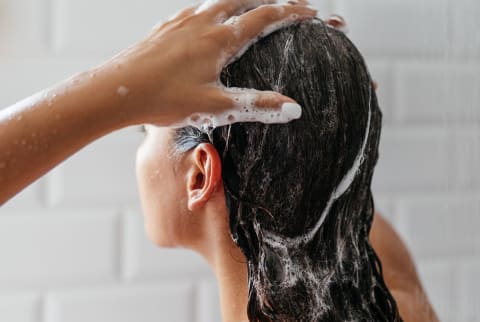 Image by Brat Co. / Stocksy
April 7, 2022
Our editors have independently chosen the products listed on this page. If you purchase something mentioned in this article, we may
earn a small commission
.
I recently got a scalp analysis from editorial hairstylist and founder of Act + Acre Helen Reavey—for those unfamiliar with the service, all that means is that she used a digital microscope to examine my scalp. Aside from the surreal experience that is seeing your hair follicles up close and personal, nothing appeared too out of the ordinary—just a little dryness, mostly clustered at the crown of my head.
"Is that common?" I asked, peering into the monitor screen. "Oh yes," she replied. After all, the shower spray typically beats down on that one spot. Unsurprisingly, this is also the area where my hair is thinnest and prone to breakage. Huh.
Advertisement
This ad is displayed using third party content and we do not control its accessibility features.
I had to do more digging: Here, experts explain how your shower spray can affect your hair and scalp, and how you can tweak your healthy hair habits.
How your water pressure can make your hair brittle. 
There are actually a few culprits at play here: water pressure, temperature, and hardness. We'll start with pressure, which is perhaps the most obvious. If you have a jetlike stream shooting onto your scalp, that's a form of physical stress—over time, this can result in scalp dryness and irritation, as well as hair breakage. Sure, it might feel lovely to have that pressure on your back and shoulders, but your scalp is much more sensitive to that physical force.
As for temperature, we likely don't have to remind you how drying hot water is for the skin. "[Hot water] literally strips the skin of moisture," celebrity esthetician and dermatological nurse Natalie Aguilar says regarding dry skin. Specifically, hot water has the ability to strip the protective oils and lipids from your skin; on the scalp, this can result in dry, itchy flakes or greasy hair, as your scalp can wind up producing even more oil to compensate for the lack of moisture.
Add some hard NYC water to the mix, and it creates the perfect storm for my scalp dryness. In case you need a refresher, hard water is basically water that contains a high amount of minerals, namely calcium and magnesium. Those minerals can change your skin's pH balance, which can then affect your skin microbiome (remember: Our skin microbiome prefers a slightly acidic pH of about five). "Hard water tends to make skin drier and more sensitive," says board-certified dermatologist Loretta Ciraldo, M.D., FAAD, including, yes, on the scalp. You can tell how hard your water is using this trick here, but any dryness or irritation can also clue you in.
What to do about it. 
If you think your water pressure is way too harsh for your scalp, try to replace your shower head with one that has a gentler, rainlike setting. Certain showerheads and water softeners can also help remove minerals from the tap if you'd like to address hard water head-on. Reavey says you can even "tip your head upside down to wash it" every couple of rinses, just so the spray isn't continuously coming down on one spot. Additionally, turn down the heat, or if you can't bear the thought of no hot water, take shorter showers so your scalp isn't exposed to the high temperature for too long.
If you've exhausted all shower tweaks and still face a parched scalp, it might be time to try some proactive maintenance. For example, you can apply a pre-shampoo oil to add a coat of protection before your shower. "You always want to pretreat the hair dry with some type of nourishing oil," trichologist Bridgette Hill tells us on an episode of our beauty podcast Clean Beauty School. "You always want to put moisture into the hair fiber: Think of it like a sponge before you get into the shower. It absorbs those nutrients and can help protect the hair fiber when you wash."
Simple oils, like coconut and olive oils, are fabulous options that you can get relatively inexpensively—or if you're looking for a market option, we love Act+Acre's Cold Processed Hair Oil, which calls on argan oil, meadowfoam seed oil, and squalene to nourish the strands and lock in moisture.
Hydrating hair and skin supplements can also work wonders, and you have a few options. First up: Collagen can support a healthy scalp by promoting your body's natural collagen and elastin production1.* Hyaluronic acid also helps your skin naturally pull in and retain water (fun fact: you have a natural supply of HA in your body, but of course, high-quality supplementation can also provide some targeted HA support, too).*
Additionally, most experts recommend vitamin E for the scalp. Vitamin E is "one of the best nutrients for the scalp,"* says trichologist Shab Reslan. We'd also be remiss not to mention biotin, as the B vitamin aids in the keratin-making process if you want healthy, strong strands alongside a hydrated scalp.*
Feel free to select any of these as a stand-alone hydrating supplement, or if you're looking for a one-stop shop that has 'em all, go ahead and snag our beauty & gut collagen+. In addition to 17.7 grams of grass-fed collagen peptides, it has vitamins C and E for enhanced collagen production and antioxidant support, hyaluronic acid for skin hydration, biotin for your beauty needs, and curcumin from turmeric extract and sulforaphane from broccoli seed extract for supporting detoxification and combating oxidative stress.* Your scalp (and hair, skin, and nails) will thank you.
Advertisement
This ad is displayed using third party content and we do not control its accessibility features.
The takeaway. 
If you notice scalp dryness or irritation at the crown of your head, your shower habits might be to blame. You can always tweak your shower settings by turning down the heat or opting for a gentler spray, but sometimes proactive care works best. Make sure to keep the scalp aptly moisturized on the daily—here are some more hydrating tips, just for good measure.
If you are pregnant, breastfeeding, or taking medications, consult with your doctor before starting a supplement routine. It is always optimal to consult with a health care provider when considering what supplements are right for you.