OK, Big Yikes: Skin Inflammation From Dry Weather Triggers Collagen Loss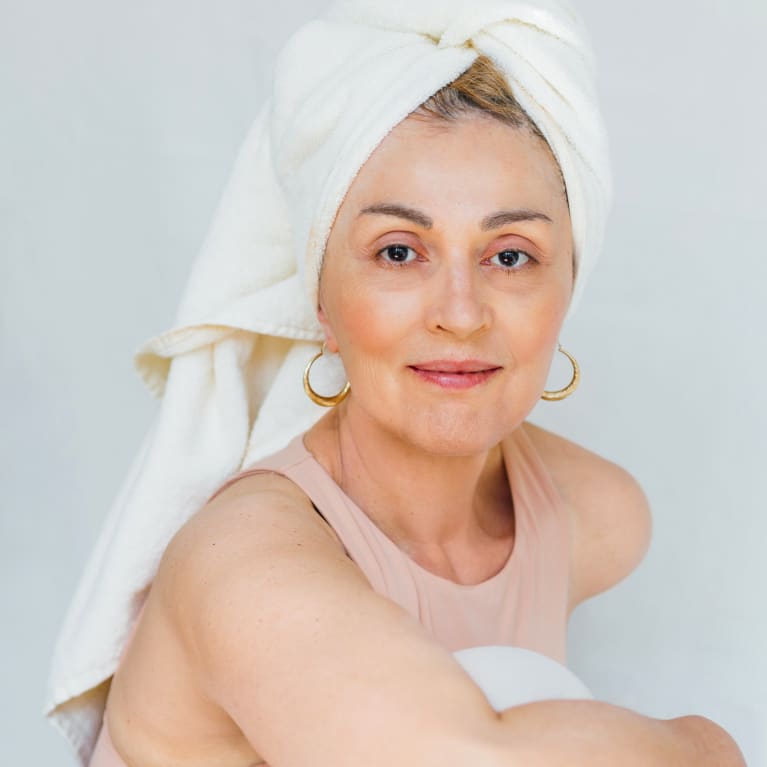 This article was produced to support the mindbodygreen supplements+ line. Our supplements adhere to the highest standards of ingredients and quality. We hope you enjoy these products, for more information
click here
.
Collagen is a precious thing that keeps our skin youthful, texture supple, and our barrier intact: In fact, it serves as the most abundant protein in our skin. Well, as you may know, it depletes with age naturally. This unfortunate skin process starts as early as your 20s continuing thereon after (it also takes a steeper drop during menopause).
But your natural age progression isn't the only thing that causes collagen decline. In fact, there are several notable examples, including UV damage (perhaps the most famous) and pollution (it's up there too). But what about other environmental factors? Surely it's not just sun and pollution exposure that affect the integrity of our skin structure, no?
And well, there is some truth to that: Dry, irritated skin that so many get during this time of year can actually trigger collagen loss in the skin due to inflammation—or one of collagen's biggest enemies.
Dry weather, inflammation, and collagen: But what does it all mean?
OK, so dry skin often upticks during the colder months—this likely comes as no surprise. But dry, parched skin is also an indication that your skin barrier function is weaker, allowing for transepidermal water loss as well as increased inflammation.
Now, in the short term, a little inflammation can actually boost collagen production. (This is why people recommend gentle chemical exfoliators, like glycolic or lactic acids. They do so by triggering your body's wound-healing response, which often ends up creating more collagen than what's needed—thus, you get a little boost. However, it's also why dermatologists are so strict on how much you exfoliate (once or twice a week, FYI), as too much of it will backfire.
So the problem becomes when the skin is subject to long bouts of chronic inflammation: This sort of inflammation is what will cause overall collagen loss in the skin. Essentially, when your inflammation is in overdrive and carries on for extended periods of time, your skin never gets the chance to catch up and replace the lost proteins during its wound-healing period.
So if your skin has inflammation flare-ups come winter that stick around, you likely need to be tending to your collagen levels, like ASAP. But it gets worse: With collagen depletion (as well as ceramide, elastin, and hyaluronic acid depletion), your skin barrier function loses some of its power. Creating a little something of a vicious cycle of inflammation leading to collagen loss—and collagen loss making the skin more vulnerable to inflammation.
A collagen supplement can help ease inflammation come dry weather. 
Collagen supplements are expert skin helpers for a variety of reasons. First up: The hydrolyzed collagen peptides are able to be absorbed easily by the body. From there, studies show that these peptides help promote your skin's fibroblasts, or the parts of the cells that create collagen and elastin.* And the theory goes that healthy fibroblasts come with healthy collagen and elastin production, ideally helping you tip the scale during bouts of skin inflammation. And the research seems to back this up: Studies have shown that these collagen peptides are able to support skin elasticity and dermal collagen density.* It also helps ease any dryness that comes hand-in-hand with inflammation: One double-blind, randomized placebo-controlled clinical trial found that participants' moisture levels in the skin were seven times higher than those who did not take the supplements.* And with those supported, you're going to see some help in your skin barrier function.
But collagen supplements, like mindbodygreen's grass-fed collagen+, can actually help ease inflammation in the first place. Now, it does so by supporting your gut lining—and thus managing internal inflammation rather than external—but with aggressors coming at skin from all sides, we can never be too careful.* It also helps manage inflammation with the added actives vitamin C and E and sulforaphane glucosinolate, which help neutralize free radical damage and manage oxidative stress (other huge triggers of collagen decline).*
We know internal inflammation isn't good for us—and some of you might know that it can cause collagen loss in the skin. But did you realize that one major cause was skin inflammation itself? We tend to think of skin inflammation as a symptom of larger systemic inflammation—which it is—but the skin level inflammation can do some damage too. To tend to it, consider a high-quality collagen supplement.*