How Author & Yoga Teacher Kathryn Budig Spends Her Days Off
mbg Associate Movement & Wellness Editor
By Ray Bass, NASM-CPT
mbg Associate Movement & Wellness Editor
Ray Bass is the associate movement and wellness editor at mindbodygreen and a NASM-Certified Personal Trainer. She holds a degree in creative writing from the University of Pennsylvania, with honors in nonfiction.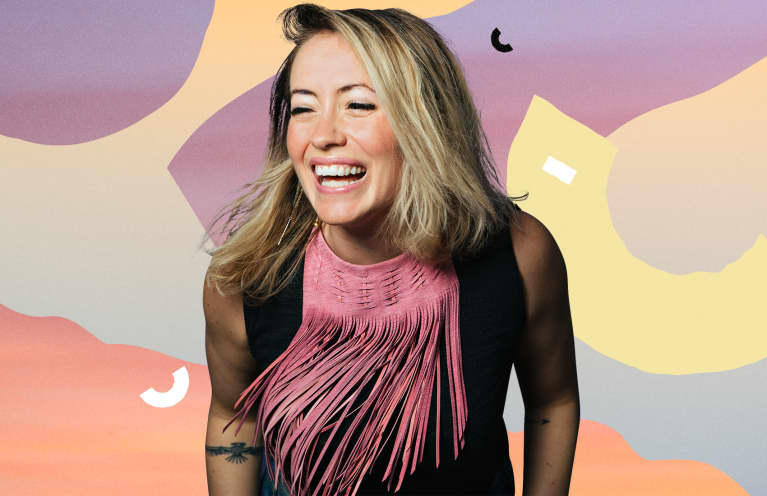 In the world of health and well-being, it's easy to feel like you're doing something wrong if you're not on your game 100% of the time. Here at mbg, we don't subscribe to that. In fact, we don't call it "cheating" when we eat a bagel or take in an afternoon movie. We know that indulging is an important part of life—it's giving yourself a break, taking some time to relax, and letting your guard down a bit. Sometimes that's the best form of self-care. So in our new series
Weekend Well-Being
we're exploring the lesser-seen lives of well-being professionals—what they make time for, what they do to unwind, and what their lives look like when they're not on the job. Welcome to Weekend Well-Being.
Kathryn Budig is a renowned yoga teacher, author, podcast co-host, and fashion designer. Her message "aim true" has resonated with numerous people throughout her career—whether it be in her yoga classes, on her social media, or through her personal relationships. Talking to Kathryn is like chatting with your best friend. Here's a look at what she gets up to on her days off, as told by Kathryn.
Which day do you consider your day off? Does it change?
It totally varies with my schedule, just because I haven't had a typical schedule in forever. So it's very much dependent on if I'm home or I'm traveling and then what's going on within the parameters of being home. A quote-unquote "day off" for me is basically if I have one of those days when I wake up and, like now, I don't feel good so I'm not going to be doing any workout today just because I can tell my body needs to consume a ton of water, sleep, and rest. But I also don't put pressure on myself to perform a certain way every day. I do like the idea of sweating every day whenever it's possible, but I also don't dock myself if I can't make that happen. So it's not an "oh, this is my cheat day or this is my rest day"; it's more like every single day I check in with my body and see what it needs.
What does a day off look like? 
My wife Kate and I have a ritual at home: We wake up and we have a Nespresso machine in our house, so we make oat milk lattes every morning. We have two dogs, so we try to take them on a nice long walk in the morning, so that's very much our morning ritual—wake up, make oat milk lattes, walk the puppies. We just renovated our backyard, so we've been spending a ton of time out there reading, we have a little stock tank pool, so just soaking and reading. I also have an herb garden, and I've been spending a lot of time with my plants and herbs. It's all incredibly rejuvenating for me.
What about a night off? Do you cook or go out? 
Cooking is really cathartic for me, so even when it's a day off, cooking can still be my friend. Obviously, if I'm physically exhausted and the idea of going to the grocery store and being intelligent in the kitchen is too much for me to handle, we love to go out to restaurants. We live in Charleston, South Carolina—the food and bev scene here is top-notch. So we love to get dressed up and go out, but we also love ordering a pizza and watching our Netflix on the sofa. Once the sun goes down, we like to pick out a show that we watch together and I'll cook—we're not a sophisticated family that sits down at the dinner table. I definitely cook dinner, and then we sit on the sofa together and eat it there. Even if it's a really beautiful meal, it still gets transferred to the sofa.
That's the time when I know it's OK to turn off my phone and brain and just be.
What parts of your routine stay the same, even on your day off? 
I do enjoy sweating every day. I'm going through a phase right now where I'm doing almost all my working out at home. Kate and I travel a lot, and we've had a lot of family stuff going on lately, so there's just something nice about being at home and creating our own little bubble—so we've been focusing on that. It's not like working out is something we have to check off our list, but it's more a celebration that this body is functioning for me and working and moving. That doesn't completely take out the dread of working out, but I'm trying to redefine how we look at that physical practice.
I love being around people and students and working out in a community (that feeling is unbeatable), but I think there are different seasons of your life when your little bubble feels really good too.
Are there routines or practices that you skip on your day off? 
Sleep trumps everything in my life. Like I have to sleep. I will never be that person who wakes up at 5 a.m. to make sure they get their workout in before they head to the airport. I would love in theory to be that person, but it just will never, ever be me. And you know, if I can't get my workout in, I just try to find something else in my wellness routine that I can do for myself, whether it's eating lots of greens that day or taking certain vitamins or supplements or something—something else I can do for myself if I can't get in physical activity.
And you know, I'm really kind to myself. For someone who has been in the fitness world for as long as I have been, I'm really treating it as a celebration and not a punishment and not something that I have to do to attain an aesthetic. Even if it means I sit and meditate for the day or I'm doing a couple of sun salutations, it's really easy to fall into this definition of "you have to do this amount of work for this amount of time for it to even count." That's not the case. I think if people can flip their perspective on that and see five minutes as more than zero minutes and know that it still counts as moving your body. Of course, it depends on whether you want physical results or not, but if you're just doing it for well-being, then five minutes is still great.
I'm not the first person to think of it this way, but at the end of a big meal, when it's so easy to be like, "Oh my god, I'm so full, I'm so full," I'm trying to think of it as I'm legitimately full with amazing food and full of amazing experiences and I'm living a full life. I try to take anything that would normally have some sort of negative connotation and flip it so that I don't fall into that negative habitual ticker tape of punishment or this is wrong and this is right. That's all been very helpful for me as well.
What's your advice for people who want to indulge but still stay healthy?
Being healthy isn't restricting yourself. They're not synonymous. It's important to be a healthy person who's actually experiencing life. And if that means going out and drinking alcohol or eating something with sugar in it or something that completely doesn't fall under the umbrella of wellness, that doesn't mean you're cheating; that means you're experiencing life.
I just think it's very important for people—you don't want to become that person who has a cupcake and then they count exactly how many calories are in that cupcake and how many steps or activities it is going to take to burn that off. That's not an experience. That's not being present. That's being completely stuck in the prison of your mind. That in itself is not balanced and not healthy. So step one is getting out of the prison of your mind of restrictions. Once you can get out of that mental place, then you're not going to punish yourself for something that isn't under the umbrella of wellness. I do think there's something to be said for someone who practices 100% wellness and health all the time—I honestly don't think that's healthy. I think you need to allow yourself to be.