6 Weird Kitchen Tools That Take Healthy Cooking To The Next Level
Contributing Food Editor
By Liz Moody
Contributing Food Editor
Liz Moody is a food editor, recipe developer and green smoothie enthusiast. She received her creative writing and psychology degree from The University of California, Berkeley. Moody is the author of two cookbooks: Healthier Together and Glow Pops and the host of the Healthier Together podcast.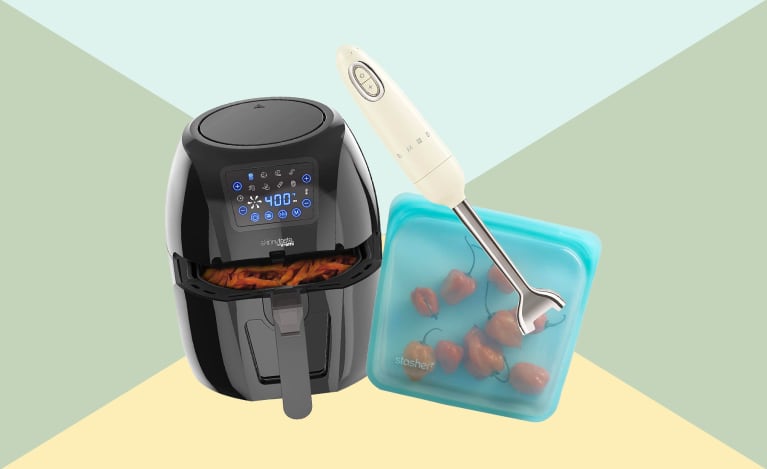 Our editors have independently chosen the products listed on this page. If you purchase something mentioned in this article, we may
earn a small commission
.
While I'm a firm believer that you need little more than a good knife and a single pan to live a healthy lifestyle, sometimes the fun kitchen gadgets can be a huge asset, making cooking easier, better for you, and way more fun. As a cookbook author and healthy food writer and editor, I've gotten to test hundreds of trendy items—and after all that, these six have actually earned a place in my kitchen:
Air fryers have become trendy recently, with promises of making healthy versions of the crispy, fried food so many of us grew up loving. They're essentially small convection ovens, able to quickly circulate air all around the food, so it gets crispy and delicious quickly. In my tiny New York apartment, I not only lack a convection oven, but the oven I do have is finicky, with hot spots and temperature disparities I have to keep an eye on. I love my air fryer because, with a few pushes, I can get consistent results every time, without paying any attention.
I've also been awed by a good air-fryer's ability to make truly crispy versions of my favorite fried foods (cauliflower bites, French fries). While I don't think fat is inherently bad and I love using lots of the better-for-you kinds in my recipes, frying can quickly heat oils to the point where they become rancid, and it usually means consuming large amounts of refined fats (versus whole food fats like avocado, or nuts)—plus, it makes a huge mess of your stove and clothing. Air fryers use a small amount of fat (which you want, since many vegetables contain fat-soluble vitamins) but keep the ratios reasonable while containing all the mess. My pick: The just-released Skinnytaste by Vremi Airfryer is compact enough for small apartments and PFOA-free ($89.99)
If you've seen the weird stick-like objects in chef's kitchens and wondered what they are, allow me to formally introduce you to an immersion blender.
An immersion blender's fundamental advantage is that it lets you blend something directly in the pot rather than transferring it to a separate vessel. I love this for hot soups (especially since many blender carafes are made of plastic, which I don't love touching my piping hot food) and mashing root vegetables—an immersion blender makes it super easy to get any texture from super smooth to more rustic and chunky.
A huge reason I think it's worth it to buy an immersion blender these days, though, is the attachments that generally come standard—most are sold with a small container for blending sauces and dressings that can get lost in a larger blender and beaters for whipping aquafaba or organic cream or making cookies. You simply pop on a different attachment and voilà, it's the most multiuse item in your kitchen. My pick: The Smeg Hand Blender has all of the attachments you want, and its cute retro vibe is a welcome addition to any kitchen ($179.95)
A spiralizer is a great way to make it easy to consume more veggies. I started off using mine in the most basic ways (lots and lots of zoodles) and then transitioned into using it as a sort of replacement for a shredder. If I want veggie waffles, spiralizing the ingredients is way faster (and prettier!) than breaking out my box grater. If I want a quick stir-fry, spiralizing some veggies is a quick alternative to chopping for hours.
I also love it to make gorgeous, tangled salads—because we eat with our eyes in addition to our mouths and noses, the beautiful spiraling colors make the raw vegetables even more appealing (this is an especially great trick for dinner parties). My pick: I've tried a million spiralizers, but I never actually liked spiralizing until I got the Inspiralizer Pro, which features an easy knob to change noodle sizes (rather than fiddling with awkward attachments) and rubber feet to keep it from moving on the counter ($34.95)
Stasher bags are a simple concept: They're simply zip-top bags that are made of silicone instead of zip-top plastic. Once you buy them, though, you realize just how much plastic you can avoid simply by making a single swap. I love using stasher bags in the way I'd use normal plastic bags, like storing veggie scraps in my freezer that will later become homemade stock.
But because they're made of silicone and heatproof (you can even sous vide in them!), they take on even more uses. I'll pack leftover grains in them when they're still hot, spreading them out in the bag so they cool quickly before I stick them in the fridge. I'll put leftover solid or semisolid (think: chili) meals in them, then take them for lunch. I've even used them to quickly defrost meat, removing it from its plastic package and putting it in the Stasher bag before submerging it in hot water. My pick: I love all of my Stasher bags, but the 64.2-ounce "Storage" size is the most used in my kitchen ($19.37)
While, yes, I love having ice on hand, that's not why ice cube trays make this list. Ice cube trays are one of my top tools for preventing food waste in the kitchen. If I have leftover stock or broth, I freeze it in ice cube trays, then pop out the cubes and put them in a Stasher bag to use later—the smaller amounts are perfect to deglaze vegetables, add depth to a sauce, add a note of umami to pasta water (try it!), or add a bit of liquid when pan-steaming vegetables.
If I have avocados about to go bad, I'll scoop out their flesh and press it into an ice cube tray; when it's frozen and rehoused in a Stasher bag, it's a perfect size to pop into a smoothie. Herbs at the end of their lives are frozen in olive oil, becoming little flavor bombs; small amounts of leftover smoothie are put into cubes to be reused in later smoothies. My pick: I love these Ozera large ice cube trays, which are made of food-grade silicone, reasonably priced, and big enough to easily hold whatever I'm using them for ($9.99)
While most people in wellness have a blender (and I definitely do, and use it daily to make smoothies and lattes), they're often slower to purchase a food processor. I actually find a food processor has even more uses than a blender, once you know what to do with it. I use it to make broccoli, carrot, and cauliflower rice, putting the chunked vegetable in with the blade attachment and pulsing a few times until a rice-like texture forms.
I also love to make chopped salads with it—the process is the same as the riced veggies but with a few less pulses (just don't overcrowd it with either process, or you'll end up with unevenly sized chunks). I love it for making pestos or homemade nut butters—while both are possible in a high-powered blender, often a lot of the finished product will get stuck under the blades, and a food processor lets you not waste anything.
Finally, if you want to make your energy balls, a food processor is a must-have—it mashes any dried fruit and nut mixture to make a healthy snack in seconds. My pick: The Cuisinart 11-Cup food processor is the perfect size—not too big for my small apartment and not too small to make quick work of any of my vegetables ($129.99)