A Holistic Derm's Must-Have Smoothie Recipe To Help Restore Collagen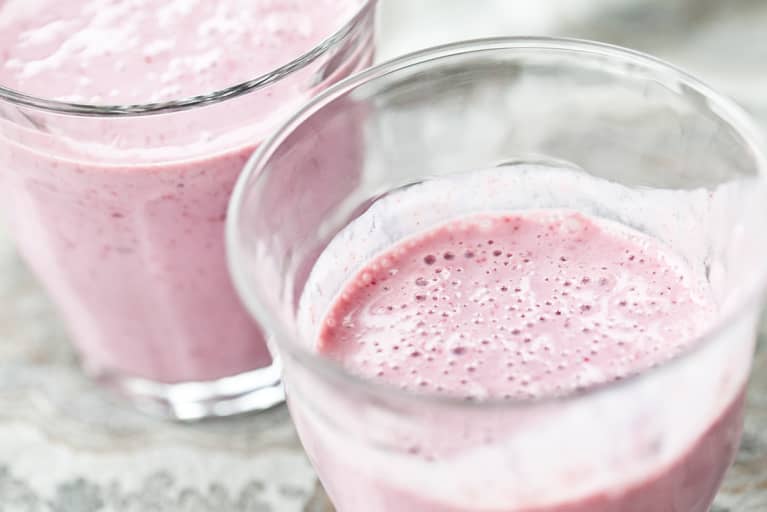 Listen, we say this a lot at mbg, but healthy skin truly does start from within, and what you consume eventually shows up on your complexion. It's why we often recommend water-dense, high-fat foods to keep your skin dewy and supple—when it comes to skin that appears (dare we say?) lit from within, nutrition carries significant weight. Board-certified dermatologist Whitney Bowe, M.D., shares the sentiment, as she routinely presents her all-time favorite foods for skin health: pomegranate, watermelon, egg whites, nuts, and so much more.
Recently, Bowe offered up an entire skin-supporting recipe over TikTok—that we had to cover. Below, her everyday smoothie for dewy, supple skin.
How to make Bowe's glow-inducing smoothie.
To create a skin-supporting sip, Bowe recommends selecting ingredients with protein, antioxidants (specifically vitamin C), skin-friendly fats, and prebiotics. Her smoothie fits the bill quite nicely: She includes banana for prebiotics that nurture the gut-skin axis; almond butter for protein and healthy fats; and blueberries, spinach, and cacao powder for those potent antioxidants.
Specifically, cacao powder "contains polyphenols, which are bioactive nutrients known to quench free radicals and rebalance the gut microbiome," she explains in a comment. Blueberries, on the other hand, contain anthocyanins (or the pigments that give berries their blue-purple coloring), which have been shown to help support healthy skin aging by providing antioxidant protection against environmental exposure and free radicals. Research shows these anthocyanins can also promote natural collagen production. Vitamin C also has an integral part in collagen synthesis, and it stabilizes the collagen you already have*—it's present in the berries and spinach.
In short: This smoothie contains antioxidant-rich and collagen-supporting ingredients, both of which can help enhance your glow.*
1 small banana, frozen in chunks
½ cup fresh or frozen blueberries
1 cup spinach
1 tbsp almond butter
1 tbsp raw cacao powder
1½ cups almond milk
Place all ingredients into a blender and whir until smooth.
Pour into a glass and enjoy!
If you want to add some extra protein and beauty benefits, we highly suggest chucking in a scoop of collagen powder. Hydrolyzed collagen peptides have been shown to help promote your body's natural production of collagen and other molecules that make up the skin, like elastin and fibrillin, and our targeted formula is especially divine, if we do say so ourselves.*
In addition to those collagen peptides, this new-school supplement formula contains vitamins C and E for enhanced collagen production and antioxidant support, hyaluronic acid for skin hydration, biotin for your beauty needs, and curcumin from turmeric extract and sulforaphane from broccoli seed extract for supporting detoxification and combating oxidative stress.* So it covers all of your beauty bases, and then some.
If you're looking to incorporate more skin-supporting foods into your daily meals, why not include them all in one delicious blend? Bowe's everyday smoothie is rich in antioxidants and collagen-supporting ingredients, and you can always add more glow-inducing players to the mix if you choose.