This Is The Best Diet For Healthy Aging, According To A New Study

Beauty & Health Editor
By Jamie Schneider
Beauty & Health Editor
Jamie Schneider is the Beauty Editor at mindbodygreen. She has a B.A. in Organizational Studies and English from the University of Michigan, and her work has appeared in Coveteur, The Chill Times, and Wyld Skincare.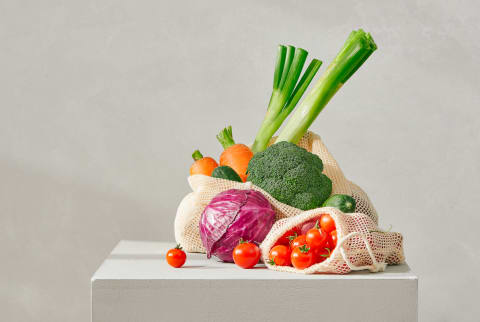 Image by Marc Tran / Stocksy
June 25, 2021
At mbg, we wholeheartedly believe in the power of food to enhance your health and longevity. In fact, it's something we've written about time and time again. Of course, there are a wealth of opinions in terms of which pantry staples to reach for, but a recent study in the American Journal of Clinical Nutrition identified a diet that might be able to promote healthy aging via epigenetics1 (don't worry; we'll explain what that means below).
Which foods make up said diet? Let's dive into it.
Wait, what's epigenetic aging?
To put it simply, epigenetics is the concept stating there are ways to influence which of our genes are expressed and which are not. We all experience epigenetic changes to our DNA throughout our life, but "optimizing our epigenetics has the potential to affect society's most problematic health issues," writes naturopathic doctor Kara Fitzgerald, N.D. Issues like cardiometabolic health, weight management, immunity, and more. "It may even help turn back the hands of our biological aging clocks," Fitzgerald adds.
One of the most well-studied mechanisms that affects gene expression is DNA methylation, a biochemical process that happens in the body all day, every day, and helps your body produce adequate levels of powerful antioxidants, like glutathione (read all about it here).
"Food and nutrients may modify DNA methylation patterns by modulating enzyme activity and altering substrates and cofactors," the report reads, which is a fancy way of saying: By supplying your body with the nutrients and antioxidants you may be missing, you can potentially stabilize free radicals that can hinder the methylation cycle, thus leading to overall health and promoting longevity.*
The best diet to reduce epigenetic aging.
What are the best nutrient-dense foods, you ask? Well, the researchers asked participants to report their diet habits in the past year: How many vegetables, fruits, nuts, legumes, and whole grains were they eating? What about red and processed meat, sugar-sweetened beverages, and sodium? They then took blood samples to measure DNA methylation status, specifically looking for three markers: DunedinPoAm, GrimAA, and PhenoAA—all of which have been associated with age-related health issues and dysfunction (things to avoid).
Lo and behold, participants who had a higher diet score (meaning, lots of fruits, veggies, grains, and legumes and fewer processed, sugar-laden items) had less of those epigenetic age acceleration markers. Not to mention, they also generally had lower BMIs, higher HDL cholesterol (or the "good" cholesterol), and were less likely to take blood pressure medication.
Even individuals with a history of smoking (either current or former smokers) had less of those age acceleration markers—that's certainly not to say a healthy diet will cancel out the negative impacts of smoking, but it's interesting how the effect is still that prominent.
In terms of what, exactly, makes the diet so good for healthy aging, it remains a little unclear: "This favorable relation between higher diet quality scores and epigenetic age deceleration may be related to reductions in oxidative and inflammatory stress," the report reads. However, more research is needed to assess the specific mechanisms responsible.
The takeaway. 
A diet chock-full of fruits, veggies, nuts, legumes, and whole grains may support healthy aging, according to this study, by optimizing DNA methylation patterns.* If you spend ample time here at mbg, this may seem like information you already knew: But now we have some more science to back up the food is medicine claim.
Want to turn your passion for wellbeing into a fulfilling career? Become a Certified Health Coach! Learn more here.

Jamie Schneider
Beauty & Health Editor
Jamie Schneider is the Beauty Editor at mindbodygreen. She has a B.A. in Organizational Studies and English from the University of Michigan, and her work has appeared in Coveteur, The Chill Times, and more. In her role at mbg, she reports on everything from the top beauty industry trends, to the gut-skin connection and the microbiome, to the latest expert makeup hacks. She currently lives in Brooklyn, New York.