How To Do High Knees For A Fiery Core & Cardio Workout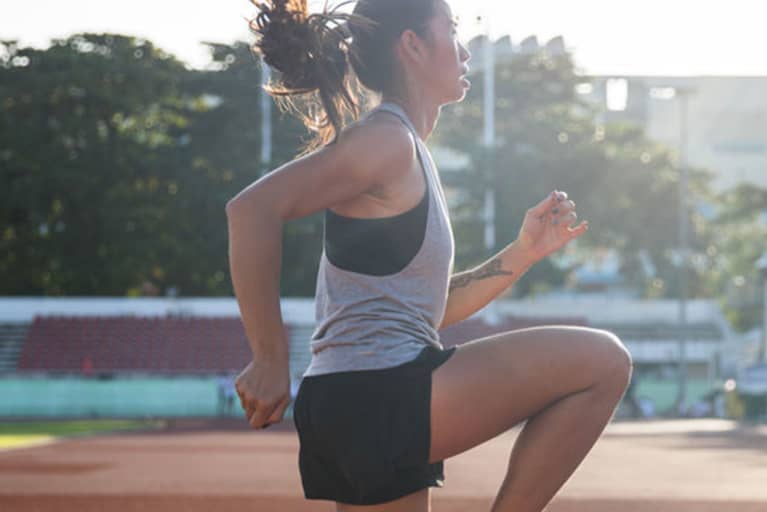 Just like anything in life, it can be easy to fall into a rut with your workout routine, doing the same move or combination of exercises day after day and wondering why your progress has plateaued. But that doesn't need to be the case. Take cardio, for instance: There are so many different moves you can experiment with to increase your heart rate and break a sweat. One great example that's great for any fitness level and still challenges your entire body? High knees.
We checked in with fitness instructor, dancer, and boxer Mindy Lai to demonstrate exactly how to fit high knees into your workout routine, whether it be in between sets for a quick boost of movement or within a HIIT session to challenge your cardiovascular strength. We're sweating just thinking about it.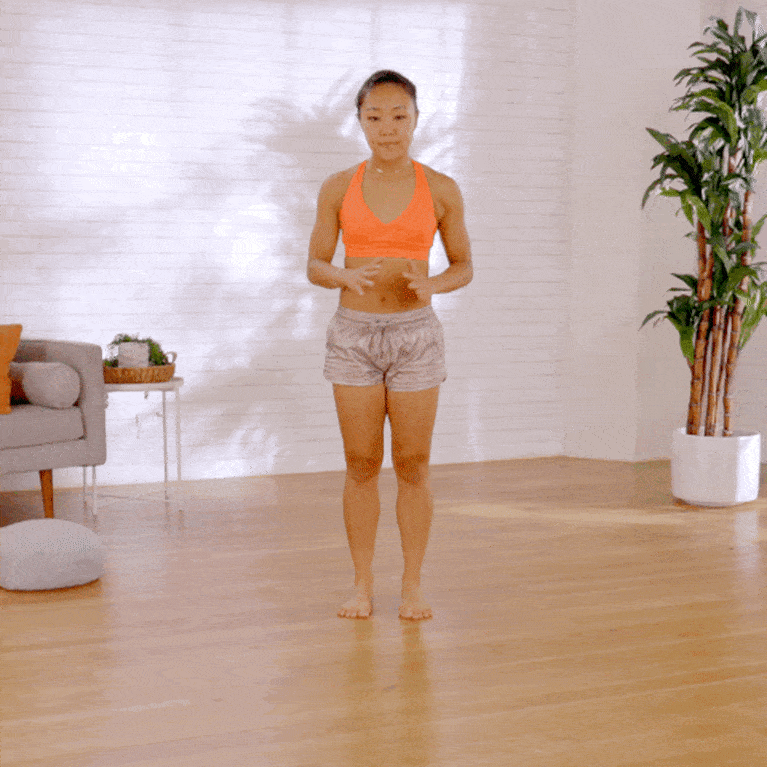 Start in a standing position.
As quickly as you can, lift one knee to hip height, then the other.
Drive your arms back and forth to support the movement. It should feel like you're running in place.
Continue for 1 minute.
High knees is an easy exercise to get lazy with, but Lai explains that it's important to brace your abdominal muscles and use your core to drive your knees upward in an explosive movement. Keeping your arms moving will also increase your energy output, bringing them back and forth with intensity as if you're running in place.
Engaging both your upper and lower body will help to push your heart rate up, and Lai describes this movement as her "special burnout" in between rounds to keep your body moving so you get the most out of your cardio session.
Modifications and variations:
If you aren't getting enough of a challenge out of your regular high knee movement, Lai suggests adding a punching motion toward the ceiling to increase the intensity. The faster you punch, the more difficult it will feel.
Start in a standing position.
As quickly as you can, lift one knee to hip height, then the other.
Drive your arms toward the ceiling in alternating punches, lowering your fists to shoulder height each time.
Continue for 1 minute.
Another option is to simply lower the height at which you drive your knees to scale down the intensity of the movement. Marching in place and bringing your hands to your knees while engaging your abs is another lower-impact variation that can help you build up to more intense cardio.
How to add it to your routine.
High knees are one of the best exercises to try at any fitness level for increasing your heart rate while engaging your core, arms, and legs in a fiery full-body workout. If you're looking for a powerful and speedy cardio routine, this 15-minute boxing session from Lai will be the perfect fit.
Otherwise, you can't go wrong with adding 30 seconds of high knees during the active rest period of your weight training workouts to get you sweating. Endorphin boost, here you come!