Algae Is A Controversial Ingredient Right Now: Is It Good For Acne-Prone Skin?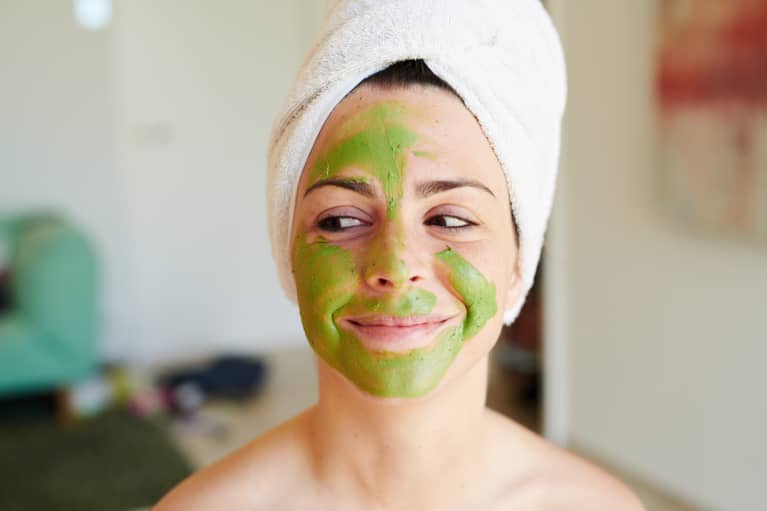 If you've struggled with acne before, or know somebody who has, then you likely understand the difficult process of finding topicals that actually work. So many skin care products claim to help clear breakouts, but just because certain ingredients may work for some people doesn't mean they will help everyone.
One popular way to check if a product is suitable for acne-prone skin is to look for noncomedogenic on the label. This is supposed to mean the product won't clog your pores and thus shouldn't cause breakouts. But here's the caveat: There is no real definition of "comedogenic," and what clogs one person's pores might be another's all-time hero ingredient. That said, it's always best to assess on a case-by-case level and rely on testing products instead.
Specifically, there's one ingredient that can fall into the comedogenic category for some but continues to pop up on ingredient lists…including products that are formulated to help treat acne. Confusing, we know. But don't worry; we asked skin care experts to get you all of the information on this buzzy ingredient. Here, we're talking about algae, in all of its many forms.
What kind of algae is used in skin care?
Although using the general term algae is easier in casual conversation, it should be noted that there are tons of different kinds of algae. In fact, experts believe there are nearly 73,000 species! "The world's algae offers a tremendous and relatively untapped potential of bioactives from three branches of macroalgae (seaweeds), such as green (Chlorophyceae), red (Rhodophyceae), and brown (Phaeophyceae). We also have microalgae, which are a diverse group of microorganisms such as prokaryotic cyanobacteria (blue algae)," explains molecular immunologist and skin care expert Ebru Karpuzoglu, MSc. Ph.D.
That being said, not every skin care product uses the entire algae plant. Instead, many use extracts of a certain species. "Algae extracts or bioactives extracted from macro or microalgae used in skin care are highly processed. This means that beneficial parts of the algae are kept and all other non-beneficial parts are removed," Karpuzoglu adds. Namely, the ones that may be comedogenic.
So which types of algae are comedogenic? 
You're probably thinking: But doesn't algae have anti-inflammatory benefits that can help calm the skin? And you're absolutely right—not to mention, some species even have antibacterial benefits that can help guard skin health. "Several of the macro and microalgae biocomponents have been shown to have a high potential for anti-inflammation, anti-aging, skin-brightening, UV protection, boosting collagen synthesis, antioxidant, antimicrobial, and antiviral properties," Karpuzoglu says.
However, remember when we discussed how some skin care formulas cherry-pick algae extracts? This process can determine whether or not the ingredient is comedogenic. As clean cosmetic chemist Krupa Koestline, founder of KKT Consultants, explains: "Ingredients' chemistry and their behavior change upon manipulation–what that means is that raw ingredients may behave differently than their final form after it's formulated into a product." So what does this mean for algae? Well, products that use the entire algae plant, rather than isolating specific extracts, may be more likely to clog pores.
Should people with acne-prone skin use algae?
As you can probably tell, this isn't a yes or no question. Again, everyone's skin is different, so it's always important to do your own research. That being said, there are a few ways you can navigate the vast world of algae in skin care. Here's what the pros recommend:
Avoid products that contain the entire algae plant: This is a rule of thumb that may help you avoid iodide, a salty mineral experts suspect may clog pores. You can do this by checking the ingredient list and making sure algae isn't in the first few ingredients. On that note, carrageenan (also listed as Irish moss or carrageen moss), sodium alginate, and chondrus crispus may have more iodide than other types of algae, so you may want to proceed with caution if you have acne-prone skin.
Stick to products formulated for acne-prone skin: This is more of a general recommendation when it comes to selecting new products for those who struggle with acne. If a product is designed specifically to help acne but has algae extracts in it, it most likely doesn't contain any potentially comedogenic parts of the plant. Still, check your ingredient lists, but branding can be helpful here.
Keep a skin journal: If there's a product that you want to try, algae-containing or not, it's always a good idea to keep a skin journal to assess any changes. If all of your other lifestyle factors stay the same (diet, exercise, hydration, weather, etc.), then it will be easier to tell if a product is causing you to break out or not. If your skin begins to break out or begins to clear up, take note.
Run it by an expert: It's always better to be safe than sorry. If you're nervous about trying a product, run it by your dermatologist or an esthetician you trust beforehand. These experts live and breathe skin care, so they'll be able to help you navigate the world of complex ingredient lists.
Although algae may be popping up as a red flag on comedogenic scales, it may not always be as harmful to acne-prone skin as you might think. In fact, algae extracts have tons of benefits for the skin, including anti-inflammatory and antimicrobial properties, both of which can actually help with acne management. Because there are so many different kinds of algae, and we need way more research on them, it's a good idea to test a product before slathering it all over your skin—especially if you tend to break out. And if you find algae's not for you, don't fret: There are plenty of other stellar hydrators out there—niacinamide, hyaluronic acid, and aloe, to name a few.