Beauty Breakdown: How To Help Your Skin Transition From Winter To Spring & Summer
mbg Beauty Director
By Alexandra Engler
mbg Beauty Director
Alexandra Engler is the beauty director at mindbodygreen and host of the beauty podcast Clean Beauty School. Previously, she's held beauty roles at Harper's Bazaar, Marie Claire, SELF, and Cosmopolitan; her byline has appeared in Esquire, Sports Illustrated, and Allure.com.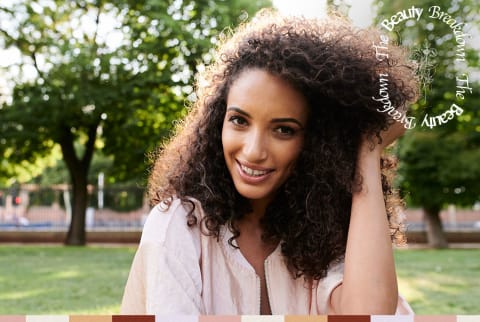 Image by Ivan Gener / Stocksy
April 18, 2022
Our editors have independently chosen the products listed on this page. If you purchase something mentioned in this article, we may
earn a small commission
.
Welcome to the
Beauty Breakdown
, our series that dives into today's buzziest beauty topics. In each we focus on a different theme and highlight all the need-to-know basics, common mistakes, and the best products to get your hands on.
Advertisement
This ad is displayed using third party content and we do not control its accessibility features.
Spring is my favorite season. The trees and flowers start to bud, the temperatures climb, and the clouds start to dissipate. There's a collective feeling of anticipation—are we, dare I ask, out of the woods of winter and into the sunshine months? It's a time for shedding heavy layers, relishing the warmth, getting out, and being playful again. Give me a week of light jacket weather, and I feel practically reinvented.
It's no wonder that the spring acts as a cultural cue for a reset. So many of us use the time to clean out our homes, rethink our habits, and revamp our routines. And as a beauty editor, I feel it's my duty to remind you that your skin likely deserves a refresh too. Which is why I've decided to deep dive into seasonal skin care transitions. Here, learn how to help your skin be its glowiest—just in time for a vibrant spring and summer.

The 101 on seasonal skin transitions.
Let me remind you: Your skin comes in direct contact with the world around you. "It's the body's first line of defense against environmental stressors, so addressing the skin is a gateway to overall health and well-being," says board-certified dermatologist Keira Barr, M.D. This means it's greatly affected by changes in your environment—seasonal changes included. As we go from colder months to warmer, most people experience a few changes in the skin. The first is that they may be experiencing some residual dullness from winter-induced dryness. Second, warmer weather usually causes increased oil production (more on that later). Third, this time of year typically means more time outdoors, with more exposure to UV rays and the effects that come with it: dark spots, fine lines, and so on.
Additionally, seasonal changes can also inspire habit changes—which of course can influence how you care for your skin. For example, perhaps you sweat more this time of year, and thus you're washing your face and body more often—that will influence how your skin looks and feels.

Advertisement
This ad is displayed using third party content and we do not control its accessibility features.
The 5 things we're getting wrong right now.
Even the most diligent skin care devotees can have habits that may be working against them. Here, common skin care practices that may be getting in the way of your best skin yet:
Thinking your skin care doesn't need a refresh. We are by no means saying you need a new routine every quarter, but you should at least use the time to evaluate the products in your current lineup and adjust as needed.
On the flip side: Changing everything all at once. But before you go overboard on your spring skin care cleanse, remember that introducing too many new ingredients all at once is a recipe for a reaction. Plus, when you add too many new actives, it's hard to track what's working and what's not.
Overloading on photosensitizing ingredients. Some ingredients have the ability to make skin more sensitive to the sun—glycolic acid, retinol, and citrus essential oils being the top culprits. Be careful with how and when you use these.
Not restocking your SPF. While you should wear sunscreen year round (duh), don't forget to restock for summertime—when you'll likely be spending more time in direct sunlight and showing more skin.
Wearing the same makeup look. This isn't an egregious error, but if your complexion is looking flaky, cakey, or dull, the culprit may be your makeup. Summertime calls for light, dewy, breathable layers that enhance your glow—using thick formulas may be getting in the way of your vibrant complexion.

Advertisement
This ad is displayed using third party content and we do not control its accessibility features.
The 4 steps you need to know.
Let's get into what you can actually do to better support your overall skin health as it transitions into summer weather:
1.
Slough off dead skin cells—responsibly.
The outermost layer of your skin is called the stratum corneum, and it's made up of dead skin cells. This layer is the protective buffer for your skin and is a vital part of the skin barrier function. However, buildup of these cells is common, and this in turn leads to dullness. Enter, exfoliation. The point of exfoliation—be it physical or chemical—is to remove that buildup, revealing brighter, more youthful skin underneath. When done correctly, exfoliation does wonders for your complexion.
However, when you go overboard—you run the risk of compromising that barrier. (Remember, the stratum corneum plays a vital role in your skin's function! You don't want to strip it too much.) "The most important tip is that 'less is more.' You want to exfoliate just enough to increase cell turnover and reveal fresh new skin," Ife Rodney, M.D., a board-certified dermatologist and founder of Eternal Dermatology, tells us about over-exfoliation. "But be sure to not scratch your skin by overusing these devices or products."
Advertisement
This ad is displayed using third party content and we do not control its accessibility features.
2.
Fuel up on antioxidants.
In the quest for glowing skin, antioxidants are going to be your best skin care friends. If you don't have an antioxidant serum or treatment step in your topical routine, take this as your friendly nudge to do so.
Antioxidants work by fighting free radicals and neutralizing oxidative stress—and in doing so, they help support your skin in maintaining a vibrant glow.* "Free radicals lead to changes in the cell that are recognized as signs of aging: decreased collagen and elastin, increased pore size, increased textural changes, and changes in pigmentation," says Morgan Rabach, M.D., board-certified dermatologist and co-founder of LM Medical NYC. (If you want a full rundown on how antioxidants work in skin care, we did a guide to antioxidants here.)
Luckily, there are so many good antioxidant options on the market, from targeted vitamins to nurturing botanical extracts. Here are a few we love for this time of year (and, well, year-round really.)
Vitamins C and E help skin synthesize collagen, which can come in handy in the summertime since UV rays cause collagen decline in the skin.*
Astaxanthin is shown to play a protective role in the skin's collagen layer.*
Aloe vera is a soothing botanical that is loaded with antioxidants, water, and minerals—it's the quintessential summertime skin care ingredient.
Advertisement
This ad is displayed using third party content and we do not control its accessibility features.
You're not imagining it—oil production increases with warmer weather. "During the spring and summer, temperatures and humidity levels rise. These changes stimulate the sweat glands to produce more sweat and the sebaceous glands to produce more sebum," says board-certified dermatologist Hadley King, M.D., about humidity and oil production. "Increased sweat production cools the skin by evaporation, and increased oil production helps to slow the evaporation of sweat to extend the cooling effect."
So while we're all for a naturally dewy shine around here, we understand that feeling greasy and oil-slick isn't ideal either. There are easy, gentle ways you can keep your sebum balanced: There are plenty of botanicals and actives that help calm and control oil production. For example, "Niacinamide and green tea also have data with decreasing oil production," says board-certified dermatologist Kanchanapoomi Levin, M.D.
4.
Revamp your SPF lineup.
Last, but certainly not least, spring is the perfect time to toss out old SPF bottles, find new options that you enjoy, and reacquaint yourself with proper sun care. While layering on a mineral sunscreen is a good basis, we believe in a well-rounded sun care regime—one that involves smart habits outside of topicals. Here, a few sun care tips we regularly stress:
Just because you apply sunscreen doesn't mean you can treat sunbathing as a sport. As chemist and author George Zaidan explained in this episode of Clean Beauty School, sunscreen is a vital part of skin care—but it's not an infallible product. Meaning: You can't treat SPF application as a catchall for sun protection. You need to take other measures into account.
Avoid spending too much time in direct sunlight at peak hours, when the sun is the strongest, if you can. For example, if you're at the beach—always have an umbrella handy that you can escape to under the shade.
Use the right amount of SPF—many experts swear by the two-finger rule. And don't forget to reapply, especially if you're getting wet and sweating. (Here's how to reapply over makeup!)
Use accessories to your advantage! Hats, sunglasses, and coverups all help keep your skin safe when outdoors.
Don't be afraid of the sun. You do need to protect yourself from the aftermath of UV rays—but getting outdoors is vital for your mental health, too.

3 extra ideas — in case you want to go all-out. 
Looking to go above and beyond? You overachiever, you. Here are some extra tips to supercharge skin:
Tap on some dewy makeup. Makeup is made to enhance your appearance—so grab your favorite tinted moisturizer, tap on some lush cream blush, and top it off with a subtle highlighter. "Look for noncomedogenic makeup formulas that won't clog pores and contribute to blemishes," says King about summer skin care. "With increased sweat and oil during the summer, lightweight makeup often feels more comfortable."
Keep a skin care journal. Alicia Yoon, celebrity esthetician and founder of Peach & Lily, swears by tracking your skin with a journal. In it, you can monitor how your skin is reacting to your new skin care revamps.
Splurge on a facial. Visiting a professional can help kick-start your radiant complexion—not to mention they can give you individualized advice on how to care for it day to day.

The 9 products to try.
While skin health takes a holistic approach, a few product recommendations can't hurt, no? Here's what beauty experts can't get enough of.
Face wash: WELL PEOPLE Juice Cleanse Soothing Aloe Face Cleanser
This is like a green juice for your skin cells: The lush gel texture gently glides across skin, washing away dirt, makeup, and impurities—leaving your skin clear and fresh. The formula is made with soothing aloe vera and antioxidant-rich broccoli seed oil, and brightening pelargonium graveolens flower oil.
WELL PEOPLE Juice Cleanse Soothing Aloe Face Cleanser ($18); Ulta.com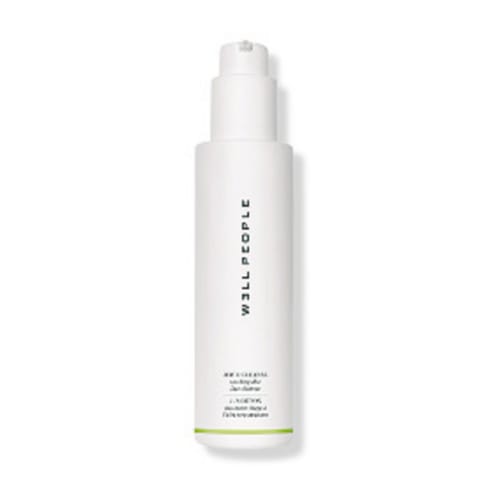 WELL People
Essence: OLEHENRIKSEN Barrier Booster Orange Ferment Vitamin C Essence
For an extra drink of brightening vitamin C, this essence uses a next-generation, stable vitamin C derivative that has potent antioxidant properties. But the hydrator doesn't stop there: It contains a fermented orange peel extract, niacinamide, hyaluronic acid, and orange stem cells. Take it from an essence convert: This tonic delivers.
OLEHENRIKSEN Barrier Booster Orange Ferment Vitamin C Essence ($44); sephora.com
OLEHENRIKSEN
Exfoliant: Peach & Lily Super Reboot Resurfacing Mask
Help slough away dead skin cells and reveal smooth, refined skin with this very appropriately named mask. The powerful product boasts 10% AHAs and 0.5% BHAs, so it dissolves both extra sebum and skin cell buildup. Then a blue agave extract swoops in to ease and buffer any irritation. A word of warning: We recommend using this in the evening and then layering on a barrier cream post-application, so your skin has appropriate recovery time.
Peach & Lily Super Reboot Resurfacing Mask ($43); Ulta.com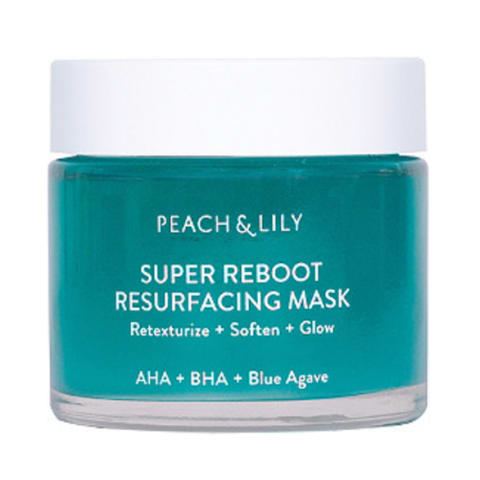 Peach & Lily
Hydrator: SeSpring So Rich Hydrating Gel Cream
In the warmer months, it's only natural to want to switch to lighter textures. (When the fabrics get lighter, as do the formulas.) But that doesn't mean you need to sacrifice hydration: This lightweight hydrator is just as moisture-rich as most of its more thick counterparts. The K-beauty brand is known for their unique textures, and this one's splashy application will surely delight. It also contains açai, pomegranate, plum, broccoli, and goji berry for antioxidant support.
SeSpring So Rich Hydrating Gel Cream ($25); amazon.com
SeSpring
Serum: Live Tinted Superhue Hyperpigmentation Serum Stick
This balm-to-liquid formula melts into skin as you apply, delivering a potent dose of niacinamide, bakuchiol, and vitamin C. Niacinamide is a powerful antioxidant that soothes skin and bolsters the barrier. Vitamin C fights free radicals and has brightening powers. And bakuchiol helps encourage skin cell turnover without the photosensitization. A triple threat.
Live Tinted Superhue Hyperpigmentation Serum Stick ($34); Ulta.com
Live Tinted
SPF: Le Prunier Plumscreen Broad Spectrum SPF
This cushiony formula contains non-nano zinc oxide but glides on skin fairly sheer. (Personally, I have pale skin, but reviewers of all skin tones have noted the same.) The blend uses the brand's famous antioxidant complex to bolster the benefits. Additionally, it has been clinically tested by FDA-registered and ISO-certified labs. Housed in matte black aluminum, it's a chic little number too.
Le Prunier Plumscreen Broad Spectrum SPF ($78); Credo.com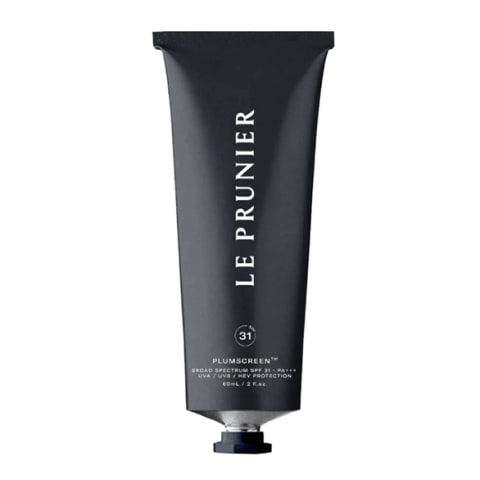 Le Prunier Plumscreen Broad Spectrum SPF
Makeup-skin care hybrid: Athr Beauty Desert Sky Highlighting Oil
One part highlighter, one part facial oil, all parts stunning. This dry oil (read: lightweight and doesn't have a slick finish) has a subtle rose-gold shimmer that gives the most delicious soft-focus glow. But it also contains collagen-supporting botanicals, so you're tending to the skin while wearing it.
Athr Beauty Desert Sky Highlighting Oil ($38); Credo.com
Athr Beauty
Supplement: mindbodygreen cellular beauty+
This is the ultimate supplement for getting a glow—year round. This vegan supplement contains potent doses of premium botanicals and phytochemicals clinically shown to support skin hydration, elasticity, smoothness, barrier function, and wrinkle reduction. In the cutting-edge formula, you'll find phytoceramides to support a healthy skin barrier structure (helping skin stay moisturized from the inside will come in handy as you use lighter face lotions). Then it's loaded with antioxidants: astaxanthin to preserve a healthy collagen layer; ubiquinol CoQ10 to promote skin cell rejuvenation; and polyphenol-containing pomegranate whole fruit extract for photoprotection. These high-quality bioactives work together, and the result is nothing short of wow-worthy.*
mindbodygreen cellular beauty+ ($76); mindbodygreen.com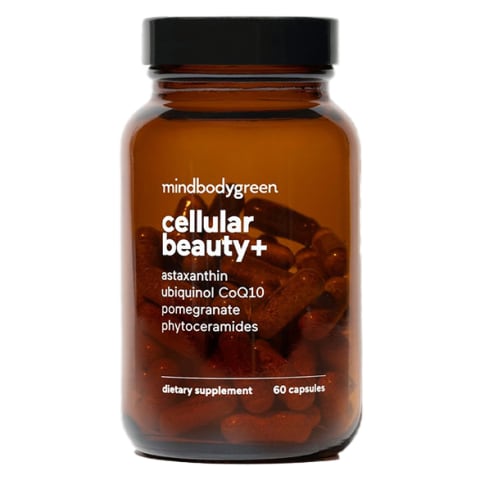 mindbodygreen
Full body: mindbodygreen postbiotic body lotion
You want your skin head-to-toe feeling hydrated and luminescent, no? Well never skip a good body lotion in that case. This blend contains several botanical hydrators like shea butter, aloe, olive-derived squalene, moringa seed oil, and oat oil. Additionally, it contains antioxidants like coenzyme Q10 and a fruit complex. Finally, the biotic ingredients bolster your skin barrier.
mindbodygreen postbiotic body lotion ($30); mindbodygreen.com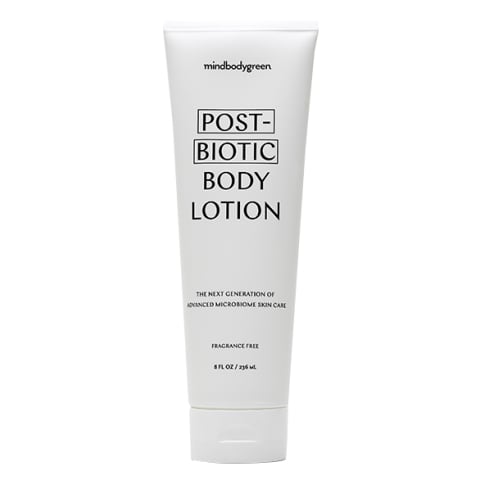 mindbodygreen

The beauty breakdown.
Seasonal skin care transitions aren't just marketing—there are real reasons you may need to make some changes to your lineup, including prepping the skin for more time in the sun and opting for lighter textures in the humidity. If you're looking for a refresh, take it from us: Now's the perfect time. For more tips on how to care for your skin in the summer, check out these eight derm-approved ideas.
If you are pregnant, breastfeeding, or taking medications, consult with your doctor before starting a supplement routine. It is always optimal to consult with a health care provider when considering what supplements are right for you.
Alexandra Engler
mbg Beauty Director
Alexandra Engler is the beauty director at mindbodygreen and host of the beauty podcast Clean Beauty School. Previously, she's held beauty roles at Harper's Bazaar, Marie Claire, SELF, and Cosmopolitan; her byline has appeared in Esquire, Sports Illustrated, and Allure.com. In her current role, she covers all the latest trends in the clean and natural beauty space, as well as lifestyle topics, such as travel. She received her journalism degree from Marquette University, graduating first in the department. She lives in Brooklyn, New York.