5 Healthy Traditional Recipes Passed Down By My Jewish Grandmothers

Food & Nutrition Writer
By Ximena Araya-Fischel, M.A
Food & Nutrition Writer
Ximena Araya-Fischel, M.A, is a journalist, IIN graduate integrative health coach, E-RYT 500 lead yoga teacher, and 500-Hour certified Pilates instructor.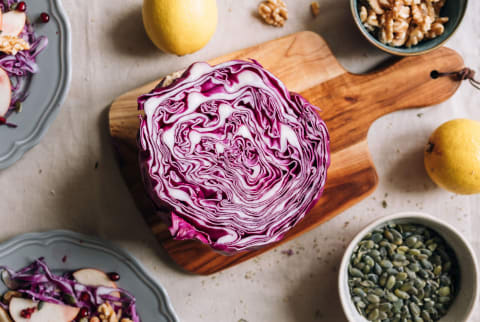 Image by Nataša Mandić / Stocksy
March 6, 2021
Beloved family recipes passed along through generations carry history, diversity, and tradition in every bite. The Jewish culinary world is an authentic example of this phenomenon—continually revealing its changing ingredients, culture, flavors, and geographies.
With both Ashkenazi and Sephardic maternal heritages, I have a deep-rooted interest in Jewish food. My grandmothers' legacy is a love story of fused cultures—and I love honoring my ancestral food memories, but with my own, healthier twists. I may not remake these recipes precisely as my Jewish abuelitas ("grandmothers" in Spanish) did, but I think they'd still be proud and satisfied.
Sephardic Jewish cuisine, in particular, shares a lot in common with the nutritious Mediterranean diet. When Sephardim in Portugal and Spain were expelled from Al-Andalus in the late 15th century, several settled on the sunny Mediterranean basin with access to natural ingredients and regional crops like olive oil, spices, grains, and fruits. While still conforming to Kosher rules, many of these seasonal, colorful dishes became healthy staples that are still a part of the traditional cuisine today.
Below, I've rounded up five of my favorite recipes from both Sephardic and Ashkenazi backgrounds. Packed with good-for-you ingredients and a dash of nostalgic delicacy, these dishes hint at the multicultural contributions that gave rise to zesty Jewish cuisine.
Abuelita's Fish Escabeche (or Marinade)
Marinating and preserving fish is a millenary cooking technique central to many Peninsula groups, including Sephardic Jews. For a nontraditional spin, use salmon or mackerel instead.
Ingredients
6 to 8 thin fillets of sea bass
Salt and pepper to taste
4 tablespoons of vegetable oil
2 onions cut into thin half-moons or strips
6 finely minced garlic cloves
2 sweet chilies cut into strips
3 bay leaves
¼ cup olives cut in half
1 teaspoon black peppercorns
½ teaspoon of dried hibiscus
1 cup high-quality olive oil
½ cup apple cider vinegar
Method
Cut the fish into small-bit pieces, and cook in 2 tablespoons of hot oil until gently toasted. Set aside.
In another pan, heat the remaining 2 tablespoons of oil, and add the onions, garlic, chili, bay leaves, olives, hibiscus flowers, and pepper. Cook over low heat for 3 to 5 minutes, careful that the onion doesn't become too soft.
Next, add the olive oil and vinegar. Mix well, and cook over low heat for 15 to 18 more minutes.
Pour the vegetables over the fish, and let the mix marinate in the fridge for 6 to 24 hours. The longer you allow this escabeche to marinate, the deeper flavors it will develop.
Sephardic Green Keftes
Inspired by the ever-popular spinach keftes of Rosh Hashanah, these leafy-green patties pack a punch with wholesome, nutritious ingredients.
Ingredients
3 eggs
1 onion finely minced
1 red, orange, or yellow pepper finely chopped (for added color!)
2 cloves crushed garlic
3 tablespoons olive oil
2 pounds chopped greens (think spinach, arugula, leeks, kale, beet greens, or watercress)
¾ cup matzo meal (or any flour-like substitute of your choice)
1 pinch cayenne pepper (optional)
1 cup cooked sweet potatoes
1 pinch turmeric powder
Freshly ground pepper to taste
1 teaspoon of salt
Optional add-ins: feta cheese, queso fresco, cooked black beans, quinoa flakes, walnuts, mushrooms, or shredded beets
Method
Sauté the onion and pepper in cooking oil until translucent before adding in the crushed garlic. Cook for 3 more minutes.
Add the greens to the skillet, and let them shrink, cook, and wilt gradually. Note that some greens may require a different cooking time. Next, remove all excess liquid by pressing down the mixture with a spatula.
Place your cooked greens in a bowl, and thoroughly mix with the rest of the ingredients.
Form little patties and cook over medium heat in your preferred oil until golden brown on each side.
Season to taste, and serve with a drizzle of tahini, hummus, or toasted slivered almonds.
Easy Guava Hamantaschen
These triangular-looking cookies are a buttery, versatile treat. They're also a traditional dish for the Jewish holiday Purim. Perfect for soaking in coffee or tea, this variation features guava—but rest assured, the filling varieties are endless!
Ingredients
½ cup unsalted butter or oil
A dash of lemon and orange zest
3 large eggs
1 cup sugar
4 cups all-purpose flour
A pinch of salt
2 teaspoons baking powder
1½ cups guava preserve
¼ teaspoon ground cinnamon
1 cup toasted almond flakes
Method
Preheat oven to 350°F.
Line baking trays with parchment paper.
Whisk and sift the dry ingredients first. Add the citrus zest.
Beat the eggs with butter (or oil) and sugar until fluffy. Combine with dry ingredients until it forms a smooth, manageable dough—cover and chill for no less than two hours.
Let the dough cool down to room temperature. Stretch it thin, cut into 8- to 10-cm rounds (you may use a cookie cutter), and transfer to parchment-sheathed baking sheets.
Place 1 tablespoon of filling in the center, and close the ends to form a triangle. Top with almond flakes, making sure they don't overlap.
For added color, you may brush off the edges with a lightly beaten egg.
Bake cookies until golden brown for 15 to 20 minutes, and let them cool.
Super Easy Gefilte Fish Patties
I couldn't help but share another healthy fish-derived dish from my Ashkenazi recipe box. A very Polish, classic take on poached fish, homemade gefilte fish may seem daunting to prepare—but I assure you, it's well worth the effort.
Ingredients
2 kilos (4 to 5 pounds) of pureed sea bass (filleted and skinned)
3 chopped onions sautéed in olive oil
4 eggs
Salt and white pepper to taste
¼ cup of matzo flour (which you can substitute for gluten-free pita breadcrumbs or your go-to breading option)
A pinch of sugar (optional)
Method
Thoroughly combine minced fish with onions, eggs, salt, white pepper, and flour to form the patties.
Cook and poach in warm water mixed with salt, pepper, sugar, carrot slices, and celery stalks for 1 to 3 hours (the longer, the better).
Serve at room temperature on top of endive leaves with a squeeze of lemon juice for an extra zing. You can also place a couple of patties on top of this tricolored sweet-potato gnocchi for a fiber-packed, flavorful nosh.
Red Cabbage With Sweet Plantains
This recipe illustrates the Caribbean influence on Sephardic cuisine. You may use apples, pineapples, or mangoes if plantains are not available.
Ingredients
1 head of red cabbage (sliced paper-thin)
2 sweet plantains (raw and finely chopped for easy cooking)
Half an onion, chopped
¼ cup water
A pinch of salt and brown sugar to taste
2 to 4 tablespoons apple cider vinegar, red wine vinegar, or lemon juice
2 to 3 tablespoons grass-fed butter, ghee, or coconut oil
Method
Sauté the onion in butter or oil until translucent. Add the sweet plantains and cabbage and cook on medium heat for another 3 to 4 minutes.
Add the rest of the ingredients to the mix; lower the heat, cover the skillet, and simmer until tender (20 to 30 minutes depending on the cabbage size).
You may add more water, salt, or sugar according to taste.
Serve as a side dish or flavorsome garnish on top of your favorite soup!
Want to turn your passion for wellbeing into a fulfilling career? Become a Certified Health Coach! Learn more here.

Ximena Araya-Fischel, M.A
Food & Nutrition Writer
Ximena Araya-Fischel, M.A, is a journalist, IIN graduate integrative health coach, E-RYT 500 lead yoga teacher, and 500-Hour certified Pilates instructor from San José, Costa Rica. She received her master's degree in communication and journalism from The University of New Mexico, emphasizing well-being, sustainable fashion, health communication research, and graduating Summa Cum Laude. A former professional dancer, she's earned multiple academic and accredited certifications in performance design, positive psychology, doula training, entrepreneurship, digital marketing, mindfulness, innovation leadership, and integrative health. Her work has appeared at top consulting brands and organizations across Latin American and the US, including Byrdie and Albuquerque The Magazine. She currently lives between Costa Rica and New Mexico.