When Comfort Food Meets Healthy: Tricolor Sweet Potato Gnocchi With Fall Greens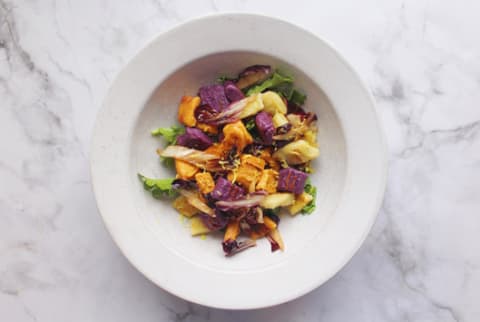 October 14, 2016
Fall is officially upon us, and it's undeniable—these colder, darker months are comfort food season. The dog days of summer are behind us and slowly but surely our light, hydrating meals are being replaced with heartier dishes.
And it's all good; we've been biologically designed to crave heavier, warming foods during fall and winter. We don't, however, have to succumb to the winter weight gain and fatigue that so often accompanies this seasonal dietary shift.
I totally get it: Carbs equal comfort, and there are few things more comforting than a warm bowl of pasta. The key to staying your healthiest and happiest (while still feeling satisfied) during the next few months is to simply find more wholesome, nutritious variations of your favorite go-to dishes.
Enter sweet potato gnocchi. Traditional gnocchi is made using white potatoes and wheat flour, which can seamlessly be substituted with antioxidant-rich sweet potatoes and gluten-free flour. All the comfort and deliciousness of the real thing, with way more health-boosting power.
I used a trio of sweet potatoes to keep things varied in the nutrition department (and yes, I'll admit it, a little pretty), but feel free to use whatever you have on hand.
The gnocchi stays fresh in the refrigerator for up to a week (and even longer in the freezer), so this is a great recipe to make ahead and whip out for an easy weeknight dinner.
Sweet Potato Gnocchi Dough
3 cups mashed sweet potato (this translates to about 3 small sweet potatoes—I used 1 orange, 1 purple, and 1 Japanese sweet potato)
1½ cups arrowroot flour
¾ cup potato starch or tapioca starch
Preheat oven to 400°F. With a fork, pierce the skin of each sweet potato about 5 to 6 times. Place on a baking sheet and bake until tender, about 45 minutes to 1 hour.
Once cooked through, allow sweet potatoes to cool to room temperature.
If you are using different varieties of sweet potatoes, work in batches (separating by color). In a large bowl, mash sweet potato until no lumps remain.
Measure out 1 cup of the mashed sweet potato, and combine with ½ cup of the arrowroot powder. Mix and mash together with your hands.
Knead in ¼ cup of the potato or tapioca starch. Sprinkle your cooking surface with some additional arrowroot flour to avoid the dough sticking.
Form the dough into a ball and then begin separating into thirds.
Roll the dough into a long rope (about ¾ to 1 inch thick).
Cut into 1-inch segments, and score each segment with a fork.
Repeat steps 3 through 8 for each sweet potato.
The gnocchi can be made ahead of time and stores in the refrigerator for up to 7 days.
Tricolored Sweet Potato Gnocchi With Fall Greens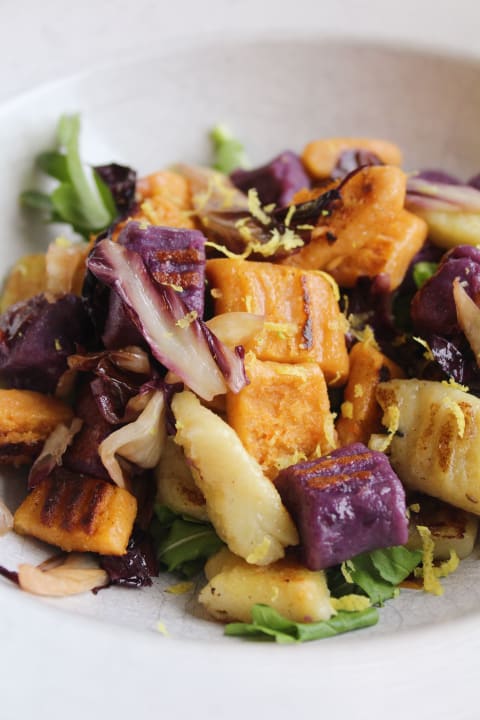 ¼ of the gnocchi
⅓ small head of red radicchio, leaves torn into small pieces
1 handful of arugula
Zest from ½ lemon
2 large sage leaves, sliced
Olive oil, as needed
Black pepper
Parmesan (optional)
Bring a small pot of water to a boil. Working in batches, carefully drop in the gnocchi. Once the gnocchi rise to the surface, allow to boil for 1 minute.
Using a slotted spoon, remove gnocchi from the water and set aside.
Repeat until desired amount of gnocchi has been cooked through.
Coat the bottom of a large skillet with olive oil. Warm over medium heat.
Again, working in batches, add the gnocchi in a single layer. Do not move them until they have a golden sear on the facedown side (about 4 minutes). Using tongs, flip each gnocchi and allow to sear on the opposite side. Set aside.
In the same skillet (adding more olive oil if needed) add the torn radicchio, cooking on medium-low heat until just wilted. Add the gnocchi back to the skillet, along with the arugula and sage. Toss to combine.
To serve, drizzle with a bit more olive oil, and add a sprinkle of lemon zest and parmesan (omit to keep vegan). Season with black pepper to taste.

Kate McCabe
Kate McCabe is a nutritionist, yoga teacher, and holistic lifestyle blogger based in Palm Beach, FL. She specializes in nutrition for mental health and helping others find more energy, mental clarity, and happiness through diet and lifestyle modifications. Each of her seasonally-inspired, plant based recipes are designed to heal and nourish the mind body, while also still tasting delicious. Kate is the founder and editor-in-chief of Solful Health, a nutrition wellness blog and coaching practice.
Photo credit for headshot: Francesca Coviello