Ground vs. Whole Spices: Can You Swap Them + Which Is Better?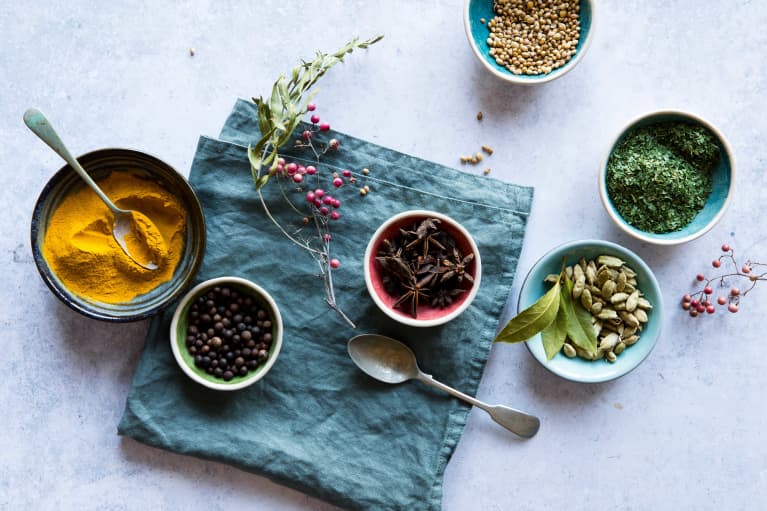 POV: You're cooking your way through a healthy recipe when you notice it calls for turmeric or ginger root. The issue: All you have is the ground variety. What do you do next? Is it a seamless swap? Or are there fewer benefits?
To help make the decision for you, we consulted spice and functional food expert Kanchan Koya, Ph.D. Here's what she says about ground vs. whole spices, and whether or not they're interchangeable.
Turmeric and ginger roots generally have to be boiled and dried before being ground. "Depending on the specific protocol used, this can result in the loss of certain beneficial volatile compounds and essential oils," Koya says.
However, the ground form can still retain several bioactives, like curcumin in turmeric, Koya says. Plus, it's easier to use in larger quantities, and peeling and grating are not required, making it a less laborious option.
In terms of flavor? That all depends on how fresh the spices are. If they're past their due date, ground spices will quickly lose their potency. If they're fresh and high quality, they may be even stronger than whole spices since the flavor compounds are concentrated.
Can you swap ground and whole spices?
When weighing the pros and cons, there's not much of a difference between whole and ground spices. Both contain anti-inflammatory and gut-friendly properties and pack a punch in terms of flavor.
Meaning, when you're in a bind, using ground spices in place of whole is perfectly acceptable. The best approach (if your kitchen is well stocked), would be to use both forms to enjoy all the benefits, Koya says.
Not only will this enhance the flavor of your meal, but it also takes the guesswork out of your next cooking project.
Summary
Ground spices can be swapped for whole spices, but instead of deciding, just use both at once.