A Food Scientist RD Shares His Favorite Veggie + Go-To Nutrient-Dense Meal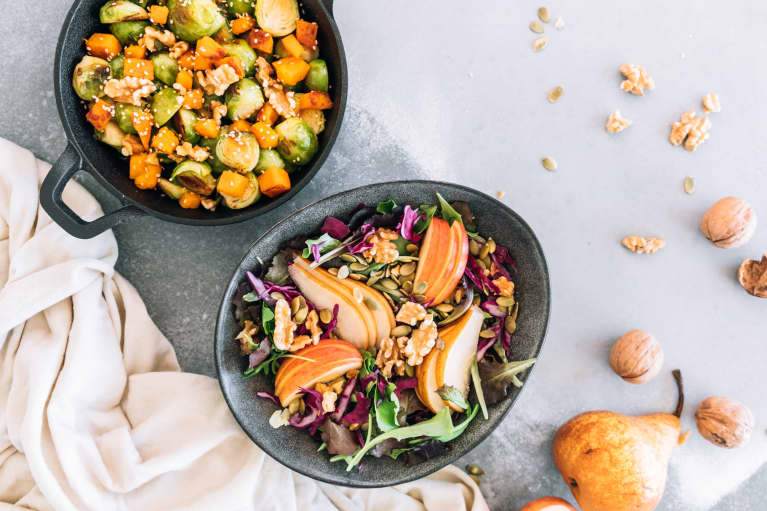 It's
National Nutrition Month
! All month long, we're highlighting the importance of a personalized nutrition approach and celebrating R.D.s across a range of specialties—hospitals, schools, community programs, universities, private practice, industry, and beyond.
Many of us have favorite, go-to healthy foods and supplements we like to keep in our refrigerator and pantry. But did you know, to formulate the ingredient matrix in those foods and vitamins, it takes a cross-functional team of experts—often including a registered dietitian?
Trey Sanders, M.S., R.D., CFS, is just that—a food scientist and R.D. who specializes in nutrition product development. For the past decade, Sanders has developed many innovative food and dietary supplement products for international brands, including Wonderful Pistachios, Continental Mills, and Bulletproof 360. Sanders is currently the research and development manager at Bulletproof 360 in Seattle.
Sanders and I recently connected to chat about this year's National Nutrition Month focus on personalized nutrition. I also got to learn more about his personal dietary approach, plus foods Sanders can't get enough of right now, including one particular cruciferous veggie.
What does this year's National Nutrition theme "Personalize Your Plate" mean to you?
"Personalize Your Plate" resonates with me both personally and professionally. We know as nutrition experts that though there are similarities in the macro- and micronutrients people need, there are important differences in how everyone's body meets those needs. Helping people to understand and utilize nutrition to serve their individual bodies has been my overarching professional principle. This is a practice I follow in my own dietary habits, too!
Do you follow a specific dietary pattern?
I do not follow a specific dietary pattern. Instead, I'm intentional about incorporating a wide variety of foods across the food groups. My experience as an R.D. working with people, whether hospital patients in a clinical dietetics setting or food industry employees and professionals, is that each body responds to nutritional stimuli differently. Implementing the exact same nutritional patterns with different people will not guarantee the same outcomes.
To live our best lives, it is important to pay attention to the nuance of how each unique body metabolizes and utilizes the nutrients we consume. Keeping a variety of healthful foods in my diet allows me the opportunity to meet my nutritional needs while also catering to my personal preferences, whether for taste, texture, or digestion.
What's your go-to nutrient-dense meal right now (breakfast, lunch, or dinner)?
When I approach meals, I often think big picture: protein, vegetable, healthy carb, and naturally sweet dessert. Following that framework, one of my favorite lunches right now combines fatty fish (I'm on a mackerel kick currently), the powerhouse cruciferous vegetable Brussels sprouts, and wild rice for a low-glycemic-index carbohydrate. My dessert combination is dairy plus fruit, which is nutrient- and protein-dense. Right now, I'm enjoying full-fat yogurt and berries, especially raspberries, cranberries, and blueberries.
Is there one "MVP" healthy food or meal addition you're personally loving right now?
Brussels sprouts! These cruciferous vegetables deliver some major nutritional benefits. They are high in fiber, vitamins C and K, and antioxidant micro- and phytonutrients. I love their delectable taste too. The Brussels sprouts grown today taste much better than in years past—now you get the dual benefit of nutrient density and enjoyable taste!
Want to turn your passion for wellbeing into a fulfilling career? Become a Certified Health Coach! Learn more here.