Mercury Is Retrograde Again — Here's Your To-Do List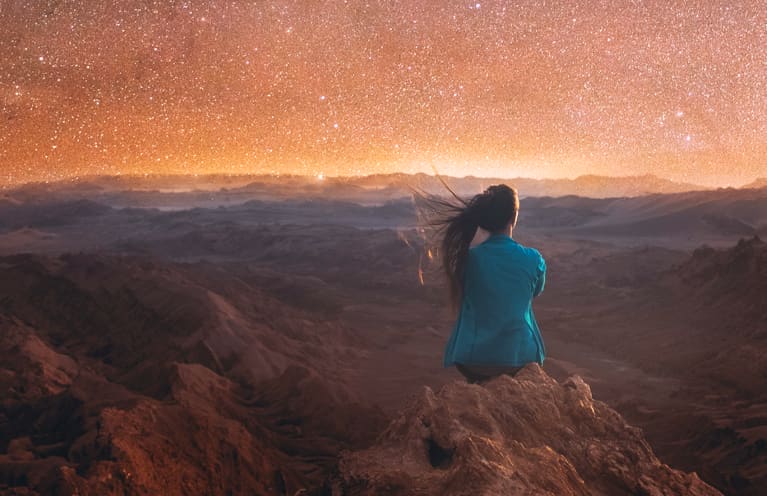 Another Mercury retrograde has rolled around, and this one is the first of 2021. Known for messing with communication, technology, and travel, there's a certain dread that comes with the recurring retrograde of the messenger planet. But when we go into it prepared, we can surf the cosmic tide of Mercury retro with grace. Here's what to know about this particular retrograde cycle, according to mbg's resident astrologers, the AstroTwins.
What makes this Mercury retrograde different?
This Mercury retrograde lasts from January 30 to February 21, and as the twins explained to mbg, "Mercury retrograde joins five other heavenly bodies in Aquarius: Venus, Jupiter, Saturn, the Sun, and the February 11 new moon."
So what does that mean? According to the twins, we may just feel Mercury's signal-scrambling influence in every area of our lives, "from love to business to the risks we'll take," they say.
And on top of that, "These modern Aquarius planets are also clashing with warrior Mars and disruptive Uranus in tenacious, old-school Taurus—making it way harder than ever for anyone to reach consensus." Read: Innovative Aquarius and stubborn Taurus don't always mesh, so don't expect perfect harmony or easy, flowing communication.
What to do (and not do) until February 21.
When we know a Mercury retrograde is underway, we can take it as an opportunity to exercise patience, double-check everything (passwords, files, emails, etc.), and reassess and revise our lives as things "go backward" around us.
This isn't a time to rush through any big decisions. As the twins previously explained to mbg, "Our minds need rest and relaxation. We move at lightning-quick speeds these days, and Mercury retrograde is an excellent time to slow down, review what you've been up to, take a breather, catch up on your emails, stay flexible, and reflect on how you've been communicating."
Mercury retrogrades are always a bit messy—but with the tense clash of Mars and Uranus in Taurus, with Mercury, Venus, Jupiter, Saturn, and the Sun in Aquarius, this particular Mercury retrograde may bring up strong opposing views as old and new come to a clash. Stand in your truth, double-check those important documents, and keep your head up until we get to February 21, when Mercury goes direct once more.