Fight Seasonal Allergies With This Integrative-Doctor-Approved Tonic
Integrative Medicine Doctor
By Taz Bhatia, M.D.
Integrative Medicine Doctor
Dr. Taz Bhatia is a board-certified physician, specializing in integrative and emergency medicine, pediatrics and prevention, with expertise in women's health, weight-loss, hormone balance and nutrition. She attended Emory University, the University of Georgia and the Medical College of Georgia.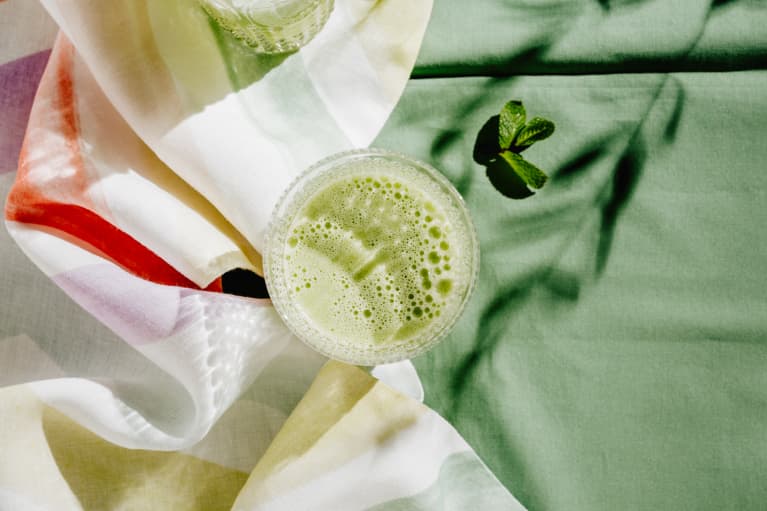 You know spring has officially sprung when you notice those sheets of yellow pollen covering cars, driveways, and your clothes. Or when you start to feel that increasingly intense itching in your eyes and scratchiness in your throat that can only mean one thing—it's officially allergy season.
More than 50 million Americans suffer from seasonal allergies, so developing a personal allergy-fighting plan can be key to ensuring you're not holed up indoors amid a pile of tissues this time of year. But, before you knock yourself out with an over-the-counter medication, you should know that there are effective all-natural ways to beat your allergies without all the drowsiness and dry mouth. Case in point: this delicious allergy-fighting tonic that I personally sip on every day.
Tonics are simply drinks taken in small quantities with powerhouse benefits. When it comes to fighting allergies, my favorite no-frills recipe features pineapple juice, apple cider vinegar, dandelion greens, and honey.
Each of these ingredients plays a powerful role in affecting the key physiological issues that cause spring allergies—poor digestive health, high histamine response, weak immune system function, and a sluggish liver. Here, I explain how each of these ingredients works to create a tasty tonic that's seriously effective (scroll down for the full recipe).
Out of all foods, pineapple has the highest levels of bromelain, a compound known to fight allergies thanks to its antihistamine and anti-inflammatory properties. Bromelain is also an enzyme that helps digest protein and improve the overall digestive process—which is important, as most research shows that inflammation begins in the gut and then spreads to the rest of the body. It can also help reduce nasal inflammation, providing big relief for allergy sufferers.
Apple cider vinegar helps fight allergies through its ability to reduce candida, or excessive yeast in the gut. Higher levels of candida are bad for a number of reasons, including the fact that they increase levels of histamine, which makes allergies worse and increases sensitivity to a variety of allergens. ACV can also help clear congestion and support the lymphatic system.
Bees carry pollen from local foliage and then make honey, which then contains these irritants in small quantities. So, local honey almost acts like a mini vaccine, desensitizing us to environmental allergy triggers. Manuka honey is also great and has been shown to possess higher levels of antioxidants and microbial-fighting compounds. I also find that honey helps reduce nasal congestion.
Dandelion greens tackle the final culprit behind a heightened allergy response—a sluggish liver. The liver is our powerhouse detoxifier, responsible for cleaning out metabolites of hormones, environmental toxins, and other compounds that worsen inflammation and exacerbate allergies. The liver is also considered a part of the digestive system in Chinese medicine, so liver "cleaning" was a common traditional Chinese medicine concept. Adding a quarter cup of dandelion greens to this tonic or your favorite smoothie is a way to help detoxify the liver and support the gut, ultimately improving immune function and strengthening the liver. If you can't find dandelion greens at your local grocery store, you should be able to find them at your local farmers market this spring and summer.
Seasonal Allergy Fighting Tonic
6 ounces fresh pineapple juice
2 teaspoons apple cider vinegar
¼ cup chopped dandelion greens
1 teaspoon local or Manuka honey
Combine these powerhouse ingredients in a blender and sip on this tonic throughout the day. Be sure to get plenty of sleep and lower your sugar intake, too, and you'll be well on your way to beating spring allergies.