Why This Hairstylist Says You Shouldn't Try To Thin Hair At Home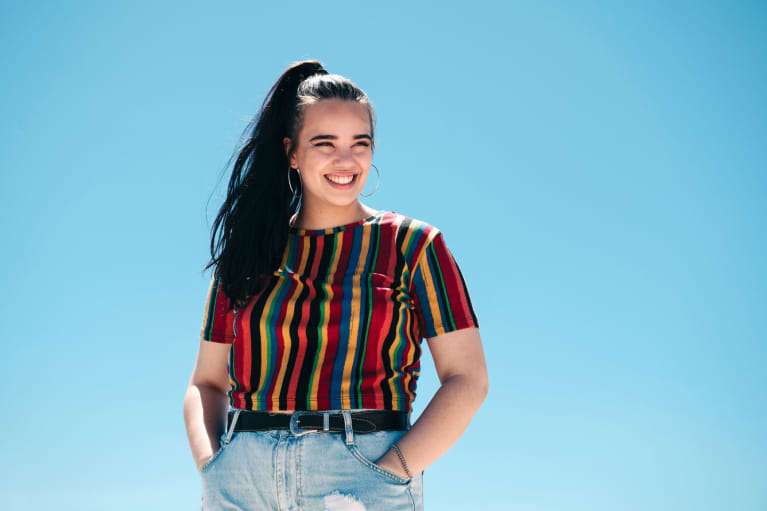 Our editors have independently chosen the products listed on this page. If you purchase something mentioned in this article, we may
earn a small commission
.
This year has forced us to try our hand at projects we probably never thought we'd have to do before. There were the first-time bakers who became seasoned sourdough aficionados. Newbie plant parents who are now tending to a flourishing, green-filled home. On the beauty end, people instantly became their own manicurists, facialists, and hairstylists while we were away from our favorite salons or spas.
Some of us even tried our hand at coloring at home (or at the very least, touched up roots in need). Then there were the brave who went for trims, be it with bangs, ends, or by simply "dusting." Which got us thinking—well, those of us who have thick, dense hair—can I thin at home, too?
 Can you thin your hair at home? What the experts say.
So, here's the thing about thinning your thick mane: It takes a level of precision us nonprofessionals haven't had the education or practice to master. "Any thinning should be left to an expert," says Morgan Kruizenga, owner of Chemistry Salon in Berkley, Michigan. "Thinning the hair is commonly misunderstood. There are different techniques needed to remove weight or create movement in a haircut—such as brick layering, slicing, and texturizing which all give different results. An expert should know the proper amount of weight to remove for the look and shape of a haircut. This is why you shouldn't do this at home."
While snipping at bangs or clipping away at split ends can be done in a pinch (as there are amateur proof techniques that won't leave you with deranged hair), thinning requires you to blend hair while removing weight all over and in each layer of hair, not just a simple snip at the ends. Not to mention, there are special tools (think cutting teeth shears) that many of us don't simply have around the house, nor can we easily pick up at the drugstore.
Think of it like this: Many of us can get away with root touch-ups or a single-process all-over color when needed, but likely couldn't give ourselves intricate babylights on our own.
How can you tone down fullness in between appointments? 
OK, so you've put down the scissors. But your hair is still as thick as ever, especially since you've stretched out the time between appointments given everything. What's next? Well, it's all about being smart about product application.
"Use moisturizing shampoo and conditioner and give yourself more time in between hair washes," she says. Moisturizing products help smooth down the cuticle, therefore limiting frizz and allowing the hair to lie flat, appearing thinner. You can also look for smoothing shampoos and conditioners. Essentially: Your best tool for smoothing thick hair is to seal the cuticle.
This also tends to be a bigger problem for those with curly hair (it's not exclusive, however; those with straight and waves have thick hair too, but those hair types just tend to lie flatter than the rest). "For curly hair, make sure your hair is really wet while putting in product," she says. This is the best way to ensure that the hair has little to no frizz while drying.
Finally, topping hair with smoothing, slicking products is vital: "Product is very important; I recommend using an oil," she says. "When applying, divide hair into four quadrants and use two to three pumps of oil on each section (you may need more or less depending on your length and thickness). Lastly, make sure the product is evenly distributed throughout your hair."
Thinning your hair at home is a no-go from specialists, as the job takes precision, skill, education, and practice. Here's how to make hair appear smoother instead, at least between appointments.