Really Need A Trim During COVID-19? Here Are 3 Tips From A Stylist

Beauty & Health Editor
By Jamie Schneider
Beauty & Health Editor
Jamie Schneider is the Beauty Editor at mindbodygreen. She has a B.A. in Organizational Studies and English from the University of Michigan, and her work has appeared in Coveteur, The Chill Times, and Wyld Skincare.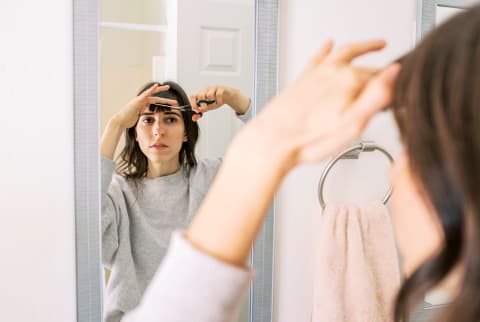 Image by Daniel Kim Photography / Stocksy
April 14, 2020
You've mastered the at-home mani, created your own leave-in conditioner, and slathered on enough homemade face masks to transform your kitchen into a full-on spa. And yet, the question remains for the DIY-obsessed: Should you cut your own hair? If you can wait, please hunker down—greasy roots and all—until you can visit a professional. (You're not seeing anyone, anyway!) But if your dry, brittle ends are screaming for a trim, it is possible to take it into your own hands.
To take your hair salon DIY, we consulted celebrity hairstylist and Biolage brand ambassador Sunnie Brook for insider tips on how to trim your hair at home.
How to cut your own hair.
In addition to that lovely scalp massage, there's a reason people opt for the salon chair: Those professionals are equipped with all the tools (not to mention the serums, sprays, and oils) that a perfect haircut needs. While you might not have that arsenal of products at your disposal, you can start with the bare necessities:
Comb with wide and fine teeth (if you don't have a hybrid, grab one of each)
Clip or scrunchie to section your hair
Fine-point scissors (perhaps the most important—cheap, standard scissors "chew" your hair, says Brook in a recent step-by-step video)
Fine-mist spray (optional, but recommended)
Towel for easy cleanup!
Before getting started, you should know: The at-home haircut is a science, not an art. In other words: Now is not the time to go rogue. "Stick to just trimming the style you have," Brook tells mbg. "An at-home haircut is not the time to experiment." But if you're looking to clean up your ends and add some texture, here's the basic three-step guide for the at-home trim:
Start with the front layers. Take tiny pieces of the front sections of your hair, twisting them together in front of your face before going in with scissors. The key here is point cutting (meaning, cutting the hair vertically, rather than horizontally), which can give you a bit more texture with a much softer edge. Less is more with these front pieces, especially if you have wavy or curly hair (as these front pieces tend to bounce back up).
Trim the rest of your ends. Use a wide-tooth comb to break up your ends, then grab a section of your hair and cut into the strands, scissors facing you. This trick, Brook says, is great for removing split ends and giving a more textured look. "It gives the hair more of a tapered end rather than a blunt end," Brook says. This tactic also gives you a more forgiving finish, as it's easier to hide mistakes than if you were to cut straight across with a shaky grip.
Mist. Take your fine-mist spray and spritz through your hair to revive your hair's natural wave. This way, you can see if you like where your strands land or if you'd like to go back in for another round.
So you've got the basics down. Let's talk hair type.
Lo and behold, your haircut will look different depending on what hair type you have—that's why Brook says it's important to trim completely dry hair. "Wet hair lies," she laughs. Once your hair is dry, your natural texture will bounce into shape, so you can better determine how short you really want to go.
For curly and coiled hair.
"Let your curls air-dry naturally the way you plan to wear them every day," Brook tells mbg. "This will help you see the shape." She also recommends twisting the sections you want to trim before you cut, which will give your curls a softer texture. "It also helps the curl not bounce up as much as a blunt edge would."
For curly hair, you might want to proceed with caution and see how the curls bounce back up before going back in with your scissors. Remember: You can always cut more, but you can't glue your curls back on, says Brook.
For wavy hair.
Before starting to trim, let your waves air-dry; this lets you see the formation of your wave pattern before you cut. However, if you're a stickler for wearing your hair blown out, feel free to blow-dry and then cut, says Brook.
With wavy tresses herself, Brook just trims her ends with the scissors pointing toward her (be careful of your fingers!) in two sections—one on each side. It doesn't have to be perfect, especially if you want more of a tousled look.
For straight hair.
"For super-straight hair, I would blow-dry using a flat brush so you can see a clean line," says Brook. Break up your hair into sections before you cut, and point cut the scissors vertically instead of straight across.
Rather, if you're partial to a straight, blunt edge, feel free to cut straight across. Even if the line isn't completely straight, "you can always point cut the edge to soften it," Brook says.
What about bangs?
Ah, bangs. If you have them, then you know the frustration that occurs with too-long fringe getting caught in your lashes or obstructing your vision during Zoom meetings. But bangs are tricky: One questionable snip and you run the risk of an uneven edge.
Again, you want to start out with dry hair. Brook says to blow dry clean hair using a dense boar brush, keeping your hold light and airy. (You don't want a lot of tension, she says).
Next, the trim. To decipher where your bangs should end, Brook says to use the high points of your brow as a guide (you want the bangs to fall just there). Create clean, triangle sections and pull back the rest of the hair you don't want to cut with a clip. Then within that triangle section, create even smaller sections of half an inch or less (precision is key here). Then trim each section to your desired length, using the first section you did as a guide. Either keep the blunt edge if that's your jam, or feel free to point cut into the bang to create a softer line.
"If you want to create a 'curtain bang' or shag bang," Brook adds, "point cut into the very middle of the bang. This will make the middle go short to long."
Final tips and warnings.
While these are the basic guidelines for an at-home trim, remember that every hair type can have some slight nuances. Brook recommends asking your stylist for tips or suggestions before you dive right in with scissors. Your hairstylist most likely knows your hair best! (And if you ask your stylist for tips, please compensate them for their time, especially now.)
And if you've quite literally butchered the haircut? "Have a glass of wine, a good laugh, and watch some styling videos on YouTube," Brook says. "Remember, your haircut is not a tattoo! It will grow out!" She mentions it may also be a great time to experiment with new styles (read: styles, not cuts) like waves or curls; after all, a slightly crooked edge can easily hide within a tousled fringe; call it quarantine's "bed-head chic."

Jamie Schneider
Beauty & Health Editor
Jamie Schneider is the Beauty Editor at mindbodygreen. She has a B.A. in Organizational Studies and English from the University of Michigan, and her work has appeared in Coveteur, The Chill Times, and more. In her role at mbg, she reports on everything from the top beauty industry trends, to the gut-skin connection and the microbiome, to the latest expert makeup hacks. She currently lives in Brooklyn, New York.