An Aloe Vera DIY Leave-In Conditioner + Mask For Hydrated Hair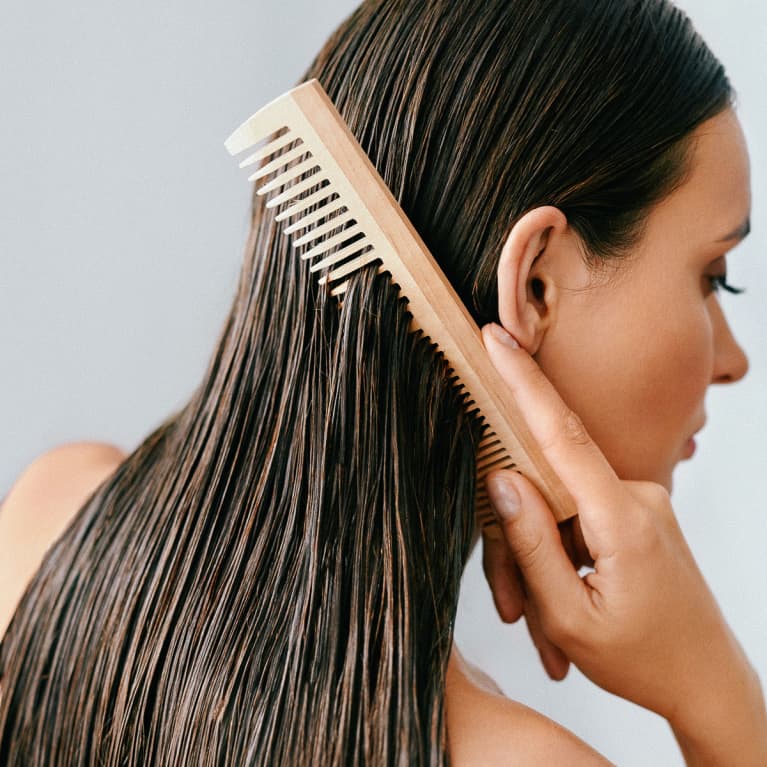 We likely don't need to sell you on the powers of aloe vera. The plant's healing and soothing powers are near legendary at this point. So if you're already an aloe vera beauty convert, you might be wondering: How else can I use this all-natural ingredient? Don't worry, we're here to help.
And while you can use aloe vera alone as a conditioner or hair mask, we wanted to take it next level. So we tapped into a few experts to get their take on how to whip up a DIY leave-in conditioner and mask combo using a few other ingredients you'll likely already have in your pantry:
To start, you'll need an aloe vera leaf, which you should be able to find in the produce section at your local grocery store or farmers market. If not, you can order online, but you should expect to pay a whole lot more than you would at your local supermarket.
Aloe vera's benefits for skin and hair are well known. It's chock-full of vitamin A, C, and E; minerals; and water (hello, hydration). According to celebrity hairstylist Sophia Porter, it also has a healthy dose of antioxidants, fatty acids, and proteolytic enzymes, which are like a burst of moisture and nourishment for your scalp and strands. Porter also adds that it works as a humectant for the hair, which, in short, means it enhances water retention so moisture stays in instead of escaping.
While there are no studies to date that prove aloe vera is better for one hair type over another, we can assume that it's a great go-to for anyone looking to increase strength and levels of moisture.
It's also important to note that aloe vera can cause irritation or inflammation due to allergic reaction, so testing the ingredient first can help avoid any major reactions. (A good rule to follow for all products, DIY or not.) "I always recommend a quick patch-test before applying anything new to your scalp," says celebrity hairstylist and colorist Brittany King from Mare Salon in West Hollywood. "Before mixing the ingredients, you can test the aloe on your skin. If there aren't any reactions, you can mix the mask and apply."
2.
Gather your other materials.
King suggests taking your aloe vera plant and cutting at the stem before soaking it in water for 30 minutes. After your leaf has been soaked, cut it open and scrape out the jellylike center. That's the good stuff, so get every last drop. If you're doing this a few days before you plan to mask, here's how to store the gel to keep it fresh for longer.
This recipe calls for 2 teaspoons of aloe gel, 1 teaspoon of honey, and 3 teaspoons of coconut oil. Put all of the ingredients in a bowl and mix together with a fork until it's well combined. Since the mask doesn't call for all of the aloe, set some aside for your leave-in conditioner spray later.
You'll want to apply this deep treatment prior to shampooing your hair. Because you want this to sit in your hair for at least 30 minutes, you don't want to try this when you're running short on time. It's one of those masks you apply and then go do chores around the house or relax on the couch with a book in hand while you wait. King recommends paying close attention to the scalp when applying the mask and ensuring it covers your hair from root to tip.
Once your timer goes off, it's time to shampoo. Since the ingredients are sticky, gooey, and heavy, you may want to shampoo twice until you feel like your hair is completely clean. This is especially true for fine hair types since you don't want to be stuck with greasy locks post-treatment. Like any deep treatment, you don't want to apply this daily. King suggests applying this mask once a week at most.
7.
Mix and apply your leave-in conditioner.
With the extra aloe vera, you can make your own leave-in conditioner for post-wash. This is especially helpful for those with really dry, damaged hair who need extra-strength moisture. In a bowl, mix together 2 tablespoons of aloe vera, 3 tablespoons of water, and 1 tablespoon of jojoba oil. Stir the mixture until it's evenly mixed, then pour it into an old spray bottle. Thoroughly shake the spray bottle before use, and then on damp hair, spritz the mixture all over, evenly distributing the tincture.
Aloe vera has plenty of hair-healthy uses, and this mask and leave-in conditioner combo will leave your hair hydrated and so healthy.
Want to turn your passion for wellbeing into a fulfilling career? Become a Certified Health Coach! Learn more here.