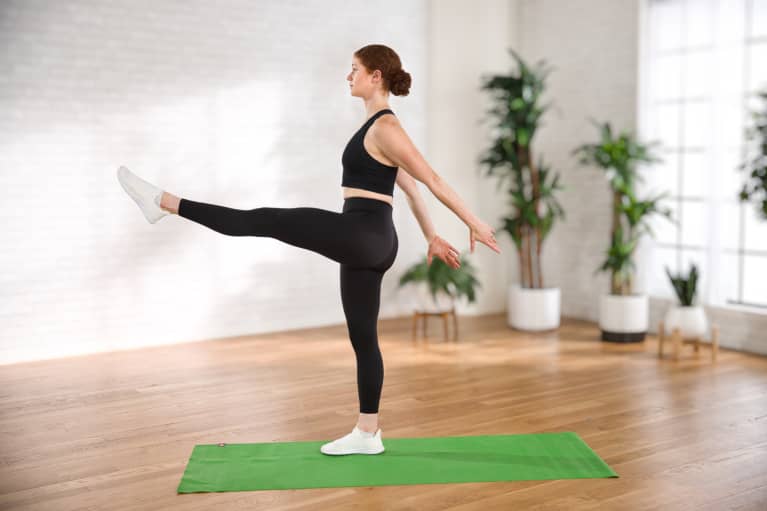 Our editors have independently chosen the products listed on this page. If you purchase something mentioned in this article, we may
earn a small commission
.
Fitness is about learning what we're made of. It's about putting our body to the test, and coming out stronger and more confident on the other side. For that, we need gear that's willing to go the distance—from comfort to performance. Under Armour's SmartForm Evolution Sports Bra provides strategic support that flexes to fit the exact shape of your body. With a super-soft feel and relentless support, it's easy to keep your head in the game. Paired with the lightweight and super-breathable Meridian fabric, and get ready to crush your toughest workout yet.
I don't know about you, but as soon as the first signs of spring start popping up, I find myself blooming with extra energy. One great way to channel it? An energetic workout.
Still, despite any seasonal burst of motivation, finding the time to squeeze in a good sweat sesh on a busy schedule can be a challenge. If you only have 10 minutes or less to spare, might I recommend one of these go-to mbg moves routines?
Each of them demonstrates that even if you're in a time crunch, you don't have to sacrifice the quality of your routine. These six efficient workouts make the most of every minute, to optimize all that springtime energy:
1.
A full-body floor workout
This full-body floor workout from yoga teacher and fitness professional Suki Clements requires only two dumbbells for a challenging and speedy routine that is sure to leave you sore. Combining a variety of classic yoga moves with weights to amp up the difficulty, it'll leave you feeling accomplished and exhausted.
2.
A low-impact cardio workout
Low-impact workouts are great for people who are looking for something a little easier on the joints—but that's not to say the workout itself will be a piece of cake.
This full-body cardio workout from Jessica Aronoff, CPT, will challenge all areas of your body and kick your heart rate into high gear, without putting undue strain on your muscles. Win, win!
3.
An equipment-free hip & glute workout
Need a quick workout to stretch out your hips and glutes for better mobility? Certified Pilates instructor Helen Phelan has the perfect routine for you. This four-move, equipment-free workout will energize you and burn out that lower body, even on your busiest days.
4.
An upper-body strength workout
Using just a chair and a pair of dumbbells, this upper-body strength workout from personal trainer BB Arrington, CPT, engages your arms and core for a powerful selection of exercises you'll keep coming back to time and time again. In just 10 minutes flat, you'll feel a great burn, and by simply increasing your dumbbell weight, this workout is easy to modify for people of any fitness level.
5.
A trampoline stability workout
It's true that most people don't have a mini-trampoline lying around the house, but if you do, this fun and high-energy sculpting workout from Aronoff should be a go-to when you're low on time. Thankfully, the trampoline aspect is completely optional, so either way, this workout will fire up your muscles and create a challenge in just 10 minutes.
6.
A dumbbell-only butt workout
Many people believe that building up strength in your glutes requires heavy weights, but this quick workout from Clements proves you don't need to spend hours in the gym with a barbell to get a good burn in your lower half. Targeting not only your glutes but also engaging your core, this dumbbell-only workout should become a staple on days when you don't have time to spare but are still looking for a challenge.