An Editor's Audit: The Great Lip Plumper Investigation

Beauty & Health Editor
By Jamie Schneider
Beauty & Health Editor
Jamie Schneider is the Beauty Editor at mindbodygreen. She has a B.A. in Organizational Studies and English from the University of Michigan, and her work has appeared in Coveteur, The Chill Times, and Wyld Skincare.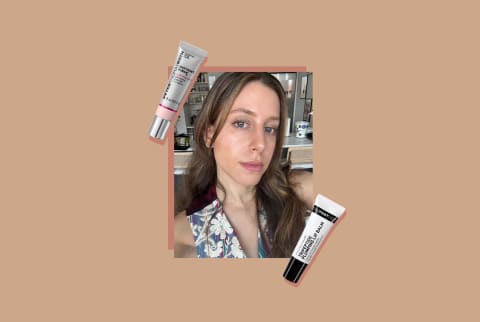 Image by Jamie Schneider / Peter Thomas Roth / The INKEY List / mbg Creative
September 15, 2023
We carefully vet all products and services featured on mindbodygreen using our
commerce guidelines.
Our selections are never influenced by the commissions earned from our links.
Welcome to our lip plumper Editor's Audit. I'm thrilled to be your guide! See, the lip plumping space is innovating at breakneck speed, with plenty of options that promise to give you a pillowy pout without the pain. But which plumper reigns supreme?
The short answer is an infuriating it depends (don't blame the messenger). Some folks crave immediate volume, while others prefer to subtly enhance their lips over time, and you can find more than a few formulas for each fancy—and some that tick both boxes.
I decided to test five of the most popular options on the market right now, so you can hopefully find The One. Prepare to discover your new go-to clean lip plumper:
Ourself Lip Filler
Overall rating: 4.5/5
Sting level: Moderate
Price: $145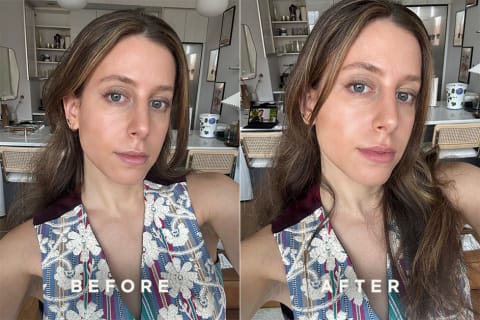 Image by Jamie Schneider / mbg beauty editor / mbg Creative
This baby took the beauty space by storm when it first launched in February 2022. The formula calls upon small molecules of hyaluronic acid to draw water into the surface of the lips, which increases the volume (think of a dry sponge filling up with moisture). With vitamin B3 derivatives, it also helps smooth lip lines, increase definition, and instantly enhance color.
My verdict? This stuff works! I'll be honest, I didn't know what to expect when I uncapped my first treatment. A "topical lip filler" sounded way too good to be true, but much to my surprise, it made my lips practically double in size.
I will say, it does take some getting used to if you have sensitive skin; it did sting moderately the first few times I tried it, but it reduced to a nice tingle once I got through the initial five layers. On that note: This is not a one-and-done type of balm. The brand recommends applying five layers twice a day for the first five days, then one layer at least three times per day for the best results.
I'll dock half a point for the time commitment, but if you have 10 or so minutes to spare, the significantly plumper results are well worth the wait.
Dr. Dennis Gross Derminfusions Plump + Repair Lip Treatment
Overall rating: 5/5
Sting level: Moderate
Price: $45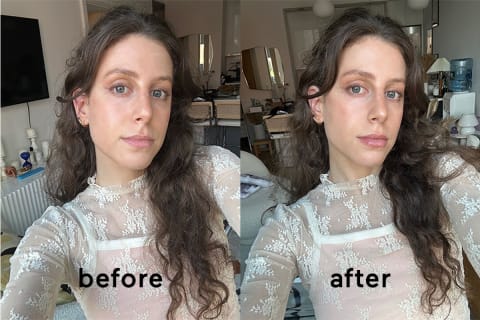 Image by Jamie Schneider / mbg beauty editor / mbg Creative
This topical formula is the most comparable to actual lip filler, IMO. (I don't personally have any filler at this point in my life, but I've talked to other beauty fans who do, and they agree.) Like the previous product, DermInfusions contains four molecular weights of HA to usher water into each layer of the lip skin. Trehalose, another humectant, adds even more water-binding properties to plump the lips with moisture.
It also contains a peptide blend (palmitoyl tripeptide-38 and palmitoyl tripeptide-1, to be specific) to help stimulate collagen and give lips a firmer appearance. Finally, the treatment includes known skin soothers—ectoin, bisabolol, and centella asiatica—to heal chapped lips, prevent dryness, and protect the skin from environmental aggressors (which can make lips appear dull).
You can read my full review of the lip treatment here for more info, but overall, this is my favorite option. I love how instantly full and vibrant my lips look after just a few minutes, and without any additional swipe of color. It does come with a slight tingle, but the sensation goes away after about a minute. The finish reads just like a nonsticky lip oil—I'm obsessed.
The only downside I can think of is that it's less inconspicuous than other options on this list. It looks high-tech, and it's a relatively large pen, so you can't really stash it in your pocket or small handbag like you might a standard lip balm. I personally don't mind the design—I'll happily gush about the effective formula to anyone who asks me what I'm applying.
The INKEY List Tripeptide Plumping Lip Balm
Overall rating: 3.5/5
Sting level: None
Price: $12.99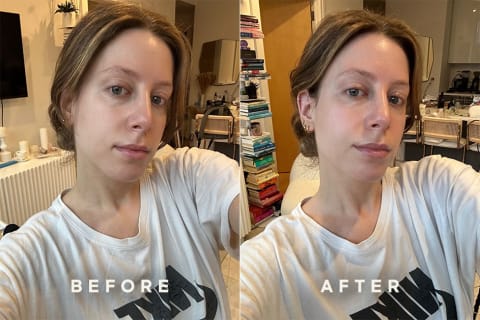 Image by Jamie Schneider / mbg beauty editor / mbg Creative
If plumper lips over time is what you're after, this balm is your best bet. Derms typically advise against using lip plumpers frequently since all that stinging and burning isn't so healthy for your delicate lip skin. This formula, however, subtly increases volume over time with a 6% tripeptide complex, plus signature filling spheres that deliver hyaluronic acid deep within the layers of the lip skin.
It also calls upon star hydrators, like chia seed oil, squalane, Capacau butter, and mango butter, to further soothe and nourish the lips. It's so moisturizing, in fact, that I've used it as a nighttime lip mask for the past month—I've woken up with lips so supple and juicy it almost looks like I applied lip gloss in my sleep.
That said, there is a time commitment with this number; the brand recommends applying it three times per day to clean, dry lips. If you're looking for a more immediate plump, you might want to snag one of the other instantly gratifying options here (I factored immediate results into my overall score). But if you have very sensitive skin, this is the perfect formula to plump without any stinging or burning whatsoever.
Polite Society B.I.G. Mouth Lip Plumping Oil Gloss
Overall rating: 3.5/5
Sting level: Intense
Price: $27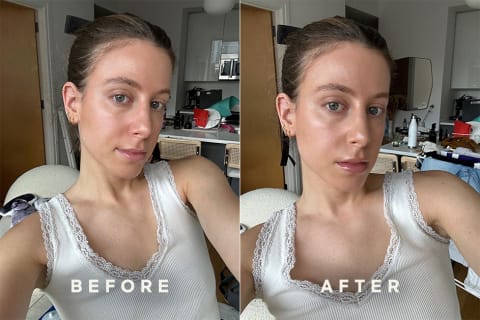 Image by Jamie Schneider / mbg beauty editor / mbg Creative
This is probably the closest you'll get to a traditional plumper. After a chaste kiss turned tingly, my partner now asks if I'm wearing my "spicy gloss" before giving me a smooch.
The sensation comes from the formula's hero ingredient complex of blueberry oil, infinity pepper, and ginger root oil (B.I.G., get it?), which even they admit is "not for the faint of heart." Look, some people don't mind a little sting—myself included! There's something about the burning sensation that makes it feel like it's really working, you know?
However, I wouldn't use this every single day; constantly irritating your lips can be, well, irritating, so I save this spicy number for events. It's also a gloss—not a balm—with a plush bunny ear applicator and frosted pink hue that makes it even more special for social outings.
Peter Thomas Roth Instant FIRMx Lip Filler
Overall rating: 3/5
Sting level: Mild
Price: $29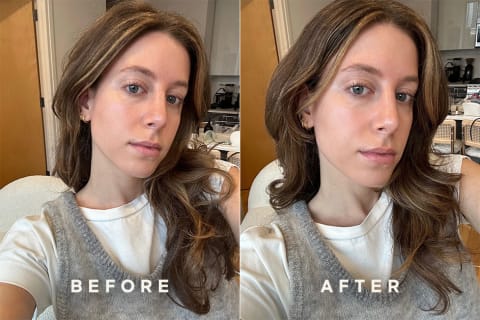 Image by Jamie Schneider / mbg beauty editor / mbg Creative
On a scale from strictly nourishing to oh-so-spicy, this firming formula falls squarely in the middle. It has a very slight sting upon application, but it's so subtle I barely even notice the burn. It's super moisturizing, with pomegranate, coconut, and squalane oil, yet the cream-to-balm formula absorbs super quickly into the skin.
It features the brand's signature 2% LineFill and 1% Maxi-Lip complex, with peptides to plump and smooth, along with hyaluronic acid filling spheres to infuse the lips with hydration. It doesn't provide immediate results (consistency is key), but it also doesn't sting nearly as much—ultimately, it's up to you which experience you prefer.
In terms of experience, though, this balm totally wins: It dries down in just three minutes, creating the perfect base for my subsequent lip products. I can layer my tints, stains, and sticks over it without creating a goopy, sticky, feathery mess—I consider that a major plus.
The takeaway 
A plumper for every pout. Whether you crave a spicier number for special events or a nourishing moisturizer for the long haul, this investigation can help you navigate the growing lip care space. Still, even with these innovations, one thing remains constant: Hydrated, healthy lips appear so much fuller. At the very least, consider this your sign to snag another lip balm.

Jamie Schneider
Beauty & Health Editor
Jamie Schneider is the Beauty Editor at mindbodygreen. She has a B.A. in Organizational Studies and English from the University of Michigan, and her work has appeared in Coveteur, The Chill Times, and more. In her role at mbg, she reports on everything from the top beauty industry trends, to the gut-skin connection and the microbiome, to the latest expert makeup hacks. She currently lives in Brooklyn, New York.