Don't Make These Mistakes When Eating Fruit This Summer, Says An Ayurvedic Expert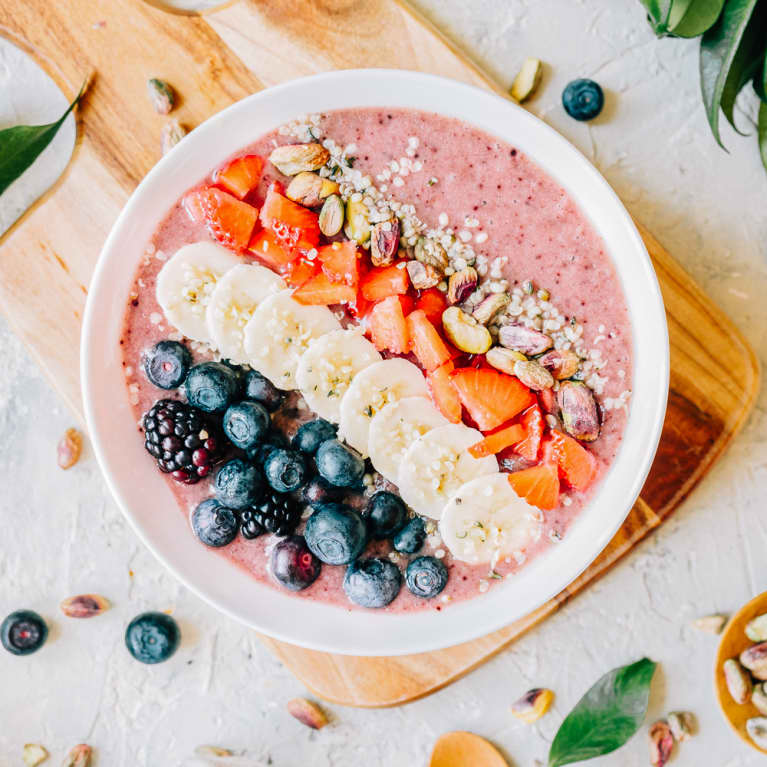 Our editors have independently chosen the products listed on this page. If you purchase something mentioned in this article, we may
earn a small commission
.
Who doesn't love a fresh smoothie or a tasty fruit salad once the weather gets warmer? Fruit is a summertime staple, but as we all flock to the produce aisles for berries, watermelon, and more, there are a few Ayurvedic food rules that can help us get the most of our sweet treats. Here's what the ancient Indian health philosophy says about everyone's favorite summertime staple:
In Ayurveda, the key thing to remember when eating fruit is to eat it by itself, according to Ayurveda counselor Sara Garofalo. Garofalo explains that you wouldn't necessarily want to grab a piece of fruit right after dinner, for example.
Once you do, "The digestive system wants to digest the fruit faster because that's the easiest kind of sugar [to digest]," she tells mbg of the Ayurvedic reasoning behind eating your fruit separately from meals. This can interrupt the digestion of the rest of the food in your stomach, she explains, leading to bloating and discomfort.
2.
Limit fruit consumption to 2 to 3 hours before and after meals.
Naturally, the follow-up question to the first rule is how long you need to wait before enjoying your fruit. According to Garofalo, two to three hours is the ideal window. So, if you were to eat breakfast at 8 a.m., you could have some fruit as a snack around 10 to 11 a.m., then wait another two to three hours before eating lunch.
3.
Avoid certain fruit combinations.
And lastly, when you do eat fruit, Garofalo explains that in Ayurveda, fruits come in four main categories. You can eat different fruits within one category, but you wouldn't want to eat an orange (acid) and banana (sweet) at the same time, she notes. The biggest category to avoid combining with other fruits is melons, she adds. They should always be eaten alone.
Here's a quick rundown of the categories:
Acid fruits: Citrus fruits (oranges, grapefruit, etc) , pineapples, and tomatoes
Sub-acid fruits: Apples, apricots, berries, grapes, kiwi, peaches, pears, and plums
Sweet fruits: Bananas, coconuts, and dried fruits
Melons: Cantaloupe, honeydew, watermelon
Mixing dairy with fruit is also not advised in Ayurveda, with an exception being berries, Garofalo explains, because of their low sugar content.