Don't Have Time To Make Golden Milk? This Supplement Is Even More Potent

mbg Sustainability + Health Director
By Emma Loewe
mbg Sustainability + Health Director
Emma Loewe is the Senior Sustainability Editor at mindbodygreen and the author of "Return to Nature: The New Science of How Natural Landscapes Restore Us."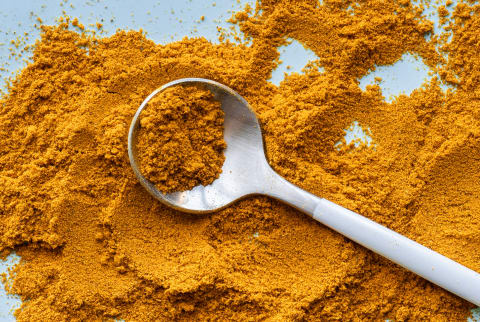 Image by Svetlana Monyakova / iStock
August 21, 2022
From oil pulling to dry brushing to intermittent fasting, many popular wellness practices of today have deep roots in Ayurvedic tradition that should be acknowledged and celebrated. Another treat we can credit to the ancient medical approach is golden milk, or Haldi Doodh—a combination of milk and spices that gets its golden hue from turmeric powder. The beverage, now whipped up in kitchens around the world, is beloved for its warming quality and vibrant health benefits from superstar antioxidant turmeric.
Inspired by this hero ingredient, mbg set out to create a supplement that delivers the power of the spice in an easily absorbable form. Meet turmeric potency+.
A new way to enjoy the bioactives of golden milk.
Turmeric powder—though tasty and rich in antioxidants—is rapidly metabolized and poorly absorbed by the body. In short, when we consume the spice in this form, we miss out on some of its functional benefits. Turmeric oils and liposomal preparations help up that bioavailability, but they still leave some room for improvement. In turmeric potency+, you'll find the most absorbable and potent form of turmeric, Acumin™, which packages full-spectrum turmeric in a polar-nonpolar-sandwich (PNS) to protect all of its native compounds.*
"Our turmeric root extract (Acumin™) is clinically shown to protect turmeric's bioactive curcuminoids (including curcumin) and to be up to 10 times more bioavailable than other common forms of turmeric (volatile oil, liposomal, and 95% curcumin),"*† explains mbg's vice president of scientific affairs Ashley Jordan Ferira, Ph.D., RDN.
The buttoned-up turmeric is paired with two additional plant compounds—full-spectrum ginger root extract (also wrapped in that polar-nonpolar-sandwich) and black pepper fruit—to further enhance the turmeric-led benefits.
Packaged in a vegan capsule, the resulting supplement offers a plant-based, gluten-free, dairy-free way to support your inflammatory response, immune health, and gut health—even when you're traveling or don't have time to whip up a warming cup of golden milk in your kitchen.*
"I love mbg's turmeric potency+ because you receive premium, highly absorbable turmeric root extract, plus the synergistic bonus of ginger root and piperine from black pepper fruit,"* clinical and culinary dietitian Huma Chaudhry, R.D., LDN, says of the product. Just two capsules a day is all you need to noticeably support immunity, resilience, workout recovery, and overall health, reviewers say.* Now that's one easy pill to swallow.
The takeaway.
turmeric potency+, offers a fresh way to reap the health benefits of time-tested ingredients like turmeric, ginger, and black pepper. While not intended to replace your favorite Ayurvedic sip, consider mbg's new supplement a tool to help you still have your delicious golden milk at home and reap similar benefits on the go, too.* Learn more about the product here.
If you are pregnant, breastfeeding, or taking medications, consult with your doctor before starting a supplement routine. It is always optimal to consult with a health care provider when considering what supplements are right for you.

† Acumin™ research has demonstrated superior bioavailability, curcuminoid serum response, and stability compared to other common forms of turmeric root extract (e.g., volatile oil, phospholipid/liposomal, and standard 95% curcumin).