Courteney Cox On Aging: Her Best Beauty Hacks, Exercise Tips & More

Beauty & Health Editor
By Jamie Schneider
Beauty & Health Editor
Jamie Schneider is the Beauty Editor at mindbodygreen. She has a B.A. in Organizational Studies and English from the University of Michigan, and her work has appeared in Coveteur, The Chill Times, and Wyld Skincare.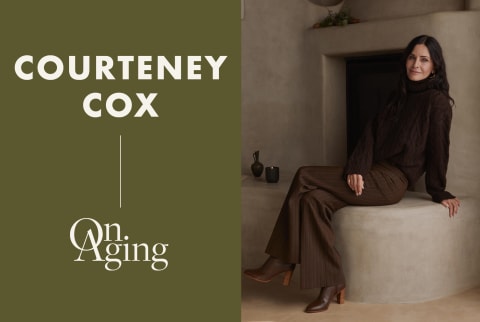 Image by Ryan Stapleton x mbg Creative
August 9, 2023
We carefully vet all products and services featured on mindbodygreen using our
commerce guidelines.
Our selections are never influenced by the commissions earned from our links.
Welcome to On Aging, a series that highlights industry icons' approach to beauty through the decades. They'll share what makes them feel most beautiful, their biggest beauty experiments, and, of course, all of their skin and hair care tips.
"I love to cook," the actress and founder of Homecourt tells me over Zoom. It's why she wanted her newest fragrance collection, the limited edition Mandarin Basile, to smell of bright summer fare: sparkling citrus, spiced ginger, and delicate Egyptian basil. "Coming into the kitchen smelling basil… I love that," she shares.
In addition to her commitment to culinary arts, she plays tennis twice a week, she practices Pilates, she plays piano, and the list goes on. Cox never stops! "I'm only sitting down because I'm doing this interview." She laughs.
An active lifestyle is an integral part of her healthy aging routine—not just the physical movement that gets her heart pumping but also the creative ventures that fulfill her spirit. Everything is skin care, you might have heard us declare once or twice, and your favorite pastimes are totally part of a top-notch beauty routine. Joy (whatever that looks like for you) truly makes your skin glow for the long haul.
Ahead, discover everything else Cox enjoys these days, including her minimalist makeup must-haves, sun care tips, and high-tech beauty tools—plus, the importance of a youthful mindset.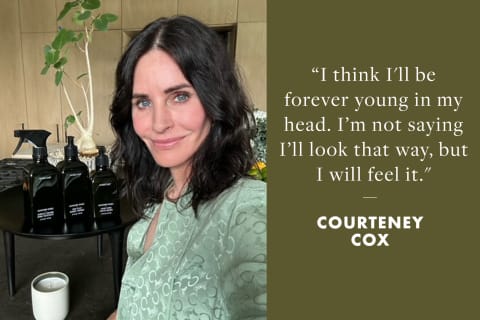 Image by Courteney Cox x mbg Creative
On her current beauty philosophy 
"My current beauty philosophy would be less is more, as natural as possible. As I get older, I just know that the more makeup I wear, the worse I look.
"I use the same eye pencil I've been using for, like, 10 years, an eyelash curler, blush, and mascara. Those are my four things, [plus] under-eye concealer.
"I'm all about moisture—that's important to me. Clean skin, washing your face twice a day. In the past, I would've worn more makeup and cared more about stuff like that, but as I get older, less is more for sure.
"[My eye pencil] is Tom Ford Metallic Mink. I don't know if they make it anymore. [Editor's note: They sadly don't!] I like browns; anything that has a little copper in it I love. Then I always smudge it. I've been using Koh Gen Do [mascara], and I like the Rare Beauty Under Eye Brightener."
Koh Gen Do Maifanshi Long Lush Treatment Mascara
$ 59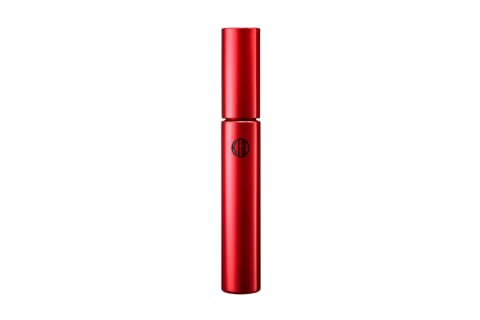 On her earliest beauty memory
"My mom was a really beautiful woman. She had such a regimen. The way she'd wash her hair, the way she laid the sun—not that we should ever do that. She always looked so beautiful.
"She took so many vitamins and things that I think were a little ahead of her time, at least where I'm from [in] Birmingham, Alabama. She was always into not staying young but just being healthy. That would probably be my first [beauty memory], just looking at my mother."
On her latest beauty experiments 
"I sit under a red light. Not every day, but it's now become a ritual for me. I have a LightStim Pro Panel, one of the really big ones. It's a pretty intense machine.
"I used to think, 'Oh, those red light things that you get after a facial, what do they really do?' I don't think they work as one-offs, but if you do it regularly, I have seen a change in my skin.
"I go downstairs, I get the dogs, and say, 'Hey, you want to get in bed now?' We run upstairs, they get in bed, and I make my mental lists as I sit there under the red light. That's been the latest thing I'm doing.
"I'm into saunas. I just got a really cool outdoor sauna and a cold plunge. Those are things I do now for inflammation and that make me feel better as I get older."
On the importance of hobbies
"I'm very active. I have a ton of hobbies, and I feel more confident when I've worked out. I play tennis, I have a trainer, I play the piano, and I just busy myself when I'm not actually working with things that make me happy.
"I think hobbies are really important for wellness. [Homecourt] is a creative venture for me. It's a job, but it's absolutely so creative and so much fun."
Homecourt Mandarin Basile Limited Edition Summer Hosting Set
$ 130
On her best beauty hack
"I put retinol on my legs. On my face, I use Dermalogica's Dynamic Skin Retinol Serum… I wouldn't have signed on to work with them if it wasn't something I believed in. Then it just doesn't feel natural, and I can't lie about something.
"But I do it on my legs, too, because retinol really does help with collagen. It seems to be working, and then I put an oil over it.
"I realized that because when I play tennis, my shorts are a certain [length], and the skin right above where my shorts were is [different]. Sun damage is a real thing. So above my knee, I'm putting retinol there. So many years of being out in the sun in these shorts I was wearing prevents me from wanting to wear shorts [now]. And that's a bummer."
Dermalogica Dynamic Skin Retinol Serum
$ 92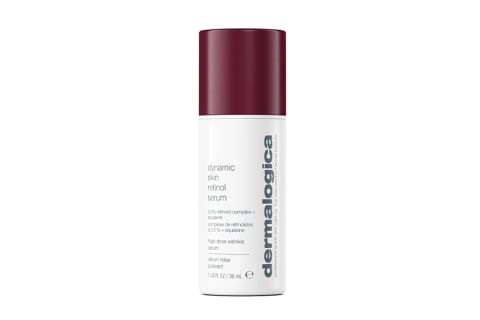 On her latest well-being habits
"Hydration is everything. People say 64 ounces is what you should do. It's so hard to do that, but I do feel so much better when I drink water. Even if I have a glass of wine, if I balance it out with water, I just wake up feeling much better.
"I believe in supplements when it comes to what your body needs and what your blood work tells you. I take a lot of magnesium, because I'm low in that.
"Sleep obviously is everything. I sleep best when my mental state is clear. I have a pad and pen next to the bed because I need to unload my thoughts. Get all your thoughts out because that can keep you up a lot.
"Being clean in your relationships [is important]. I got a tattoo with my daughter that says 'Lead with the truth.' Be a kind person, but just tell the truth. I don't believe in holding on to things. I don't love confrontation, but I like it enough to clear the air.
"Recently, I've been manifesting… It makes you feel good to learn to stop wanting and actually owning where you are. Seeing yourself in a place feels good as opposed to wanting something. That's something I've been doing recently, and it makes you start with a positive attitude of 'This is what I'm doing. It's not even a question. I'm doing this.'"
On the link between exercise, mindset & aging 
"Wellness to me is staying active. I'm only sitting down because I'm doing this interview. I don't sit down until night when I get to watch a documentary, or a movie, and that's when I relax.
"I'm always active, and I think that's part of wellness and beauty. I think I'll be forever young in my head. I'm not saying I'll look that way, but I will feel it.
"It's so important to live in the moment and enjoy every one. Nothing is ever as bad as the moments you're spending in the present worrying about the future."
On what she would tell her younger self 
"Besides stay out of the sun… Take care of your body at a young age. Like really think about it. Moisturize. I tell Coco [my daughter] when she's in the sun, 'Please use sunscreen.'
"I'll show her [the sun spots on] my chest and say, 'This is real.' If I could do it again, that would be something I would've taken care of earlier."
On what makes her feel most beautiful 
"When I set out to do something, I've followed through, and it works. Even creating Homecourt makes me feel beautiful. 'Beautiful' is a weird word because beauty is all around us, but I feel good when something that I've set out to do happens.
"That makes me feel successful, which makes me feel beautiful. I just feel content with myself. I feel that's a sense of beauty."

Jamie Schneider
Beauty & Health Editor
Jamie Schneider is the Beauty Editor at mindbodygreen. She has a B.A. in Organizational Studies and English from the University of Michigan, and her work has appeared in Coveteur, The Chill Times, and more. In her role at mbg, she reports on everything from the top beauty industry trends, to the gut-skin connection and the microbiome, to the latest expert makeup hacks. She currently lives in Brooklyn, New York.