The Must-Have Addition For Summer Eye Protection (Not Sunglasses)

Registered Dietitian Nutritionist
By Molly Knudsen, M.S., RDN
Registered Dietitian Nutritionist
Molly Knudsen, M.S., RDN is a Registered Dietician Nutritionist with a bachelor's degree in nutrition from Texas Christian University and a master's in nutrition interventions, communication, and behavior change from Tufts University. She lives in Newport Beach, California, and enjoys connecting people to the food they eat and how it influences health and wellbeing.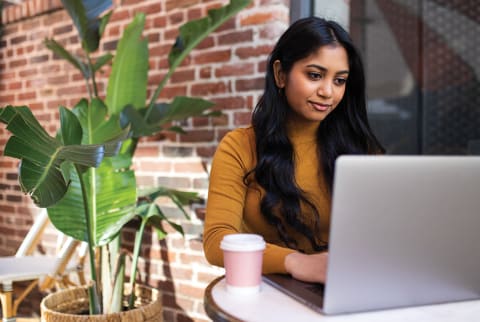 Image by McKinsey Jordan / Stocksy
July 25, 2023
Although it's summer, most of us are still likely glued to a computer for most of the day (thanks to those nine-to-fives) and may be experiencing screen fatigue. And yes, it's a real thing.
Screen fatigue happens when the muscles around the eyes become strained and uncomfortable after long stretches of screen use. While some screen time is within our control—like mindless scrolling through apps before bed—spending a significant portion of time in front of a screen is inevitable for most of us.
By now, we've all probably tried wearing blue-light glasses, taking quick walking breaks every hour or two, or even testing out the 20-20-20 rule—when every 20 minutes, you take 20 seconds to look 20 feet away. These helpful habits can be amplified by nutritional support. Specifically, a supplement.
eye health+ is formulated to support visual performance
mindbodygreen's eye health+ delivers five clinically studied botanical bioactives to support clearness, clarity, and sharpness of vision. while supporting screen fatigue recovery.*
Astaxanthin: This algal-derived red pigment is a powerful antioxidant that combats oxidative stress in the eye.*
Lutein and zeaxanthin: These yellow and orange pigments act like "internal sunglasses" and have major light-filtering abilities.*
Maqui berry: The dark purple phytonutrients from this Chilean plant can promote tear production to soothe dry eyes.*
Saffron: Extracts from this golden spice support the eye at the cellular level and can even help ease eye pressure.*
These antioxidants offer eye support from the inside out. Here's how eye health+ works to reduce ocular oxidative stress and eye fatigue, according to reviewers.*
"Helps with my tired eyes after a long day"
I was having issues with my eyes being very sensitive and getting tired easily as I work at a computer screen every day. I feel like this has helped me significantly. I have tried a few other products that were priced similarly but this seems to be more comprehensive, which seems to make sense as it has produced better results. I started noticing more improvement after the first month. I think it is totally worth it and would suggest you try it out if you have any issues with your eyes.*
"It's a new way to help me counter excess screen time"
With the excess [amount] of screen time that has become normal, I was looking for a way to support my eyes and help with some eye fatigue I've experienced. I love that this product is vegan, and that I can trust the ingredients to support my eye health. Will definitely keep taking these!*
"I felt a noticeable improvement in my eye strain"
I have felt a noticeable improvement in my eye health and performance. Less eye strain and tiredness have been the major bonus for me after taking this product. It has been an easy way to protect and care for my eyes every day.*
"I appreciate the science-backed ingredients"
I am so glad I introduced eye health+ to my daily regimen. I work 8 hours a day on my computer, and I love the supportive ingredients such as maqui berry and astaxanthin to help with recovery from eye strain. I have noticed an improvement and look forward to continuing to use this supplement!*
"It's a daily necessity for me now"
My eye health is so important to me. I love that this product gives my eyes some extra love and support. I feel less eye strain and dryness throughout my work day and beyond. It's absolutely a new daily necessity for me.*
The takeaway
For most, summer break doesn't extend into adulthood, and many of us still spend our days in front of a screen. eye health+ is just one way you can show your eyes some extra love during this time of year (and beyond).
If you are pregnant, breastfeeding, or taking medications, consult with your doctor before starting a supplement routine. It is always optimal to consult with a health care provider when considering what supplements are right for you.