2 DIY Summer Face Mask Recipes, Inspired By Traditional Chinese Medicine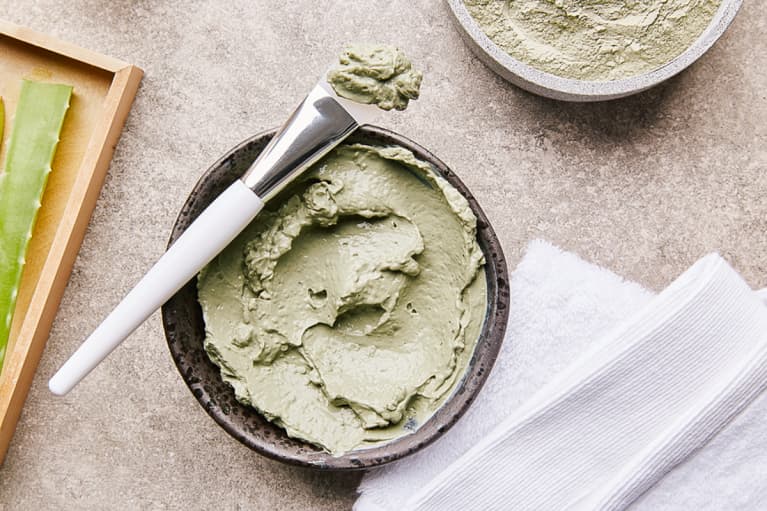 Our editors have independently chosen the products listed on this page. If you purchase something mentioned in this article, we may
earn a small commission
.
Last updated on July 27, 2020
For thousands of years, traditional Chinese medicine (TCM) practitioners have treated various skin concerns using herbs. In the summertime, cooling herbs can be complexion saviors and help keep skin hydrated after sun exposure. Here are two soothing TCM herbal mask recipes to whip up this season using ingredients you might already have in your fridge.
Watermelon rind and raw honey face mask
1 watermelon rind (about 1 inch by 4 inches)
A splash of raw honey
Dry sheet mask (optional)
Add watermelon rind to blender and blend until liquid.
Mix the rind juice with equal parts of raw honey.
Depending on the type of honey used, it might be viscous enough to be applied directly to the skin. If not, dip a dry facial sheet into the mixture and use it as a sheet mask.
Chrysanthemum flowers, cucumber, and aloe vera face mask
The cooling effects of cucumber and calming touch of aloe vera are well-known by this point. However, the nutrient-packed benefits of chrysanthemum flowers are less mainstream. This prized Chinese herb has a slightly bitter taste and is often brewed in Asia as a cooling tea in the summer. It can be easily found in many online herbal stores.
Chrysanthemum has many health benefits, and the little flower is a nutrient powerhouse. It contains a variety of amino acids; vitamin A, Bs, C, and K; and minerals such as calcium, magnesium, iron, and potassium. The high contents of vitamins and flavonoids can help reduce wrinkles and aid cellular repair after sun exposure. Its anti-inflammatory properties also calm skin irritation, speed up skin healing time, and reduce swelling and puffiness. In fact, it has historically been used to treat skin conditions such as cystic acne and eczema in Chinese medicine. It's the star ingredient in this mask combination that can help cool the face, hydrate parched skin, and promote cell repair and regeneration.
20 flower heads from dried chrysanthemum flowers
Water
A 3-inch slice of cucumber (peeled)
A 3-inch slice of aloe vera (peeled)
Goji berries (optional)
Dry sheet mask
Take a handful of dried chrysanthemum flowers and cover with water (no more than 16 ounces, as we want a concentrated tea). Boil in a pot for 5 to 10 minutes until the floral aroma is released.
While waiting for the tea to cool down, dice up your cucumber and aloe.
Put both cucumber and aloe vera in a blender and blend until a gel solution forms. Then pour into a glass bowl.
Add an equal portion of chrysanthemum flower tea to the solution. You might need to use a cheesecloth to press out the tea from the chrysanthemum.
Mix the solution well.
Immerse a dry facial sheet in the solution for 5 minutes.
While waiting for the mask to be ready, feel free to add goji berries to the leftover chrysanthemum tea and dilute with water. Now, you're ready to relax with a cooling DIY sheet mask while sipping an anti-inflammatory tea.
Cooling down this summer can be a fun DIY project when you combine kitchen staples with accessible TCM herbs.