6 Of Our Favorite Recipes For Gluten-Free Treats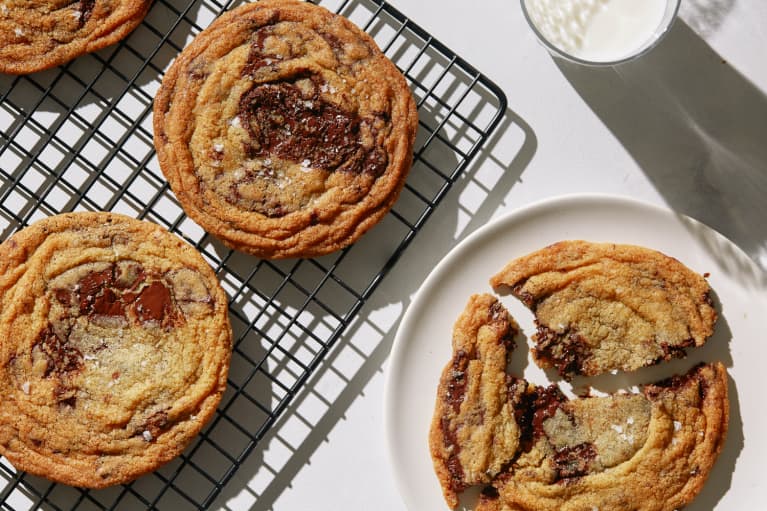 Plenty of people opt to skip eat gluten for reasons like a sensitivity or just as a general health choice, but for other's it's a diagnosis with celiac disease that has them looking for alternate grains. An autoimmune condition that renders gluten damaging to the small intestine as the body actually launches an attack on the organ, celiac disease effects around 1 in 133 Americans.
So for those with the hereditary disease, eating gluten really isn't an option—but the good news is there are plenty of super-tasty gluten-free recipes that we've grown to totally love, whether we're eating gluten-free or not. Here are six of our absolute favorite recipes for making a tasty treat any day of the week (or time of day).
Chocolate Oatmeal Chunkers
If you're looking for the perfect gluten-free cookie, this recipe from Loren Brill (the founder of Sweet Loren's) may just be it. Not only gluten-free, it's also dairy-free and free of refined sugars. Brill got her baking start at NYC's iconic cookie makers Levain before striking out on her own—so you could say she's something of a cookie pro.
Café Gratitude's Cinnamon Rolls
Not exactly a "quick and easy" baking project (but worth the work!), these vegan and gluten-free cinnamon rolls start with the café's custom blend for gluten-free flour—which they shared with us—and end with you smiling from ear to ear, we'll bet. Especially as we roll into fall, these would be a perfect weekend project.
Chocolate Ganache Tart With Cookie Crust
Chocolate ganache is the best place to start for an indulgent dessert, if you ask us—and this easy tart is just that. For a gluten-free option, simply opt for a gluten-free flour when making the cookie crust. While you will need to wait for it to set, the actual time it takes to put it together isn't long (and the wait after is totally worth the reward).
Medjool dates are the secret ingredient in these brownies, and making them with almond flour only adds to the fudgy-ness. Each ingredient, including the aforementioned two, was selected carefully to provide some nutritional value to the final product, even though all you'll notice is the rich taste of dark chocolate.
Big breakfast fan? This pancake recipe from one of Notting Hill's many trendy cafés, Farmacy, is easy, tasty, fluffy—all the things you want in the perfect pancake recipe. It uses buckwheat flour, which despite the name is actually not related to wheat (and is definitely gluten-free).
Looking for a more savory indulgence? These dairy-optional, gluten-free popovers are perfect and require only five ingredients (and a bit of patience while you let the pan heat up). While the popover themselves aren't sweet, lots of people enjoy them with jam—or you can get creative and pair them with whatever you like!
Want even more gluten-free recipes? Try these gluten-free cookbooks for more inspiration.