Blue Apron Vs. Green Chef: Which Meal Kit Delivery Service Outshines The Other?
Written by
Kelsea Samson
Kelsea Samson is a writer, content manager, certified yoga instructor and founder of The Mindfulness Program for Kids and Yoga for the Blind in Tampa, Florida.
June 24, 2023
We carefully vet all products and services featured on mindbodygreen using our
commerce guidelines.
Our selections are never influenced by the commissions earned from our links.
If you've been seeking a more convenient way to reap the benefits of eating healthy at home, chances are you might have tried a few meal kit services. These companies take the guesswork out of meal planning and prepping by bringing healthy recipes right to your door. We've tested what seems like every meal delivery service under the sun, and let's just say it takes a bit of comparing and contrasting to find out which is the best your individual health goals. Consider this your Venn Diagram for two of the most popular meal kit subscriptions, Blue Apron vs. Green Chef.
There's a subscription out there for nearly every palette, dietary need, and price point. But after extensive research and testing, we've found that these two companies stand out for their healthy, delicious recipes and high-quality ingredients. Below, we'll help you discover if Blue Apron or Green Chef is worth trying in your own kitchen. Pro tip: Both services offer pretty massive first-time-customer offers, with easy and hassle-free cancellation policies.
Blue Apron vs. Green Chef: Quick facts
Blue Apron
Cost per meal:
From $7.99 per serving
Delivery fee:
Free shipping
Dietary considerations:
Vegetarian
Low-carb
Organic ingredients:
Some produce
Who should try it?
If eating organic is important to you, but so is saving money, Blue Apron is a great choice. While not every single ingredient is organic, the company uses USDA-certified organic ingredients whenever possible. Every ingredient is certified non-GMO. Wine lovers will enjoy the fact that each meal comes with a recommended pairing.
Who should skip it?
While Blue Apron does meet a variety of preferences, those with severe food allergies or strict dietary restrictions may want to look for a meal delivery service with more customization options. Households of more than four people may also find that the serving sizes are not practical.
Green Chef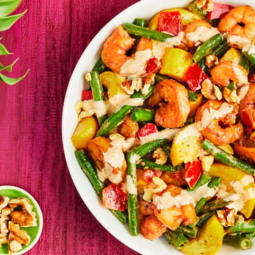 Cost per meal:
From $11.99 per serving
Dietary considerations:
Vegetarian
Keto
Vegan
Mediterranean
Gluten-free
Organic ingredients:
Produce certified USDA organic
Meats/animal proteins from high quality farms with welfare standards
Who should try it?
Those who value clean eating and organic, ethically sourced ingredients will be impressed by Green Chef. Additionally, Green Chef is a great option for people on a specialty diet such as keto, paleo, vegan, pescatarian, Mediterranean, or gluten-free.
Who should skip it?
If you're on a tight budget, you might want to opt for a meal service that's a bit more affordable. While you are getting high quality, delicious meals with Green Chef, it is slightly more expensive than Blue Apron and other cheaper meal delivery services.
Advertisement
This ad is displayed using third party content and we do not control its accessibility features.
Blue Apron pros & cons:
Pros:
Affordable
Non-GMO ingredients
Expands culinary skills
Carbon neutral & humane animal treatment
Cons:
Limited dietary preferences
Limited gluten-free or fully organic options
Recipes can be time-consuming
Plastic heavy
Green Chef pros & cons:
Pros:
All produce and eggs are USDA organic certified, meat and animal proteins are sourced from farmers that meet the brand's high animal welfare standards
Meals can serve up to 6 people
Company prioritizes sustainability & reduces plastic
Friendly to specialty diets like keto, paleo, vegan, pescatarian, Mediterranean, and gluten-free
Cons:
More expensive than Blue Apron
Shipping isn't free
Recipes may be too inventive for some
How does Blue Apron work?
Singing up for Blue Apron is simple. You'll first select a category preference for recipes, which will determine your recommended meals. Unfortunately there is not an option to filter recipes by gluten-free, Whole30, or keto; the only specialized diet the menu preferences do cater to is plant-based. It's worth noting that you won't outwardly see Mediterranean diet on the plans to choose from, but Blue Apron's Wellness plan follows similar basics to the Mediterranean diet (whole ingredients and healthy fats).
Blue Apron menu categories:
Chef Favorites: the kitchen's top picks
Wellness: nutritionist-approved recipes
Family Friendly: kid-approved meals for the whole family
Fast & Easy: time-saving recipes
Veggies: entirely plant-based recipes
Next, you'll decide how many meals per week you'd like to receive (two to five) and how many servings you'd like per meal (two or four). Once you enter your contact information, the next step is to select your meals. The best way to find out if Blue Apron will appeal to you is to browse the menu items for yourself, which you can do for free without creating an account (not every meal delivery service offers this!).
Blue Apron recently added a wine subscription with specific pairings for each recipe, which can be added at this point in the meal selection process.
A look at what's on the Blue Apron menu this week:
Togarashi Scallops with Beurre Blanc & Sushi Rice
Oven Baked Cheesy Pesto Gnocchi
Shawarma Lamb Stuffed Pitas
Three Cheese Pizza
Steak & Garlic Mashed Potatoes
How does Green Chef work?
Green Chef's signup is similar to other meal kit delivery services, but leaps and bounds simpler to filter by dietary needs. You'll always have access to all 30 weekly recipes, but you can set your preferences to gluten free, vegan, vegetarian, keto, Mediterranean, plant-based, and more so you'll see the most relevant recipes first. If your preferences change, you can access and update them at any time in your account settings.
Green Chef menu categories:
Keto & paleo: high-protein and lower-carb recipes that exclude gluten, grains, soy, and legumes
Vegetarian: meatless, plant-based recipes (may include some animal products like dairy and eggs)
Fast & fit: calorie-conscious recipes that can be prepared in 25 minutes or less
Vegan: recipes exclude all animal products, featuring vegetables and plant-based proteins
Mediterranean: Mediterranean-inspired recipes featuring lots of vegetables and healthy fats
Gluten free: recipes that feature gluten-free and soy-free ingredients
Once your profile is set up, meals will be recommended for you and you can easily swap them out for other recipes by exploring the weekly menu options. You'll be able to filter recipes by dietary needs, minimal prep time, adventurous recipes, calories, and so on.
Note: When you register, you'll automatically be enrolled for weekly delivery—which you can cancel at any time. You can edit your delivery to every other week or once a month. From there, you can skip weeks at any time. After reading reviews, customers seem to be impressed with the overall quality of the ingredients that arrived in their boxes. Fresh and unbruised produce and uncracked eggs? We love to see it.
A look at what's on the Green Chef menu this week:
Moroccan Turkey Tagine
Chili-Spiced Tilapia Over Black Beans and Rice
Spiced Pork Chops with Creamy Chimichurri
Truffle Butter Steaks
Blue Apron vs Green Chef:
| Brand | Serving price | Max meals per week | Shipping cost | Dietary considerations |
| --- | --- | --- | --- | --- |
| Green Chef | From $11.99 per serving | 4 | Free | Vegetarian; Keto; Vegan; Mediterranean; Gluten-free |
| Blue Apron | From $7.99 per serving | 4 | $9.99 | Vegetarian; Low-carb |
Cost of Blue Apron vs Green Chef:
Winner: Blue Apron
Here's a quick comparison of costs:
Blue Apron
3 recipes of 2 servings each: $66 per box; $264 per month; $11 per serving
5 recipes of 4 servings each: BlueApron: $160 per box; $640 per month; $8 per serving
Shipping cost: Free
Green Chef
3 recipes of 2 servings each: $80 per box; $324 per month; $13.49 per serving
4 recipes of 2 servings each: $104 per box; $415 per month; $12.99 per serving
Shipping: $10
Dietary considerations
Winner: Green Chef
Green Chef offers plans for all types of dietary preferences and lifestyles including Keto, Paleo, Vegan, Pescatarian, and gluten-free. You can also easily filter the weekly menus to browse by dietary need on their platform so you can swap recipes out easily. That's a lot more customizable than Blue Apron, which does not cater specifically to any of these dietary preferences.
Sustainability and environmental impact
Winner: Green Chef
Meal delivery kits, by nature, aren't the most environmentally friendly concept. More often than not, these companies use single-use plastics and materials in every box.
Green Chef claims to be the most sustainable meal kit because it offsets 100% of its carbon emissions and plastic packing in every box. The brand says this results in a 25% lower carbon footprint than other meal kit services. Our testers did notice that Green Chef's packaging doesn't contain as much plastic as other meal kits. The packaging is mostly recyclable, including the box, insulation, ice packs, and paper bags. Green Chef is also the first USDA-certified meal kit company with organic produce and eggs and proteins sourced from farms with high quality animal welfare standards.
In comparison, Blue Apron is a bit more plastic heavy. Many ingredients will arrive in hard plastic containers that you can toss into your recycling bin, but some plastic bags and films must be dropped off at a recycling center. Blue Apron did hit its goal for carbon neutrality in March 2022, making it a somewhat-sustainable choice. The brand states that its mission is to make all packaging either compostable, reusable, or recyclable by the end of 2025.
FAQ:
How long do Green Chef meals last?

With proper storage and refrigeration, Green Chef ingredients will stay fresh for five days after arrival (with the exception of seafood, which the brand notes should be consumed within three days of receiving).
What are the cons of Blue Apron?

There's a lot we love about Blue Apron, but it's downsides are the limited dietary preferences, the fact that it's not certified gluten-free or fully organic, and the recipes can be time-consuming.
Does Green Chef save you money?

The cost of Green Chef depends on the number of meals and servings you order. The weekly cost of a box may range from $80 to $288, and the cost per serving is between $12 and $14.
Are Blue Apron meals expensive?

Blue Apron is one of the most inexpensive meal kits on the market with the price ranging from $8-$12 per serving.
The takeaway
Blue Apron and Green Chef are both quality meal kit delivery services and a great way to get you and your family excited about eating healthy at home. These meal kits will save you time at the grocery store and open up your tastebuds to a world of new recipes. The better choice for you will depend primarily on your budget, dietary preferences, and (of course) your palette. If you have specific dietary needs, take a peek at our guides for the best organic, plant-based, best paleo, Whole30, and gluten free meal kit delivery services.
Meet The Experts
Kelsea Samson
is a writer, content manager, certified yoga instructor and founder of The Mindfulness Program for Kids and Yoga for the Blind in Tampa, Florida.