3 Easy, Low-Lift Ways To Cover Gray Hair (If You Want To), From A Top Stylist

Beauty & Health Editor
By Jamie Schneider
Beauty & Health Editor
Jamie Schneider is the Beauty Editor at mindbodygreen. She has a B.A. in Organizational Studies and English from the University of Michigan, and her work has appeared in Coveteur, The Chill Times, and Wyld Skincare.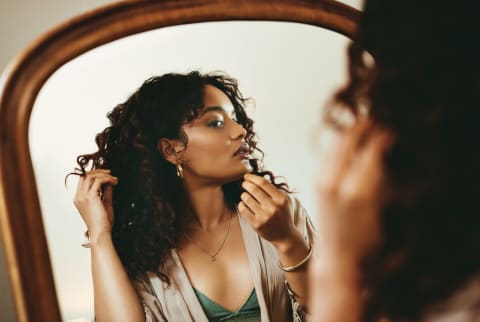 Image by Delmaine Donson / iStock
February 16, 2023
We carefully vet all products and services featured on mindbodygreen using our
commerce guidelines.
Our selections are never influenced by the commissions earned from our links.
Every beauty professional has their nonnegotiable steps. In our series Like a Pro, we tap experts for the top three techniques they absolutely swear by. Here, you'll hear from a variety of industry insiders on the fail-safe tricks they always keep in their back pockets. We're all about simplifying your beauty regimen wherever you can, and sometimes the best routines are as easy as 1, 2, 3.
Covering up grays isn't only for those hoping to disguise silver strands for as long as possible. Even those who embrace going platinum might want to cover up patches of gray, at least for a time. Why? Well, if you've previously colored your hair, simply stopping and letting nature do its thing means your new grays might grow out with a harsh line—some people prefer to cover those hairs until the majority of their head has reached platinum status.
Everyone's transition plan looks slightly different (and we highly recommend visiting a professional to come up with a personalized regimen), but celebrity hairstylist Laura Polko is here to make the venture a smidgen easier. Below, find her must-have tips:
1.
Rely on root touch-ups.
If you regularly color your hair, you likely know the struggle that comes with regrowth: As your roots grow in, you're met with a harsh line that separates your dyed and natural silver strands. Rather than booking an emergency appointment with your colorist, you could opt for a root touch-up in between sessions.
You can find our favorite options here, but Polko specifically recommends the Style Edit Root Cover Up Stick for more precise coverage. The cream-to-powder stick glides effortlessly on the strands and doesn't dare budge, she says. "If you're someone who likes to touch your hair and move your hair around, it's not going to get on your fingers; no one is going to know you're using a root cover-up, and that's the best part and why it's so easy to use," she notes.
Or if you'd rather use a powder (which some people find a bit easier; it's just like applying eye shadow), make sure to find one that is water and oil resistant yet doesn't build up on the scalp, like Style Edit's Root Touch Up Powder (which also comes paraben- and silicone-free). "They're all great and work well," says Polko.
In an absolute pinch, "You can use a headband to cover up grays," says Polko. "Some people have grays come in patches, so if you have patches on the side [or] in the back, you can twist your hair around, so it will cover up your more obvious spots." You could also opt for other hair accessories (clips, scarves, etc.) and braided styles—a little creativity can go a long way.
It's the cardinal rule of hair care: Hydrated, healthy strands appear way more vibrant. On the flip side, parched, overprocessed grays will stick out even more. "When your hair looks really dry and it doesn't look healthy, it is obvious that you're doing something to it," explains Polko. "The same goes when you're over-bleaching your hair and it is really fried; you can tell you're bleaching your hair because your hair is fried."
It sounds counterintuitive, but sometimes the key to covering up grays is to, well, stop covering them up. Doing too much in the form of dyes, sprays, etc., can backfire in the long run, and hair health remains top priority. Send your grays some love—might we suggest one of these deep conditioning masks?
The takeaway. 
Silver strands are beautiful, and whether you decide to grow out your grays or disguise them with highlights is totally up to you; no matter your route, though, you might want to consider Polko's tips. Covering up grays (at least for a little while) can be helpful throughout the transition phase and between coloring appointments. It's not permanent, but it's certainly a quick fix.

Jamie Schneider
Beauty & Health Editor
Jamie Schneider is the Beauty Editor at mindbodygreen. She has a B.A. in Organizational Studies and English from the University of Michigan, and her work has appeared in Coveteur, The Chill Times, and more. In her role at mbg, she reports on everything from the top beauty industry trends, to the gut-skin connection and the microbiome, to the latest expert makeup hacks. She currently lives in Brooklyn, New York.