The 9 Best Massage Chairs Of 2023 For At-Home Recovery & Relaxation
Written by
Kelsea Samson
Kelsea Samson is a writer, content manager, certified yoga instructor and founder of The Mindfulness Program for Kids and Yoga for the Blind in Tampa, Florida.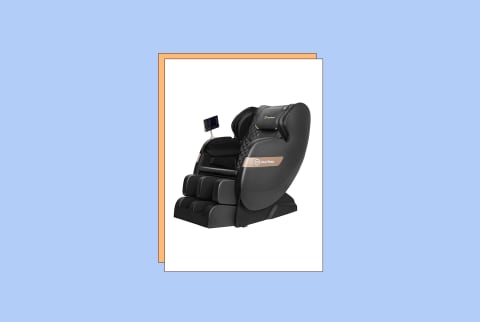 January 15, 2023
We carefully vet all products and services featured on mindbodygreen using our
commerce guidelines.
Our selections are never influenced by the commissions earned from our links.
Prioritizing relaxation and physical recovery is one of the healthiest things we can do—not only for our physical health and athletic performance but also for our mental well-being. The best massage chairs can have a huge impact on the way our bodies recover and perform physically and on how we feel mentally.
If you want to boost your physical recovery and mental health at home, a massage chair is a great way to do that. Along with offering the ultimate full-body relaxation, massage chairs are a research-backed1 way to reduce stress and relieve sore muscles. This study even showed massage chairs to be beneficial in decreasing pain caused by arthritis.
While you can totally enlist a partner or give yourself a massage, these at-home chairs do the work for you. When choosing which massage chair is best for you, there are a ton of options and features to evaluate, including body scan technology for personalized sessions, massage pads for on-the-go relief, compression boots for recovery from intense workouts, and zero-gravity chairs with voice control so you literally don't have to move a muscle.
Keep scrolling to learn how massage therapy can benefit your overall well-being and to find the best massage chair for your personal needs.
Quick List:
What is a massage chair?
A massage chair is an at-home device that can provide similar benefits to a professional massage. While they're often a sizable investment, massage chairs can be a great way to improve your overall health and well-being. Whether you're aiming to reduce stress, improve physical performance, or relieve sore muscles, these chairs can help your mind and your body feel more relaxed.
A standard massage chair will look pretty similar to your typical living room furniture, but there are a ton of different makes and models on the market today, including zero-gravity chairs, portable massage chairs, ergonomic chairs, compression boots, massage pads, and more.
Who can benefit from using a massage chair?
Experts agree that many different people can benefit from using a massage chair regularly, whether for sports recovery, to alleviate chronic pain, or as part of a daily relaxation practice. "The relaxation, the neurological shutdown after activity or for those in pain, maybe the most beneficial offering of massage chairs," explains holistic massage therapist and owner of LIFT Performance Enhancement Lisa Jamison.
The Official Journal of the American Academy of Pain Medicine2 discovered that massage chair therapy can effectively treat pain. After a workout, many people benefit from using a massage chair to perform myofascial release. Keep in mind, this should supplement your cool-down instead of replacing it. Even the best massage chairs should not replace a professional massage therapist, who can apply personalized knowledge to tailor each session to your specific needs.
What are the benefits of massage and compression therapy?
Even pro athletes, like LeBron James and Kevin Durant, swear by compression boots for faster recovery times after intense workouts. Jamison backs their benefits, saying that "The biggest benefit of compression therapy is increased venous return and help with inflammation and acute swelling. The level of compression to assist with lymph drainage, however, is not the same as for venous return, and one must know what their intention is and how to get the tool to work on their behalf."
If you're seeking lower-body relief after an intense training session, compression boots may do the job better than a massage chair. On that note, not everyone should use compression therapy. "Compression therapy is contraindicated in an array of patients," she adds. If you're unsure of what type of massage is best for you, you might start by looking for a massage chair with an array of styles like shiatsu, deep tissue, kneading, knocking, and vibration.
How we picked:
Design
All bodies are different, so our selections showcase a breadth of designs to make sure that people of all sizes get a great recovery session.
Features
Our picks have all the bells and whistles you'll need for sufficient mental relaxation and sports recovery.
Price
We picked massage chairs that fit a wide range of prices, including Amazon options, and a few splurge-worthy picks for those looking to seriously invest in their at-home recovery.
Reviews
Real customer feedback is important, so we read hundreds of reviews and selected massage chairs with high ratings and positive feedback.
Our picks for the best massage chairs of 2023:
Advertisement
This ad is displayed using third party content and we do not control its accessibility features.
Advertisement
This ad is displayed using third party content and we do not control its accessibility features.
Advertisement
This ad is displayed using third party content and we do not control its accessibility features.
Advertisement
This ad is displayed using third party content and we do not control its accessibility features.
What to consider when choosing a massage chair?
The massage chair that your friend swears by might not necessarily be the best one for you. For example, someone whose fitness routine involves heavy strength training might prefer deep kneading or compression boots, while another person might prefer acupressure.
As Jamison puts it, "The chair should fit your body shape, offer the modality you desire, and be used wisely." It's important to note that standard massage chairs are typically built around average-sized male figures, so you'll want to pay attention to sizing as well, to make sure it will be a fit for your body type.
Another cause for consideration is budget. It's true that most high-quality, full-body massage chairs cost thousands of dollars. If that price range is out of reach, focus on the body parts you want to treat. For example, the best compression boots will benefit your arms, legs, and feet, and the best portable massage chair will do wonders for your neck and back. Even Jamison confirms, "You don't need the most expensive chair to get the job done."
To get the most bang for your buck, she advises being mindful of how you feel when you sit in the chair. "Do you relax when you get into the chair? Does the chair offer you significant support and fit so your body can come into ease?" Once you've found something that meets those standards, you can expect to reap the benefits of relaxation.
What is the difference between an S-Track and L-Track?
When browsing the best massage chairs, you'll notice some new vocabulary: L Tracks and S Tracks. The difference is that rollers in L Tracks travel from the neck down to the glutes (sometimes even hamstrings) while an S Track follows the curve of the spine from the neck to the lower back. So, which is best? Our expert, Lisa Jamison, explains, "Having the option of an L-Track is great if the chair fits you and you have control over the track (to shorten it if you desire). That said, massage over every part of the back line of your body is not appropriate for everyone."
FAQ
Which full-body massage chair is best?

According to our expert, the best massage chairs are ones that fit your body shape, offer the modality that you desire, and are in your budget.
Is a massage chair worth it?

Yes, research shows that massage chairs are effective for treating pain and boosting recovery for athletic performance.
What are the disadvantages of a massage chair?

Price seems to be the biggest disadvantage, as massage chairs can be a hefty investment. You also want to keep in mind that massage chairs will not offer the same knowledge as a professional masseuse, and not all models have customization options.
How long should you sit in a massage chair?

While there's no magic number for how long your sessions should be, our expert explains that longer isn't always better. Most massage chairs offer timed programs to prevent excessive treatment.
Can a massage chair help with injury?

Our expert notes that specific injuries may benefit from certain options of a massage chair, but you should always consult your health care practitioners when injuries are involved.
The takeaway.
These massage chairs could be a great solution to help you step up your self-care and recovery routine—especially if you find yourself craving luxurious, at-home relaxation and muscle relief. Not quite ready to invest in a full massage chair? There are also some amazing massage guns on the market to help relieve your body pain.
Meet The Experts
Kelsea Samson
is a writer, content manager, certified yoga instructor and founder of The Mindfulness Program for Kids and Yoga for the Blind in Tampa, Florida.