6 Best Compression Boots To Speed Up Recovery After A Tough Workout (Or Workday)

mbg Contributing Writer
By Josey Murray
mbg Contributing Writer
Josey Murray is a freelance writer focused on inclusive wellness, joyful movement, mental health, and the like.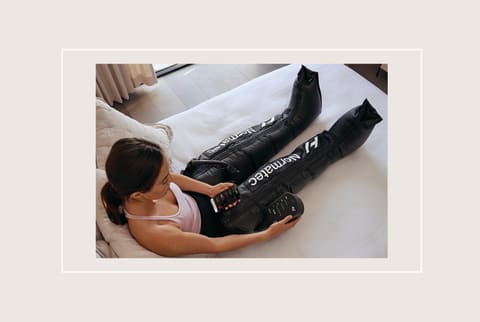 Last updated on March 8, 2023
Our editors have independently chosen the products listed on this page. If you purchase something mentioned in this article, we may
earn a small commission
.
Whether you have an avid workout routine or you're new to consistent, structured movement, you know (or will learn) how vital rest and recovery are to your body, mind, and continued performance. While there are plenty of ways to kick-start a recovery routine, one of the most popular forms is compression therapy.
You may be familiar with compression clothing—in particular stockings worn by people who are pregnant or stand all day for work—but it's not the only way to improve circulation. The best compression boots are an equally (if not more) effective way to increase blood flow and improve circulation.
Already popular with many professional athletes and even performers like Lady Gaga, compression boots can benefit a much wider audience than just the pros. An array of brands have stepped into the recovery space with their take on this high-tech device—but there's plenty to consider before handing over your hard-earned cash.
Below, uncover everything you need to know about compression boots and who might benefit from adding the high-tech recovery device to their routine.
The best compression boots for recovery of 2023:
What is compression therapy?
Before we jump into what makes compression boots worth it, let's make sure the basics are covered. Compression therapy is a "treatment for pain and swelling caused by conditions associated with poor circulation," per the Cleveland Clinic. When an area is compressed, the accumulation of blood or fluid in that spot is prevented.
According to sports recovery specialist Joe Barthelemy, compression therapy is a great option for "high-level athletes, fitness enthusiasts, [and] individuals who stand all day for work (nurses, law enforcement, military personnel, teachers)." Because compression increases blood flow and circulation, it can speed up recovery from a tough workout or workday, he explains.
Another unlikely use for compression boots? Barthelemy says they may also benefit individuals post-surgery with recovery. Of course, we recommend always checking with your doctor before starting a new routine, especially post-op.
How do compression boots work?
Most commonly used by athletes to decrease recovery time and reduce pain, compression boots have slowly become a more popular recovery tool among a broader range of individuals. The devices use intermittent pneumatic compression (IPC) for treatment, which means they use air to inflate and deflate, massaging your legs in the process.
Compression boots aim to remove the metabolic and lymphatic waste from your muscles, which usually takes the body at least a full day to do, according to New Jersey–based chiropractor and sports recovery specialist Jan Kasprowicz. That's because the lymphatic system, which is a network of vessels and other organs that keep your body fluids balanced, doesn't have a built-in pump, per a previous interview with health coach Ivonne Boujaoude, DNM.
Instead, the lymphatic system relies on movement for drainage. Adding a recovery tool, like compression boots, to your routine expedites this process, pushing lymphatic waste up your legs and into your lymph nodes to process and expel. (You might be familiar with a similar process in a lymphatic massage.)
Furthermore, research backs the benefits of using IPC to improve recovery times. A small 2013 study of student-athletes found an IPC device could remove lactic acid more effectively than passive recovery; another randomized trial found it was comparable to massage1 in lowering musical fatigue for ultramarathoners. Research2 also indicates that compression boots may be effective at reducing delayed-onset muscle soreness, but it is questionable whether they can reduce exercise-induced muscle damage.
Ultimately, your workout routine and budget will be two of the biggest factors in deciding whether compression boots for recovery are a must for your routine.
Factors to consider when shopping for a compression boot:
Pressure level/intensity settings: Depending on the intensity of your training or activity, you may want a higher level of pressure. Measured in millimeters of mercury (mmHg), this intensity indicates how tightly the boots will squeeze your legs.
Body parts: While these compression systems were picked for their capability to target legs and feet, some also offer attachments for hips and arms.
Portability: Will you leave your system at home, or should it be small and light enough to take on the go?
Price: Are you ready to invest in a higher-end product, or are you interested in testing out a cheaper one to start?
Chambers: Devices with more air chambers allow for a more specialized and effective massage, which may be a must-have for some.
How we picked:
The optimal amount of compression for your recovery heavily depends on the person and area receiving the treatment. We opted for picks that all offer at least three levels of compression to ensure there's a treatment for all needs.
Recommendations & reviews
We tapped our experts to provide their top picks from the market and then used customer reviews to better determine the boots worth trying—and those that shouldn't make the cut.
Each pick included features a standout element that makes it worth a second glance—whether that's a completely wireless model, a gradient technology that applies pressure to encourage blood flow, or a heating component.
Typically compression boots cost a couple hundred dollars, but we tried to find options across the board to ensure this type of recovery tool isn't off-limits if you can't swing a $1,000 model.
Our picks for the best compression boots for recovery of 2023:
Advertisement
This ad is displayed using third party content and we do not control its accessibility features.
Advertisement
This ad is displayed using third party content and we do not control its accessibility features.
Advertisement
This ad is displayed using third party content and we do not control its accessibility features.
How do compression boots feel?
Although compression boots offer similar benefits to a massage, the actual effect feels quite different. In fact, most of our testers closely compared a compression boot treatment to having your blood pressure taken at the doctor's office. The boot slowly inflates with air to compress the leg before gentle releasing small spurts of air to offer immediate relief.
Our testers were surprised by how relaxing the treatment felt—as long as they didn't opt into the highest level of compression. Just note that the intensity of a typical compression session can differ drastically based on the level of compression selected, so not all users will find the treatment to be as relaxing.
FAQ
What do compression boots do for athletes?

Compression boots can alleviate muscle fatigue and pain by aiding in recovery between workouts or training sessions.
Are leg compression boots worth it?

Compression boots can be a great fit if you are looking for a way to enhance your recovery routine and have the money to invest in a pair. However, they won't make or break your recovery.
How long should you wear a compression boot?

You can wear your compression boots for up to 30 minutes. Most products contain programs that guide usage time.
Do compression boots help with swelling?

Compression boots should help with swelling by increasing blood flow and circulation, as well as limiting the accumulation of fluid.
Meet the compression boot testers:
Carleigh Ferrante, commerce editor
Carleigh is a three-time world major marathon finisher who, after a decade of high-impact training, has learned to prioritize recovery as much as movement. Outdoor running is her form of meditation, but she loves checking out new fitness studios and at-home classes. Carleigh tested out the Hyperice Normatec 3 Legs as a way to boost her recovery and enhance her performance.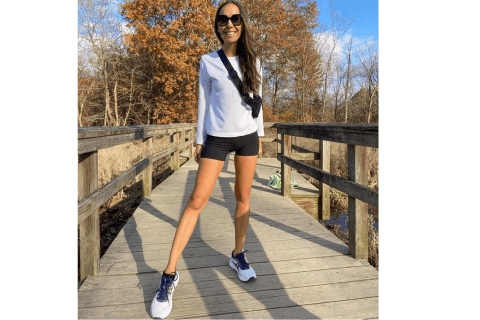 Braelyn Wood, deputy commerce editor
Braelyn is a Classpass enthusiast who prefers variety in her movement routine. When she's not running in the Red Room at Barry's or taking a reformer Pilates class at a local studio, you'll find her breaking a sweat at home using her Echelon bike. She tested out the Normatec Go as part of her regular recovery routine.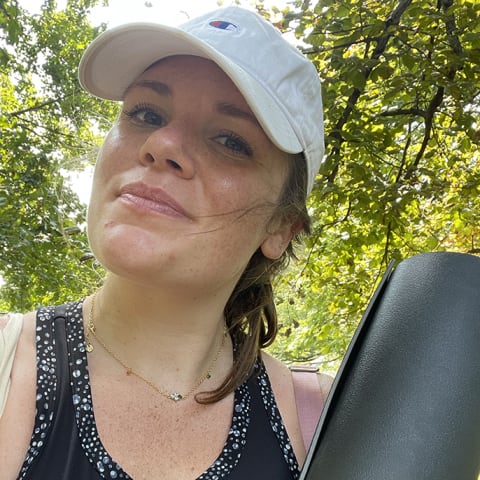 Andreas von Scheel, head of film & video production
Andreas is a triathlete who ran Track and Field at Villanova. Go Wildcats! He loves long runs in nature and open water swims. He recently became obsessed with indoor bike racing on Zwift—he dares you to come race him. To recover from long work outs he tested the Therabody Recovery AirJet Boots and RecoveryAir Prime.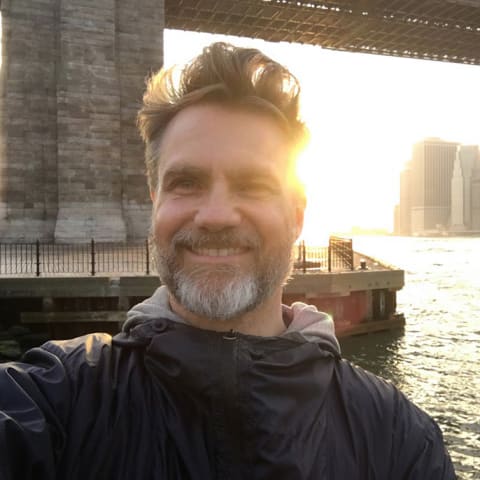 The takeaway.
People from all walks of life can benefit from the compression therapy that compression boots offer. Athletes and those involved in intense physical activity may find these products most beneficial due to their effectiveness at easing muscle soreness post-workout and aiding in recovery. Regardless of your movement routine, rest and recovery are incredibly important for keeping your body functioning at its best. For more info on how to recover properly from exercise, see the simple fixes to the top five recovery mistakes.
What we changed.
3/8: We added additional sections to explain how compression boots work with additional photographs to show the experience. We also replaced stock brand images with original photos taken by our testers, along with adding a meet our testers section.
Meet The Experts
Josey Murray
is a freelance writer focused on inclusive wellness, joyful movement, mental health, and the like.