Close Banner
Advertisement
This ad is displayed using third party content and we do not control its accessibility features.
The Best Hydrotherapy Hot Tubs For Recovery, Stress, Relief & Better Sleep
Contributing writer
By Jamey Powell
Contributing writer
Jamey Powell is a writer and editor living in Brooklyn, NY. Previously the senior market editor at Healthline.com, she has years of experience scouring endless product reviews and testing out the latest and greatest products in the sleep, fitness, and nutrition markets.

Medical review by
Scott Nass, M.D., MPA, FAAFP, AAHIVS
Board-certified Family Physician
Scott Nass, M.D., MPA, FAAFP, AAHIVS is a family physician and HIV specialist in California. He takes a holistic approach to healthcare, incorporating principles of functional medicine and using food as medicine when working with patients.
We carefully vet all products and services featured on mindbodygreen using our
commerce guidelines.
Our selections are never influenced by the commissions earned from our links.
Yes, a long hot tub soak is undoubtedly relaxing—but the benefits don't end there. The best hydrotherapy hot tubs help with post-workout recovery, stress management, and detoxification. The really good news? Having a hydrotherapy hot tub of your own is more accessible than you may think.
We consulted the experts to learn what sets hydrotherapy hot tubs apart from other therapeutic treatments and how to pick out the right one for you.
Plus, we analyzed a *ton* of options and compiled a list of the best hydrotherapy hot tubs out there so you can bring the spa to your own backyard.
The best hydrotherapy hot tubs
What is a hydrotherapy hot tub?
Hydrotherapy, or the use of water for therapeutic treatments, is a centuries-old technique used to aid a wide variety of ailments. However, it's also backed by science: A 2016 review1 of 100+ studies found that hydrotherapy can be used to help with pain management, though further information is needed to understand how it can help with specific diseases.
After all, hydrotherapy refers to any water-based treatment, regardless of temperature. That means steam, wave, and ice all count as hydrotherapy—including a cold plunge tub.
While hydrotherapy can technically take place in water of any temperature (or by taking a hot bath in your tub), hot tub hydrotherapy is one of the most popular options—and it has quite a few added benefits. The main difference? The jets.
"Hydrotherapy conducted in hot tubs uses powerful jets of warm water to offer a variety of health benefits," explains Seema Bonney, M.D., founder and director of the Anti-Aging & Longevity Center of Philadelphia. "The jets shoot warm water and air to massage different parts of the body like the neck, shoulders, lumbar, legs, and feet. This combination of hydromassage, heat, and immersion reduces muscle tension and repairs damage to areas that need healing by increasing blood circulation."
Benefits of hot tub hydrotherapy
Powerful jets, in combination with controlled heat, are beneficial for a slew of ailments. While this list is by no means exhaustive, these are just a few expert- and research-backed advantages of hot tub hydrotherapy.
Injury recovery & improved circulation
"A hot tub can be an excellent adjunct for recovery from injury and relief from pain," explains Cameron Yuen, DPT, CSCS, and director of rehab and training at Bespoke Treatments Physical Therapy in New York City. "Heat causes the dilation of blood vessels, allowing for improved blood flow throughout the body, especially in the periphery. This is where most injuries occur and where aches and pain tend to linger, so improved blood flow to the area can be very beneficial."
Relief from muscle & joint pain
Regardless of temperature, research has shown aquatic exercise to be an impactful tool for improving mental health3. Yuen says that adding some heat to the equation can trigger a physiologic switch, putting the body in a better position to heal and rest.
"Warm water massage helps to stimulate the release of endorphins that reduce stress," agrees Bonney. "And in addition to stress reduction, hot tub hydrotherapy can dilate blood vessels and improve circulation to help prevent headaches."
If timed correctly, the relaxation benefits of hot tub hydrotherapy could help you drift off to sleep. "Many patients [who use hot tubs] endorse improvement in deep, restorative sleep," says Bonney. Studies align with this, showing that older adults who took a hot bath before bedtime fell asleep quicker4.
Weight loss & GI management
While it's not a one-way ticket to weight loss, one 2019 study found that incorporating spa therapy into a weight management program had a positive effect on obese and overweight patients5. In addition to stimulating weight loss, Bonney adds that using heat to increase blood flow to the GI tract can help with chronic bowel issues like constipation.
If an anti-inflammatory response is your goal, you may consider pairing a hot tub with a cold plunge. "Hot tub hydrotherapy alternating with a cold plunge is a powerful method to detox and lower overall inflammation," says Bonney. "It's one of my go to biohacks, to help optimize body function." If you're ready to go all in, we have a few suggestions for at-home cold plunge tubs (plus, a mindbodygreen community discount).
Types of hydrotherapy hot tubs and how to choose
If you're on the hunt for your perfect at-home hydrotherapy hot tub, there are two main types to choose between and a few key factors to consider with each. Weigh the pros and cons below to decide what's most important to you.
Plug-and-play models
Quick installation
Less expensive with a few different models available under $1,000
Easily portable
Takes longer to heat up
May be less durable over time
No seats or targeted massage features
Less customization options
Hardwired hot tubs
Spa-like tub with seats & targeted massage jets
Optional customization for colors & added features
Longer warranties & customer service
Costs significantly more money, i.e., anywhere between $2,000 to $15,000
Relocating takes significant time & effort
Requires an electrician to set up
How we picked
Features
We considered the different features available in each device to ensure our picks provide a more therapeutic experience than your average bathtub soak.
Price
From more affordable to splurge-worthy, there's a hydrotherapy hot tub on this list to fit any budget.
Size & design
A hot tub isn't a small item, but we sought out options to fit a variety of spaces. In addition to size, you'll find both plug-and-play (designed for quick setup) and hardwired (more permanent) models on our list.
Reviews
We thoroughly scoured reviews (both the good and the bad) for each of these tubs to ensure they lived up to the hype for the majority of users.
Best for multiple people
Lifesmart LS600DX
Image by Lifesmart

Image by Lifesmart
scroll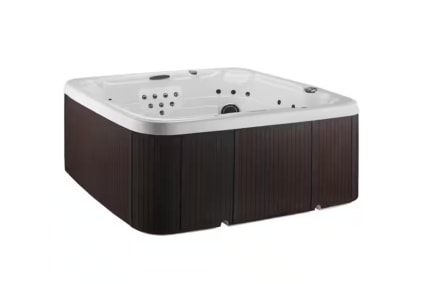 Image by Lifesmart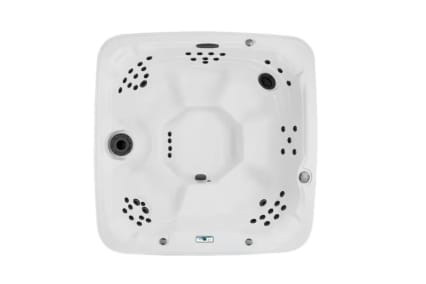 Image by Lifesmart
Voltage
230 V (requires electrician)
A quality option that seats up to 7 people, this hot tub has 65 powerful, adjustable jets for your back and feet, which you can operate using a digital control panel. With foam insulation and a thermal cover to trap heat when not in use, it's also a relatively energy-efficient pick.
The details

There are a few fun features, like multi-color underwater LED lights and a small waterfall. All in all, for the features and durability, this is one of the best mid-range options out there.

Keep in mind, you'll need to hire external help to set this tub up—unless you live with an electrician!
Pros & cons

Variety of seating options & details
65 powerful jets for various massage settings
What customers say

Reviewers love the quality and added features of this tub. Take it from this happy customer: "What else do you really need in a hot tub! The build and material makes it very easy to clean. The hot tub is a power house heat-wise and never misses a beat."

Room for improvement? Some reviewers mention that they'd love it even more if it had Bluetooth capabilities and a cup holder. A few people suggest waiting until this tub goes on sale, which apparently happens annually.
Best affordable
Bestway SaluSpa Miami Inflatable Hot Tub
Image by Bestway

Image by Bestway
scroll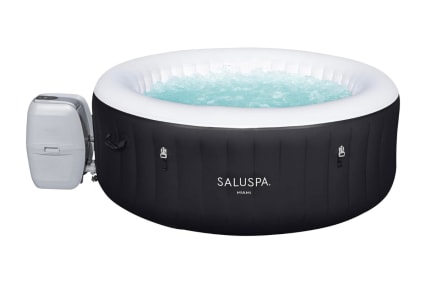 Image by Bestway
Image by Bestway
For a basic and budget-friendly option, this hot tub gets a lot of love from Amazon reviewers. It's easy to inflate (although it'll take longer to heat than more substantial tubs), comes with a cover, and even includes a timer system to pre-schedule your heating.
The details

It has 120 bubble jets, but they all come from the bottom of the tub and aren't adjustable for targeted massage. Still, for an inflatable tub, this one offers a stimulating soak at a great price, without compromising on durability. It's not the biggest option, though, and likely maxes out at four people.
Pros & cons

Portable
Highly-rated on Amazon

Short warranty
No seats or targeted massagers
What customers say

A lot of folks mention being pleasantly surprised by the quality and durability for such a low price. One person has updated their review of this tub over two years, and is still pleased with their purchase, writing, "Update: two years now, we moved and brought the hot tub with us. It survived and we are still using it every night."
Best for small spaces
HotSpring Hot Spot TX
Image by HotSpring

Image by HotSpring
scroll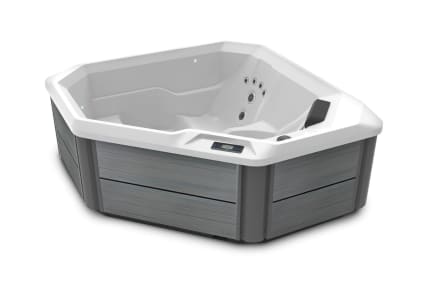 Image by HotSpring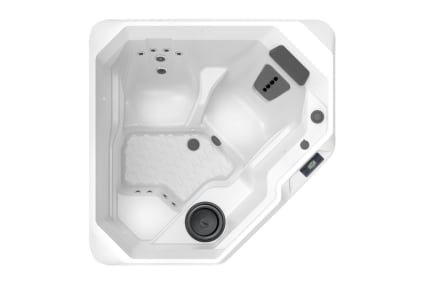 Image by HotSpring
Voltage
115 or 230 V (requires electrician)
The corner-friendly design of this hot tub makes it a great pick for small spaces. It has seating for two people, and offers a different massage experience, depending on where you sit. One side has an up-and-down back massage jet, while the other is focused on targeted massage for your back and shoulders—and both seats have adjustable lower jets across the tub to give your feet some love. Just note, reviewers mention that, if you're over 250 pounds, this is more of a one person tub.
The details

You can customize the look of this tub's interior shell and exterior cabinet, and it's available in a 115-volt energy-saving model as well. And, while it's not a super budget-friendly option (especially for a smaller tub), the brand is well-known in the hot tub space, and offers a solid warranty, as well as a local maintenance provider.
Pros & cons

Triangular, space-saving design
Efficient & easy to maintain
Customizable interior & exterior colors

Maximum of 2 people
Only 11 jets
What customers say

"We downsized to this fabulous small spa, which is perfect for me as I am the only person who enjoys this therapy. I'm a retired 5'2'' female and the TX fits me perfectly, delivering great therapy with the Moto Massage for my back and the seat with a full back massage. Foot jets top off the experience," one person writes.
Best for back pain
Caldera Spas Seychelles Tub
Image by Caldera

Image by Caldera
scroll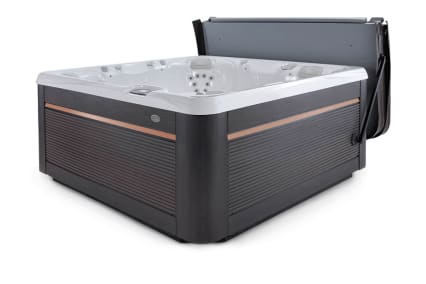 Image by Caldera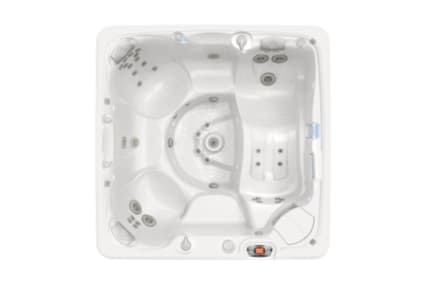 Image by Caldera
Voltage
230 V (requires electrician)
If you want the most spa-like experience possible, this quality tub is a great pick. It's the most luxury option on our list, using 43 jets to create six hydrotherapy stations for a customizable experience.
The details

Depending on where you sit, you can target your lumbar spine, shoulders, upper back, and even that tricky-to-reach mid-back area. Plus, there are plenty of low jets to give your calves and feet some TLC.

This hot tub operates on a saltwater system (versus chlorine), and features color-changing lights, a waterfall, and plenty of add-on options like Bluetooth speakers and matching stairs.
Pros & cons

Multiple back massage options
Uses a saltwater system
What customers say

People love the quality of the design and the saltwater system, and several people praise the massaging jets for relieving their back pain. One writes, "We purchased the Seychelles hot tub hoping it would help alleviate some of my discomfort from arthritis and lower back pain. I have to say it provides amazing relief from not only the aforementioned maladies, but also an unbelievably awesome way to unwind and relax."
FAQ
What are the side effects of hydrotherapy?

Positive effects of hydrotherapy, particularly in hot tubs, are reduced inflammation, pain relief, improved circulation, and even better sleep. According to Bonney, possible negative side effects include light-headedness, dizziness, or nausea. "Make sure you're well hydrated before and after you use hot tub hydrotherapy," she adds.
How long should hydrotherapy sessions last?

While hydrotherapy in neutral water temperatures should be safe for any amount of time, hot tubs that reach higher temperatures should be used in moderation. Try to keep your sessions to 15 to 30 minutes at a time unless otherwise directed by your doctor, and always get out of the water if you begin to feel light-headed.
Who should avoid hot tubs?

"This isn't an exhaustive list, but there are precautions with any or past cancers, current infections, heart conditions, or if you are pregnant. It is also important to consider how the heat may influence any medications you may be taking," says Yuen. If you have a medical condition or are on medications, it's best to speak with your doctor before using a hot tub.
The takeaway
Still, there's nothing quite like the therapeutic benefits of relaxing in a hot tub, especially one with powerful massaging jets.
While it may seem like a luxury, once you've weighed the pros and cons of the different hot tub types, you'll likely find that there's a model that fits your budget and your space.
Jamey Powell
Contributing writer
Jamey Powell is a writer and editor living in Brooklyn, NY. Previously the senior market editor at Healthline.com, she has years of experience scouring endless product reviews and testing out the latest and greatest products in the sleep, fitness, and nutrition markets. Her past gigs include copywriting for Daily Burn, teaching cycle classes at Swerve, and covering fitness for Greatist. She's obsessed with running, movies, and her dog, Bonnie.