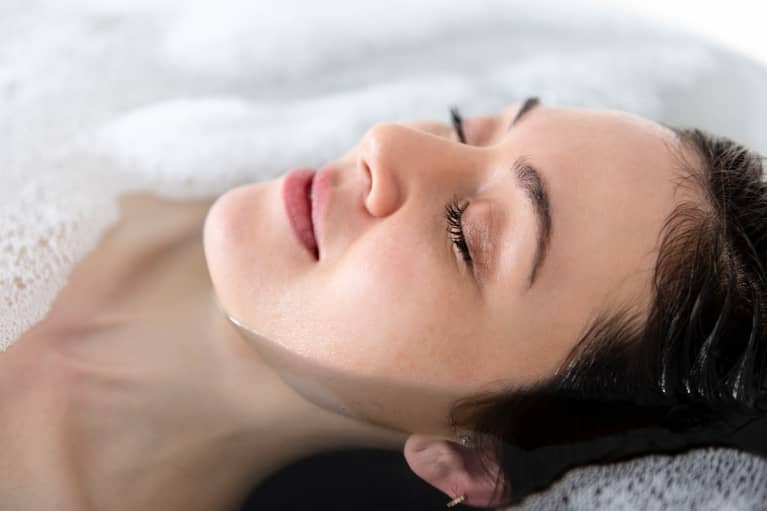 While most of us love the idea of an evening soak in the bath, the truth is, it's usually overlooked because life is just too busy. And unfortunately, we wait until we're at our wits end to even consider the luxury of running the bath full of warm water in hopes of regaining our strength, composure, and mental health. To convince you that baths should make a regular appearance in your well-being routine, we're here to share tips on how to customize your bath to get what you need, when you need it.
Here at mbg, we're huge fans of Kneipp because they're experts on bathtime and, with over 125 years of experience creating bath products, you can trust they have a deep understanding of how the combination of hot water, mineral salts, essential oils, and color therapy can make a world of difference when you immerse yourself in a bath.
So prepare to relax, soak, escape, and let these award-worthy salts and oils do all the work. Here's exactly how to customize your bath time for your specific needs.
If You're Suffering from Tech Neck and WFH-Induced Back Pain…
Try: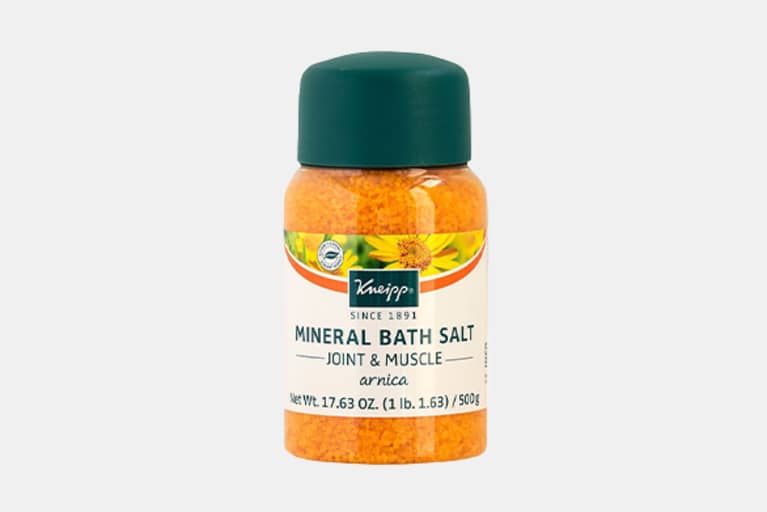 Kneipp Joint & Muscle Arnica Mineral Bath Salt
Soak in this power-packed blend of essential oils and Arnica Extract to loosen up and revive tired muscles.
We've all been there. You stand up after a meeting marathon in a less-than-ideal work-from-home setup only to realize your back and neck are aching, tired, and tight. In these moments, there's nothing that sounds better than soaking those muscles and joints in a tub of warm water. To kick things up a notch, we love adding Kneipp Joint & Muscle Arnica Mineral Bath Salts (an mbg Holiday Gift Guide pick!) to our water for a boost in benefits. Kneipp's mineral salt is sourced from an uncontaminated underground ocean that is 1500ft below the earth, and 250 Million years old! Combine this with arnica extract, which has been shown to provide relief from aches and pains, rosemary, and eucalyptus essential oils, and your bath is transformed into an all-natural remedy for soothing aching muscles. Not to mention, the beautiful yellow color that fills the bath offers another major therapeutic bonus. Similar to how we think of sunshine, the color yellow is linked to promoting mental clarity and re-energizing both the body and mind.
If Your Stress Level is High…
Try: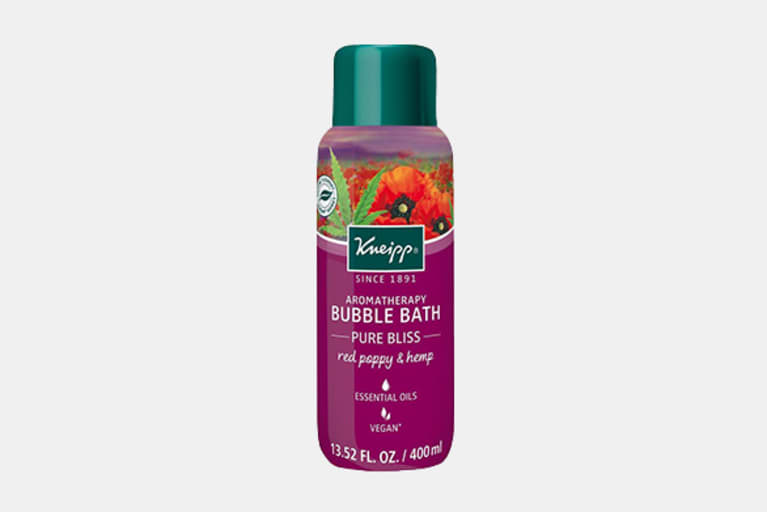 Kneipp Pure Bliss Red Poppy & Hemp Aromatherapy Bubble Bath
The natural oils of red poppy and hemp work together to provide you with a sense of well-being and moments of joy.
Let's face it, we're in the middle of a worldwide pandemic, so stress is at an all-time high. That's why practicing self-care is so important — simply put, stress shouldn't rule your life. The combination of red poppy and hemp help to promote a sense of well-being because there's no reason stress should be controlling your day-to-day. And the purple color therapy can lead to more self-awareness, mental and emotional renewal, and even deeper meditation.
If You're Desperate for A Good Night's Sleep …
Try: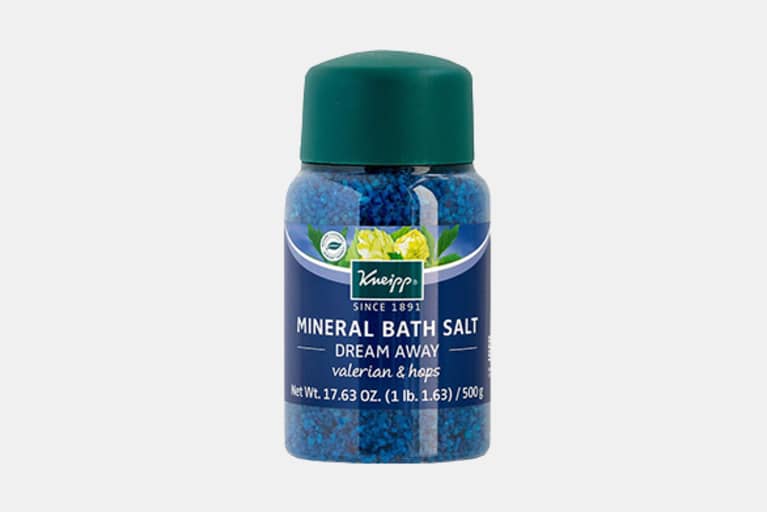 Kneipp Dream Away Valerian & Hops Mineral Bath Salt
Soak in this calming color and aromatherapy retreat to prepare for a restful night's sleep.
Perhaps you're struggling to fall asleep and stay asleep. Try this valerian and hops blend. This power-duo of herbs has been shown to have a mildly sedative effect that can make it easier to fall asleep and support levels of GABA, an important brain chemical for sleep and relaxation. The beautiful blue color of Kneipp's Dream Away blend will transform your bathtub into a deep sapphire oasis, providing an emotional escape that sets you up for a peaceful, deep night's rest. Plus, Kneipp's bath salts are rich in minerals, which when combined with essential and botanical oils, work to renew and restore your body and senses.
If you're more into oils or your skin is in need of deep nourishment, Kneipp's Dream Away Valerian & Hops Bath Oil is an mbg gift guide pick that will give you that all-important bedtime calm in an aromatherapy bath oil that will help you drift off to sleep.
If You're Simply Looking for Self-Care & Relaxation…
Try: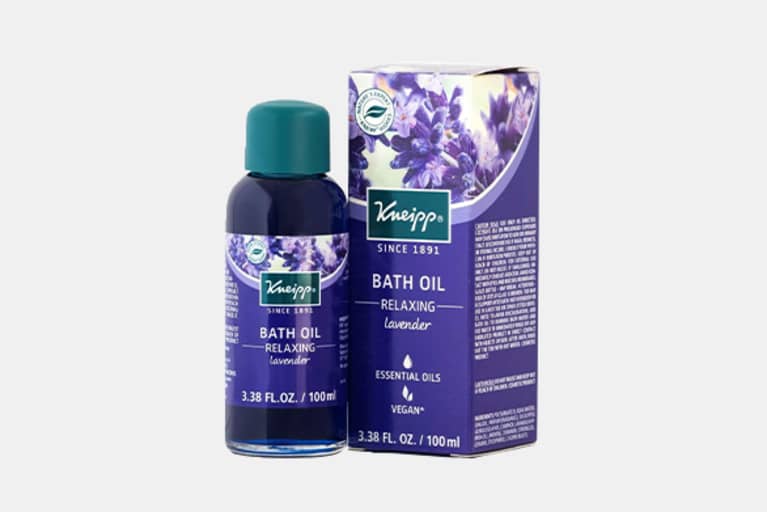 Kneipp Relaxing Lavender Bath Oil
Experience deep relaxation in an essential oil soak that helps you unwind and leave the day behind.
Lavender is a well-being all-rounder. It has been proven to be a savior when it comes to managing stress, is lauded for its antioxidant and anti-inflammatory effects, can soothe angry skin, and has even been shown to help ease a headache. Since this oil is chock-full of lavender, eucalyptus, and camphor essential oils, it's the perfect option for anyone who is looking for a little self-care pick-me-up. So, next time you're feeling a little flat, try adding a capful of Kneipp's Relaxing Lavender Bath Oil to your soak and let the rich color and soothing scent do its magic.
If Your Skin Feels Like Sandpaper…
Try: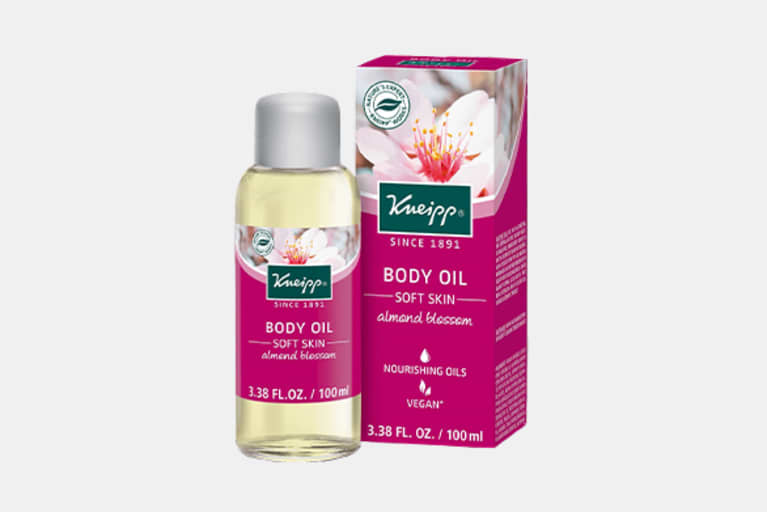 Kneipp Soft Skin Almond Blossom Bath Oil
Smooth on the benefits of Sweet Almond Oil, packed with essential fatty acids and Vitamin E, to nourish your skin and give it a healthy-looking glow.
As the bitter, cold temperatures arrive, that soft and supple summertime skin becomes a distant memory. And sometimes even slathering on lotions and creams doesn't quite do the trick to restore the health and moisture levels in the skin. This bath oil is packed with 94% plant oils that replenish the lipids in the skin and leave skin baby soft and hydrated. Plus, the floral, nutty scent will have you dreaming of springtime as you soak.