The 7 Best Hiking Sandals Of 2023 + How To Choose, With Recommendations From Podiatrists

Contributor
By Caitlyn Martyn
Contributor
Caitlyn Martyn is a freelance writer whose work has appeared in Byrdie, InStyle, Popsugar and more.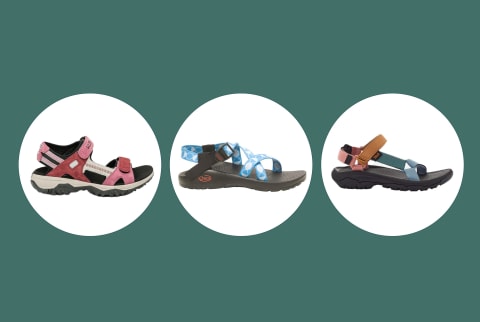 September 6, 2023
We carefully vet all products and services featured on mindbodygreen using our
commerce guidelines.
Our selections are never influenced by the commissions earned from our links.
The best hiking sandals of 2023:
Whether you're a seasoned hiker or just learning about the benefits of time in nature, you'll want to take stock of your footwear. While a solid pair of hiking boots is key, the best hiking sandals are essential for any warm-weather hike (especially those involving lakes, streams, or rivers).
Hiking sandals provide the same sturdy support and grip as boots while giving your toes the space to breathe. After all, wet feet plus too much friction equals blisters—and blisters are sure to ruin any hike.
What are hiking sandals?
Hiking sandals are shoes designed specifically for hiking in hot, wet climates. They typically feature water-resistant materials; grippy, rubber outsoles; and quick-drying insoles.
For safety and health purposes, it's important not to hike in walking shoes. "Since hiking is completely different from walking, there are certain demands placed upon the feet and legs that we may not normally experience—like dealing with uneven surfaces, inclines, and declines," explains podiatrist Robert Kornfeld.
"It's important to have hiking shoes that protect against impact (whether that be the action of jumping from low or high ledges, walking through slippery dirt, and potentially losing your footing on small movable rocks), keep debris out of the shoe, and can support the feet while they are placed under these stresses," he adds.
How hiking impacts longevity
Studies out of Japan4 indicate that invisible chemicals (called phytoncides) in some trees can reduce stress hormones, lower anxiety, and improve blood pressure and immunity—all things our bodies need to thrive.
What to look for in hiking sandals
When considering which shoe is best for you, keep in mind your foot type (either narrow or wide), how much walking you'll be doing when wearing them, and the type of ground you'll be standing on. Consider the following podiatrist-backed parameters before picking a pair:
Fit: According to surgical podiatrist Nelya Lobkova, the fit should be snug yet roomy around the toes to allow for some minimal movement in the hiking shoe.
Weight: "The weight of a hiking shoe should be greater than a walking or running shoe, around 14 oz.," Lobkova explains. "This accounts for mid-level ankle support and a lug rubber sole."
Durability and materials: The midsole should be stable and supportive yet flexible at the big toe joint to allow for balance, as a lot of our lower-extremity balance comes from stabilizing the big toe, Lobkova explains. "The outsole should be rubber to allow for good traction."
Waterproof ability: The waterproof ability comes from the upper material. Per Lobkova, this should be GORE-TEX, in order to prevent any moisture or water from entering the shoe—even if the shoe is submerged in water.
How to choose the best hiking sandals
When choosing the best hiking sandals for you, it's best to try on multiple options and decide which feel most comfortable for you. That's why we chose options from brands with generous return policies. Take extra notice of whether or not a shoe offers support, shock absorption, and a durable, nonslip outsole.
To narrow things down before the try-on stage, consider your budget, the shoe's materials, durability, your style preference, and feedback from reviewers.
Our picks of the best hiking sandals of 2023:
Advertisement
This ad is displayed using third party content and we do not control its accessibility features.
Advertisement
This ad is displayed using third party content and we do not control its accessibility features.
Advertisement
This ad is displayed using third party content and we do not control its accessibility features.
How we picked:
Quality
Quality is key, especially when you'll be using shoes in potentially dangerous situations like hiking the side of mountains, crossing streams, and more. We chose shoes made from high-quality materials that will stand the test of time (and nature).
Expert insight
The hiking sandals on our list fit the criteria outlined by the podiatrists we interviewed. We considered foot health and kept comfort top of mind. Each shoe has a durable sole and sturdy structure.
Reviews
We took customer reviews into consideration when selecting hiking sandals. Many of the styles on our list have five-star reviews from the people who have tried them and wear them on a wide range of outdoor adventures.
Materials
Materials can make or break the experience with the shoe. We considered fabrics and types of material used in each shoe to ensure comfortable, blister-free wear.
FAQ:
Are Tevas actually good for hiking?

A popular option for hikers, Tevas are the sandals most people think of when they think of hiking sandals. They're durable, comfortable, and dry quickly after getting wet, making them a great choice for people who need to go from land to water and back again easily and comfortably.
Which is better for hiking: shoes or sandals?

According to Kornfeld, closed-toed hiking shoes are recommended for challenging hikes on mountain trails. "It is far too easy to injure toes in an open-toed shoe as you walk by fallen branches and twigs or climb up boulders and rocky mountain terrain," he explains. "Plus, they protect against bug bites and keep debris from entering the shoe."

However, both Kornfeld and Lobkova agree that if you're walking through wet, paved, or flat areas, you can most definitely use open-toed hiking sandals.

"For cold weather, choose a closed-toe shoe. For very hot or water/river hiking, sandals can be used," Lobkova adds.
Are Crocs sandals good for hiking?

It's not recommended to walk long distances in Crocs, especially on uneven ground—and that includes hiking trails. They won't provide your feet with the support you need, and you'll likely feel sore—if you don't injure yourself in the process. Instead, opt for a tried-and-true hiking shoe or sandal.
What type of footwear is best for hiking?

It is important to have the right footwear for hiking, depending on the terrain. "Hiking in the city? Opt for supportive lightweight shoes. Hiking on sand or soil? Opt for low-cushioned sneakers. Hiking on rocky mountains? Opt for a flexible shoe with a thick rubber outsole, like a climbing shoe," advises Lobkova.

When in doubt, Kornfeld recommends hiking shoes designed with a semi-firm sole (not rigid but not overly flexible, he says) with adequate impact cushioning and a high-top upper sole for ankle support. "If hiking trails won't be too challenging, a low-top style is just fine."

He adds that if you'll be in wet, paved, or flat terrain, hiking sandals are a good option.
The takeaway
If your next hiking adventure involves crossing streams or getting in and out of a kayak or boat, you won't regret investing in a pair of hiking sandals. These lightweight, breathable sandals are easy on sore feet and blisters and ideal for hot climates. Before embarking on your next trip, be sure to check out our list of the best hiking boots, as well as a whole slew of sustainable backpacks.
Meet The Experts
Caitlyn Martyn
is a freelance writer whose work has appeared in Byrdie, InStyle, Popsugar and more.