The 5 Best Facial Steamers Of 2023 For Supple, Never-Irritated Skin

Beauty & Health Editor
By Jamie Schneider
Beauty & Health Editor
Jamie Schneider is the Beauty Editor at mindbodygreen. She has a B.A. in Organizational Studies and English from the University of Michigan, and her work has appeared in Coveteur, The Chill Times, and Wyld Skincare.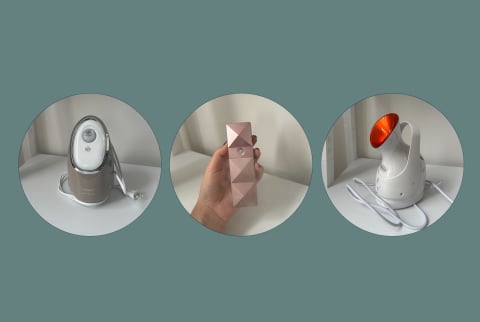 Image by Jamie Schneider / mbg beauty editor / mbg Creative
June 29, 2023
We carefully vet all products and services featured on mindbodygreen using our
commerce guidelines.
Our selections are never influenced by the commissions earned from our links.
Quick list:
Craving an at-home spa day? You should cop a facial steamer. No, these beauty tools aren't exactly necessary for your regular skin care routine (in fact, you shouldn't use them every day; more on that later), but if you want to dial up the luxury and send your complexion some T.L.C., they're a sound investment.
But, unfortunately, you can find quite a few less-than-stellar devices out there, which makes facial steaming… a little scary. Choose the wrong device, and you'll wind up with irritation, dryness, and even burns if you're not careful.
That being said, I'm very selective about the facial steamers I recommend. (Your skin health deserves high standards!) In fact, only five tools meet my criteria—below, find the facial steamers that are actually worth your hard-earned dollars.
mbg's picks for the best facial steamers of 2023
Advertisement
This ad is displayed using third party content and we do not control its accessibility features.
Advertisement
This ad is displayed using third party content and we do not control its accessibility features.
Comparing the best facial steamers of 2023
How we chose
Design: Some prefer a desktop steamer, while others love the ease of a portable device. We made sure to include a variety of options with special features, like handles and detachable nozzles.
Innovative technology: All of these devices feature some sort of ionic or nano-steam technology, which helps usher the water molecules deeper into the pores.
Tried & tested: Everything on this list comes recommended and tested by trusted professionals and editors. We also used real customer reviews to inform our choices.
Facial steaming benefits
Facial steaming devices provide a constant mist at a set temperature, which can help supplement your hydrating skin care routine. We have a full guide to facial steaming benefits here if you'd like to take a deeper dive, but here's the gist:
Opens pores: The warmth from the steam opens up the pores, which loosens trapped dirt, bacteria, and sebum.
Hydrates: "Facial steaming may provide a hydrating effect with water vapor, which may keep your skin moisturized, plumper, and supple," says board-certified dermatologist Ife J. Rodney, M.D., founder of Eternal Dermatology.
Brightens: "Facial steaming also dilates your skin blood vessels, which promotes healthy circulation to the skin," says board-certified dermatologist Kim Nichols, M.D., founder of NicholsMD of Greenwich, and stimulating blood flow often leads to a more radiant complexion.
Boost skin care products: "It loosens the dirt and opens your pores, so serums, toners, and eye creams work better," Rodney notes.
Softens dead skin: "Utilizing a facial steamer softens the skin and dead cells on the epidermis," Nichols says.
Relaxing: A cloud of warm mist over your face just sounds soothing, no? Some facial steamers even double as aromatherapy diffusers, too.
Side effects & warnings
Directing hot steam toward your face can wreck your skin barrier without caution. Before investing in a tool, no matter how high quality it might be, please consider the following side effects:
Can cause dehydration: It sounds counterintuitive, but "just like over-exfoliating, over-steaming may trigger a process called transepidermal water loss," says Nichols. "This is when water passes from the dermis through the epidermis and evaporates from the skin's surface."
Can trigger hyperpigmentation or broken capillaries: "Applying too much heat can damage the skin, possibly causing hyperpigmentation. You'll lose the benefits if you're not careful or it's too hot," says Rodney. You don't want to frequently flush your delicate facial skin.
Can aggravate skin conditions: If you have eczema, rosacea, melasma, acne, broken capillaries, hyperpigmentation, or sensitive skin, you'll want to avoid steaming. Heat can trigger inflammation, which only exacerbates those skin issues.
See here for a full breakdown of side effects and who shouldn't steam, straight from derms themselves.
How to use a facial steamer
So you've snagged your steamer and are ready to give it a whirl. Great! Follow along with our derm-approved tutorial below. Note: This routine may seem a bit more involved than your regular cleanse, treat, moisturize regimen, which is intentional! Facial steaming should be a treat, perhaps one accompanied by an at-home facial.
Cleanse your skin: A fresh, clean canvas is necessary for all that follows, including a good steam. You may even opt for a double cleanse if you're wearing makeup or sunscreen.
Exfoliate (optional): Now that your pores are open, it's time to buff away that dead skin and grime. It might be easiest to use a mask here, be it an enzyme mask, chemical peel, or oil-absorbing clay formula. See here for our favorite face exfoliators.
Tone (optional): Some experts swear by a swipe of hydrating toner or essence to balance the skin's pH and prepare it for moisture; others deem it wholly unnecessary. If you do choose to use toner or essence, incorporate it here. Just make sure you choose a simple, hydrating toner over a purifying or exfoliating option if you already exfoliated in the step above.
Hydrate: If you want to use a hydrating serum—like one with hyaluronic acid, CoQ10, or peptides—before your face cream, you can go right ahead. Just make sure to seal everything in with an emollient-rich face cream, like one of these superstar formulas.
Protect: If you steam in the morning, sunscreen is nonnegotiable. Always end your routine with a good ol' lather of SPF.
FAQ
Do dermatologists recommend face steaming?

Generally, yes, derms do approve of facial steaming. It's not a necessary step in your skin care routine, but it can provide benefits when done correctly (correctly being the operative word here).

But facial steaming isn't for everyone, and derms do emphasize the risks. "If you have conditions like eczema, rosacea, or melasma, it can exacerbate them, so steer clear of steaming," Rodney notes.
Is it OK to steam your face every day?

No, it is not! Steaming every day can overwhelm your skin barrier and lead to dryness and irritation. Rather, "Once a week is probably a good start," says Morgan Rabach, M.D., a board-certified dermatologist and co-founder of LM Medical in NYC.

If your skin can tolerate it, you can increase the cadence up to two times a week, but Rodney says you definitely shouldn't steam more than that. "People of color should aim for once weekly, if at all," she adds. "Skin of color can become hyperpigmented much more quickly from excess steaming."
What should I put on my face after steaming?

If you're steaming for those hydration benefits, you can follow up with a humectant serum and moisturizer and call it a day. The heat can improve the potency of those subsequent skin care products.

You can also choose to exfoliate after steaming, since the warmth from the steam opens up the pores and loosens trapped dirt, bacteria, and sebum. By dissolving all the gunk within your pores an exfoliating mask or scrub, you can help those products work even better. Just remember to always moisturize after exfoliating.

Now, an esthetician might use a steamer to make it easier for them to perform extractions—but you should never, ever do that at home. Stick to exfoliating or hydrating skin care products and keep finicky fingers away.
Should face steam be hot or cold?

Either works! If you're hoping to open up pores, dilate blood vessels, or soften dead skin, you might want to opt for heated steam. But if you're just looking to plump the skin with hydration, you can totally use a cool mist. The latter may be better suited for sensitive skin, anyway.
The takeaway 
Overall, the key to choosing the best facial steamer is to find a high-quality design, innovative water-molecule technology, and a nice, steady stream of mist. You can't go wrong with the Dr. Dennis Gross Pro Facial Steamer, but I do understand it's a bit expensive. If you'd like to save a few extra bucks, the Plum Beauty Spa Facial Steamer has a similar design with a much more affordable price tag.
Looking for more facial tools to add to your arsenal? The market is practically exploding with quality at-home options; see here for our full deep dive on LED masks, microcurrent, massagers, and more.
Meet The Experts
Jamie Schneider
is the Beauty Editor at mindbodygreen. She has a B.A. in Organizational Studies and English from the University of Michigan, and her work has appeared in Coveteur, The Chill Times, and Wyld Skincare.
Ruth Jobarteh-Williams is a board-certified dermatologist.