Ashley Graham's Secret For Hair Growth Is Probably Already In Your Kitchen

mbg Beauty & Wellness Editor
By Jamie Schneider
mbg Beauty & Wellness Editor
Jamie Schneider is the Beauty & Wellness Editor at mindbodygreen. She has a B.A. in Organizational Studies and English from the University of Michigan, and her work has appeared in Coveteur, The Chill Times, and Wyld Skincare.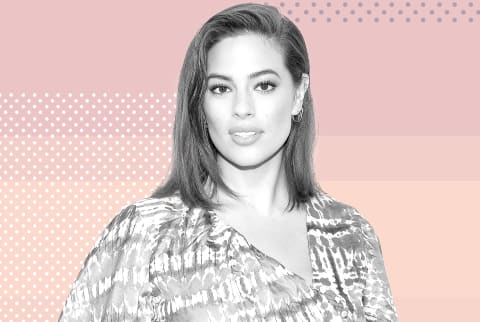 Image by mbg Creative x Jamie McCarthy / Getty
October 28, 2020
One of life's simple pleasures amid the pandemic is tuning in to all the celebrity beauty tips of late. There's something calming (and relatable) about seeing the stars at their own sinks experimenting with a new product or paring back their routine. We've since learned hair care hacks, certain styling tricks, and, oh, has there been a ton of DIY.
Ashley Graham's newest habit hits all three points: "I've been doing an apple cider vinegar rinse about once a week," the supermodel and new mom shares in an interview with the New York Times.
Advertisement
This ad is displayed using third party content and we do not control its accessibility features.
Here's what you need to know about the solution and how to replicate Graham's rinse.
The apple cider vinegar rinse, explained.
Apple cider vinegar hair rinses are nothing new—in fact, beauty fans have been touting apple cider vinegar for ages, even formulating them into products. In Graham's experience, the DIY method has shown helpful as her strands bounce back from postpartum hair loss. "Four months postpartum my whole hairline fell out,' Graham notes in the interview, and along with some styling hacks to swirl her newly grown cowlicks into place, she relies on ACV to stimulate the follicles for healthy growth.
She's not wrong: While there's no hard evidence to show that the vitamins and minerals of ACV contribute to hair growth specifically (just the weight of anecdotal claims, like Graham's), the solution does effectively remove buildup on the scalp: "Apple cider vinegar contains acetic acid and alpha-hydroxy acids, which can help degrease and cleanse the skin," board-certified dermatologist Morgan Rabach, M.D., and co-founder of LM Medical NYC, once told us about ACVs hair benefits.
As we know, too much gunk and buildup can lead to scalp inflammation—and a chronically inflamed scalp can lead to some shedding strands. That's why many experts will tell you to regularly clean and stimulate the scalp if you're hoping for faster hair growth—and that's where the lovely apple cider vinegar makes its appearance. (Plus, it can make your hair super shiny—here's the full list of benefits.)
How to replicate the rinse. 
It's perhaps the easiest DIY method there is: All you need is your trusty ACV and some water. Simply combine ½ tablespoon of apple cider vinegar and 1 cup of cold water, then mix it together to form your solution.
The application method will differ from person to person (some use it after shampooing, post-conditioner, or in place of shampoo—it all depends on your hair's needs, really), but no matter which way you use it, let it sit for up to five minutes before rinsing it out. (See here for a full rundown of how to adjust your ACV rinse.)
Advertisement
This ad is displayed using third party content and we do not control its accessibility features.
The takeaway.
Ultimately, everyone's hair is different—but for Graham, an ACV rinse is an integral part of her healthy hair routine. Just one final caveat: "It smells!" she says. "If you go to the gym the next day, you're going to sweat and smell like vinegar." Noted, Graham.
Advertisement
This ad is displayed using third party content and we do not control its accessibility features.