I'm A Yoga Teacher & This Is Why Alo's Warrior Mat Is My Favorite Of All Time
mbg Spirituality & Relationships Editor
By Sarah Regan
mbg Spirituality & Relationships Editor
Sarah Regan is a Spirituality & Relationships Editor, and a registered yoga instructor. She received her bachelor's in broadcasting and mass communication from SUNY Oswego, and lives in Buffalo, New York.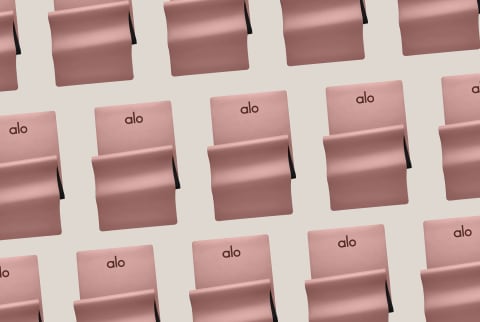 Image by Alo Yoga / Alo Yoga
September 29, 2022
We carefully vet all products and services featured on mindbodygreen using our
commerce guidelines.
Our selections are never influenced by the commissions earned from our links.
Within the past decade (plus some) of practicing yoga—and two years of teaching it—I've used a number of different yoga mats. And let me tell you, they are not one and the same.
While you can, of course, have a rewarding practice with no mat at all, a quality mat can make a world of difference. It's a fact that I discovered when I used Alo Yoga's Warrior mat for the first time more than two years ago. Since then, it's been my tried-and-true mat for years—and I can't rave enough about the way it's helped with my practices.
I've tried a lot of yoga mats in my day.
My yoga journey began during my sophomore year of high school. Using the flimsy yoga mats in gym class, my love for yoga blossomed, and I started going to classes at my local gym. The mats there weren't much better, but I wasn't experienced enough to understand the difference.
When I eventually joined an actual studio for the first time after college, I got a taste of better-quality mats, and I started to rethink my relatively cheap foam mat. I started my quest to find the best yoga mats, trying thick foam mats, thin foam mats, cork mats, and more. By the time I completed my yoga teacher training, I finally knew which mat I wanted to invest in.
Discovering Alo's Warrior mat.
A friend of mine had raved about her Alo mat to me for a while, but if I'm being totally honest, I wasn't thrilled by the idea of coughing up $100 for it. I knew it was a quality mat, and I liked the feel of it from using my friend's a couple of times, but it didn't feel justifiable.
That is, until, my practice really deepened and I finished my yoga teacher training. I knew it was time for a mat upgrade (and I happened to have a little holiday cash burning a hole in my pocket). Right away, the Alo mat came to mind. Knowing I wanted a mat with the right thickness and firmness for my preference, I started researching the product to ensure it was up to my standards—and could handle the copious amounts of hot yoga I've been known to do.
After looking at a handful of other options, I finally caved and invested in an Alo Warrior mat. A few years and countless yoga classes later, I still don't regret my choice.
My experience.
It's now been just over two years since I got an Alo mat of my own, and I don't think I'll ever go back. By far, my favorite thing about it is the overall feel, which is really the most important factor of a mat, right?
It's half a centimeter thick, and made with dense rubber, for a feel that's firm and supportive while also still offering some cushion for my joints. The mat is also moisture-wicking and beautifully nonslip, which as an avid hot yoga practicer, is super important. I do actually have a matching yoga towel, but on the occasion that I forget it at home, I'm always amazed that I can still grip this mat with my sweaty hands and feet.
And for what it's worth, the color selection for these mats is stunning. I'm by no means saying yoga should be about the aesthetic of your gear, but there is something to be said about having gear that's inviting and encourages you to get on the mat.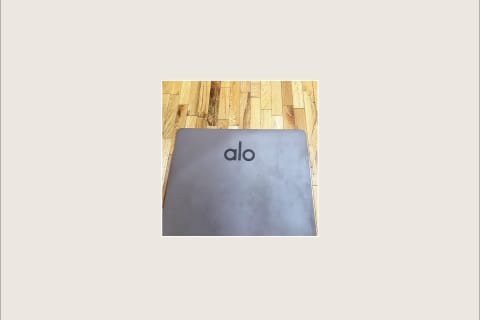 Image by Sarah Regan / Sarah Regan
A couple of cons I will mention, however, include the fact that the mat is essentially made of plastic and rubber, so it's not as environmentally friendly as biodegradable mats made of cork, for example. However, in the two-plus years I've had this mat, it's still in great shape (and super easy to take care of), so I do feel good knowing it will last me a long time.
It's also not a light mat by any means, but the weight comes with quality. Of course, a foam mat is going to be lighter to carry, only weighing a couple of pounds, but that means it can also slip around underneath you. The Alo Warrior mat weighs around 8 pounds; you might not want to hike up a mountain with it, but it will stay in place while you practice.
The takeaway.
The bottom line is, if you're ready to invest in a quality yoga mat, I can't recommend Alo's Warrior mat enough. While factors like thickness and material do ultimately come down to preference, of all the mats I've tried, this is definitely the one that's given me consistent support through all my classes, both as a teacher and student.
Sarah Regan
mbg Spirituality & Relationships Editor
Sarah Regan is a Spirituality & Relationships Editor, a registered yoga instructor, and an avid astrologer and tarot reader. She received her bachelor's in broadcasting and mass communication from State University of New York at Oswego, and lives in Buffalo, New York.