Need A Healthy Lunch Idea? Here's a Filling, Nutrient-Packed Smoothie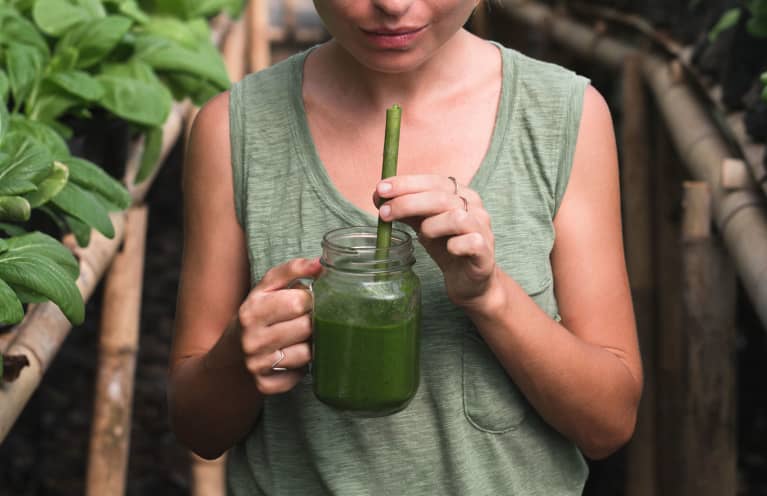 Our editors have independently chosen the products listed on this page. If you purchase something mentioned in this article, we may
earn a small commission
.
This bright, tropical collagen smoothie will leave you and your skin glowing!* The smoothie's coconut water base hydrates while delivering nutrients like potassium and vitamin C, plus mangos for an extra boost of the skin-brightening vitamin.* The spinach contains vitamin A, which can help support skin rejuvenation and manage free radicals. The pumpkin seed butter is a great source of healthy fats, which are not only essential for skin health but also help keep you full and satisfied.
The other small-but-mighty botanical boost in this smoothie is ashwagandha, an adaptogen known to help ease the mind and have powerful antioxidant properties. Lastly, we can't forget collagen: Collagen supplements have been shown to support skin elasticity and hydration, as well as smooth the appearance of fine lines.*
Plus, collagen delivers several key amino acids (the building blocks of proteins) to the confection, making this whip-thick smoothie an easy way to aid in your overall protein intake.* (However, collagen itself is an incomplete protein as it contains eight of the nine essential amino acids.) This particular collagen—mindbodygreen's beauty & gut collagen+—contains a plethora of other bioactives that support your hair, skin, and full-body health, such as vitamins C and E, biotin, turmeric, SGS, and L-glutamine.*
Tropical Protein-Packed Lunch Smoothie
1 cup coconut water
½ cup frozen banana
1 scoop mbg's beauty & gut collagen+
½ cup frozen mango
1 cup spinach
1 tablespoon pumpkin seed butter (I like this option, but you can always use almond or peanut butter if you don't have this.)
1 teaspoon ashwagandha root powder
Place all the ingredients into a blender and whir until smooth.
Pour into a glass, and top with pumpkin seeds or more nut butter to make it extra filling!