Your Plants Need Spring Cleaning Too: 5 Ways To Help Them Out This Season
mbg Spirituality & Relationships Editor
By Sarah Regan
mbg Spirituality & Relationships Editor
Sarah Regan is a Spirituality & Relationships Editor, and a registered yoga instructor. She received her bachelor's in broadcasting and mass communication from SUNY Oswego, and lives in Buffalo, New York.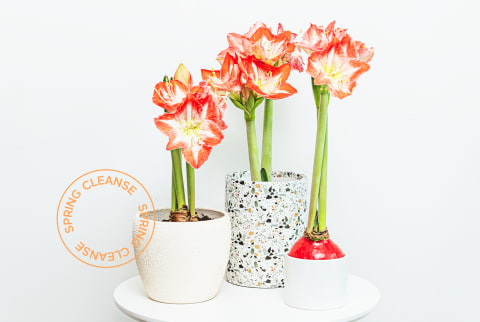 Image by Sophia Hsin / Stocksy
April 5, 2021
We carefully vet all products and services featured on mindbodygreen using our
commerce guidelines.
Our selections are never influenced by the commissions earned from our links.
Beyond dust and clutter, there's a lot of emotional debris that's built up all around us in the past year. mbg's Spring Cleanse series is here to help clear it away. Follow along for the first two weeks of April as we share nourishing, sustainable ways to embrace a lighter, brighter home—and toss any lingering heaviness into the (compost) bin.
Spring is a busy time for your favorite houseplants, and after a long winter, they might need a little extra attention. We asked greenery experts for their top plant care tips now that the seasons have turned, and here's what they had to say:
1.
Check to see if they need repotting.
According to Kierslyn Kujawa, Earth's Ally brand ambassador and plant influencer behind PlantedinPots, many of your plants may be due for a repotting come spring. Most plants need to be repotted in new soil every year or two. If water is draining through your plant too quickly (or not draining at all), that's a sure sign that it needs a new home.
You don't necessarily need to put your plant in a bigger pot, per se, unless it's showing signs that it's outgrown its current one.
2.
Up-pot if a plant needs it.
Now, some plants will need a bigger pot, to "set them up for success in the growing season," Maria Failla, founder of Bloom and Grow Radio, tells mbg.
Kujawa adds you can check the roots to determine if this is necessary. "If there are more roots than soil, it's probably time to go up a size," she says. "I usually never go up more than one to two sizes, though, as too big of a pot can cause a ton of issues!"
3.
Give them a good spring cleaning.
Just like all the other surfaces in our home, plants get dusty too—and can be breeding grounds for pests, as well. Failla recommends wiping your plants' leaves off with a damp rag or towel, "as dust tends to collect on our plant's leaves throughout the winter—and we need to dust them off to help set them up for the best photosynthesizing success." Out in nature, rain will naturally keep plants clean, "so it's good to try to honor that," she adds.
Kujawa also notes spring is a great time to make sure your plants are free of any insects and give them the proper pest control if need be.
Now that your plants are beginning to grow again, it's an excellent time to propagate, Kujawa tells mbg, noting that she "starts propagating plants like crazy" in spring.
Not only can propagating help you expand your own indoor jungle, she adds, but you can always swap cuttings with your fellow plant-loving friends so everyone can add new plants to their collections. (Be sure to check out our full propagation guide if you have any questions on how to do it!)
This last tip from Failla may not involve tending to your actual plants, but it can definitely help them: Clean your windows! She notes to make sure any residue from the winter elements is cleaned off the outsides, "to let the beautiful spring and summer sunlight in and help your plants thrive."
While you're at it, you'll want to give the insides a wipe-down as well. Thankfully, making your own DIY window cleaner couldn't be easier.
The bottom line.
Between the dry air and the lack of sunlight, winter can be tough on plants. When the growing season rolls around, our plants will fare much better if we give them a hand. So grab some fresh soil, dust off those leaves, clean your windows, and watch your plants start to flourish before your eyes.
Sarah Regan
mbg Spirituality & Relationships Editor
Sarah Regan is a Spirituality & Relationships Editor, a registered yoga instructor, and an avid astrologer and tarot reader. She received her bachelor's in broadcasting and mass communication from State University of New York at Oswego, and lives in Buffalo, New York.