The most exciting wellness event of the year is finally here! The high vibes here are building as guests arrive at our 2017 revitalize summit, and the part we've all been waiting for starts today: the expert panels and personal storytelling you won't hear anywhere else. The truth is that the biggest names in health and wellness from all over the country are gathering at the Ritz-Carlton, Dove Mountain, here in Tucson, Arizona, to discuss the big picture—the state of wellness today and where it's headed—but also the nitty-gritty details of trendy topics like intermittent fasting, birth control, women's health, breath work, the microbiome, and more. When all of these minds, good intentions, and energies come together, it's nothing short of magical. Peep the full agenda here!
The good news? You get to tune in to our talks from anywhere in the world: Simply visit mindbodygreen's revitalize page today starting at 9 a.m. PDT/12 p.m. EDT. To give you the 360-experience of being there, we're sharing the healthiest snacks, mantras to meditate on, and the best DIY masks for every type so you can sit back, relax, and come away from today feeling nothing but revitalized.
DIY Mask for Dry Skin, Hair, and Scalp
1 cup plain, unsweetened yogurt
⅓ banana
½ avocado
2 tablespoons aloe vera gel
1 tablespoon olive oil
Method
Put all ingredients in a blender and whip it up! A hand mixer will work too. Apply the mask to your face and/or scalp, and leave it on for 10 to 15 minutes. The consistency should be like brownie batter: thick but not runny. Rinse completely with warm water and pat dry with a muslin cloth.
Why it works: The milk enzymes and lactose in the yogurt work to exfoliate dead skin cells and nourish the skin's microbiome, priming it for a surge of moisture from healthy fats in the avocado and olive oil. The aloe vera minimizes redness and helps keep the skin protected even after the mask is over.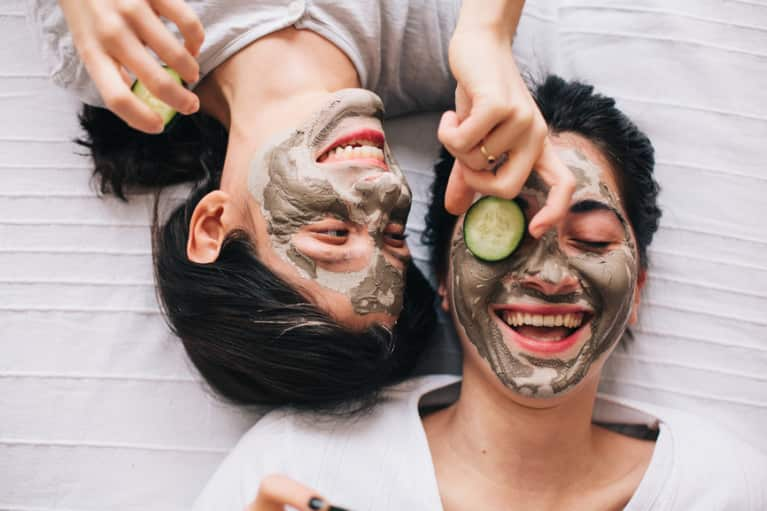 1 to 2 tablespoons lemon juice
1 teaspoon turmeric
½ papaya
1 teaspoon cinnamon
Method
Dice the papaya and put everything in the blender. If you don't have one, mash the papaya in a bowl with a fork before adding other ingredients. Combine the mixture well and apply to your face. Beware: Turmeric can stain hands, clothes, and sometimes faces, so use a hydrating cleanser before applying. Let this sit for 5 to 10 minutes before rinsing with warm water and patting dry with a cloth.
Why it works: The citric acid from the lemon is also an alpha-hydroxy acid, which has skin-brightening and exfoliating properties. Turmeric's anti-inflammatory properties will help banish redness, and cinnamon will increase circulation for a healthy glow. Enzymes from the papaya feed off dead skin cells, smoothing out the surface and evening skin tone.
DIY Mask for Oily or Congested Skin
2 to 3 tablespoons coffee (if you like the smell) or oatmeal (if you don't)
2 egg whites
1 tablespoon apple cider vinegar
4 strawberries
a sprig of mint
Method
Pulverize the mint in a mortar and pestle. Add the strawberries. Slip this mixture into a bowl with the remaining ingredients and stir or use a hand mixer to blend. Consistency should be a little runny.
Why it works: The egg white, apple cider vinegar, strawberries, and mint all have astringent qualities without the drying effects of alcohol found in many conventional beauty products made for oily skin. Leaving its natural barrier intact tells the skin to stop overproducing oil, leaving you with a clean-feeling, hydrated, happy complexion.
DIY Mask to Boost Vibrancy (for All Skin Types)
3 tablespoons Manuka honey (K-factor should be 16 or above)
1 tablespoon matcha powder
Method
This one's easy: Mix the Manuka honey and matcha powder until they're fully combined. Apply to face with fingertips or a brush and leave on for 15 or 20 minutes.
Why it works: Manuka honey is antibacterial, antifungal, and enzymes in raw honey help even the skin's tone and texture. The caffeine in matcha helps drain the skin, reducing excess puffiness and increasing circulation for a natural glow.
Come to mindbodygreen.com Saturday, September 9, at 9 a.m. PDT/12 p.m. EDT, to watch our livestream, presented by INFINITI, and follow #mbgrevitalize on social!
And do you want to turn your passion for wellbeing into a fulfilling career? Become a Certified Health Coach! Learn more here.