Contributing Wellness & Beauty Editor
By Lindsay Kellner
Contributing Wellness & Beauty Editor
Lindsay is a freelance writer and certified yoga instructor based in Brooklyn, NY. She holds a journalism and psychology degree from New York University. Kellner is the co-author of "The Spirit Almanac: A Modern Guide to Ancient Self Care," with mbg Sustainability Editor Emma Loewe.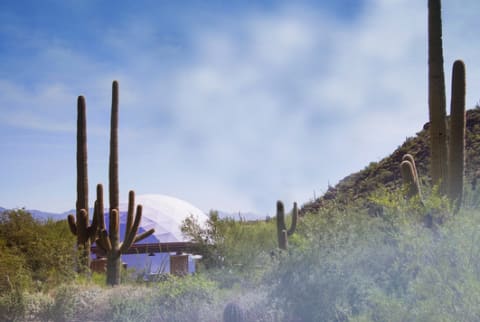 September 3, 2017
The greatest wellness event of the year is on the horizon. September 8 to 10, mindbodygreen is taking over the The Ritz-Carlton, Dove Mountain, in Arizona to host revitalize, our signature summit, featuring groundbreaking talks from wellness thought leaders. Last year's gathering sparked conversations that continue to be topics of discussion on the site and have led to real, impactful take-aways that changed people's lives. This year it'll be bigger and better than ever, and you're invited to livestream our full program of speakers—for free!
Is intermittent fasting a fad or the future of healthy eating? What's the connection between climate control and women's fertility? How can we come together to heal the planet and bridge the divides that separate us? Come to mbg every day this week for articles inspired by the compelling personalities and mind-opening topics that make this year's summit so special. Then be sure to come to mindbodygreen.com 9 a.m. PDT/12 p.m. EDT to livestream our inspiring panel speakers and get juicy, behind-the-curtain coverage from our editors on the scene. Last year over a million people live-streamed revitalize, and this year we have unprecedented interest. While we wish everyone could be with us in Arizona taking in sunrise hikes, one-on-one sessions with wellness stars like fascia expert Lauren Roxburgh and Ironman Champion Hillary Biscay, and yoga flows all weekend-long, we'll make your at-home streaming experience special, with the snacks to eat and face marks to wear while streaming, plus an exclusive peek into our gifting suite!
Advertisement
This ad is displayed using third party content and we do not control its accessibility features.
Don't Miss a Minute of the revitalize Lineup
Saturday, September 9, 2017, 9 a.m. PDT/12 p.m. EDT
Facing Fear: Hill Harper: A fan favorite from last year's conference, actor, author, philanthropist, and cancer survivor Hill Harper will discuss facing fear in uncertain times.
Revitalizing the Climate Change Conversation: Paul Hawken: Famed environmentalist, author, speaker, and entrepreneur Paul Hawken will share the latest trends in sustainability, leaving us feeling hopeful and empowered.
Struggling in Silence: Social Media, Sports, & Mental Health: Kate Fagan: ESPN sports writer Kate Fagan will speak about social media, sports, mental health in her talk, "Struggling in Silence," born from the discussion sparked by her new book, What Made Maddy Run.
Yogis Get Cancer, Too: Lisa Merkle: Back in April, Lisa wrote a story called "Yogis Get Cancer Too," sharing her own experience of getting cancer while living a healthy lifestyle and the vulnerability she felt once she realized her wellness habits did not keep her from illness. We're thrilled she's joining us to expand the conversation.
Sick, Tired, & Stressed: Solutions to the Women's Health Crisis: Aviva Romm, M.D.: Midwife, doctor, herbalist, and mother of four, Aviva Romm will discuss the modern-day women's health crisis and how wellness has become the answer for many women who have found Western medicine lacking.
Becoming a Doctor, Losing Myself: Emily Silverman, M.D.: As a newly minted doctor, Emily Silverman will discuss the limitations of Western medicine when it comes to undiagnosed chronic illnesses and how that gives way to wellness and alternative healing modalities.
The Next Great Nutrionists Revealed: mbg and PepsiCo North America Nutrition will reveal the winners of our next great nutritionist contest!
The Future of Fitness Tech: Daniel Chao, Ph.D., and Cavan Canavan, the wellness tech entrepreneurs behind the Halo Neuroscience headset and FocusMotion tracker talk about the future of fitness tech in partnership with Forbes and INFINITI.
Microbiome & Mitochondria: Frank Lipman, M.D., and Vincent Pedre, M.D., review the most recent search on gut health, mitochondrial energy, including the implications of both and how we can optimize them.
Intermittent Fasting: Steven Gundry, M.D., and Jason Fung, M.D., answer tough questions about whether fasting is good for everyone, especially women, and the healing it can provide for many troubled with weight-loss issues and endocrine imbalances.
New Horizons in Healing: Mark Hyman, M.D., and Carrie Diulus, M.D., will discuss ketosis, stem cells, and ozone therapy and the role they play in the healing of the individual and the planet at large.
Breath: The Next Wellness Frontier: Neuroscientist Andrew Huberman, breath-work guide Ashley Neese, and endurance athlete Brian Mackenzie discuss how breath work has changed their lives, the breaking science around breath, and the ways in which we can use our breath for spiritual, emotional, and physical healing.
Performance and the Pursuit of Balance: Meredith Kessler: The triathlete and 11-time Ironman champion will give her perspective on the pursuit of balance in the context of personal discipline, competition, and professional racing.
Advertisement
This ad is displayed using third party content and we do not control its accessibility features.
Come to mindbodygreen.com Saturday, September 9, at 9 a.m. PDT/12 p.m. EDT, to watch our livestream, presented by INFINITI, and follow #mbgrevitalize on social!
Advertisement
This ad is displayed using third party content and we do not control its accessibility features.