Give Yourself The Gift Of Easy Dinners: 10 Fast, Simple Weeknight Meals

Contributing Food Editor
By Liz Moody
Contributing Food Editor
Liz Moody is a food editor, recipe developer and green smoothie enthusiast. She received her creative writing and psychology degree from The University of California, Berkeley. Moody is the author of two cookbooks: Healthier Together and Glow Pops and the host of the Healthier Together podcast.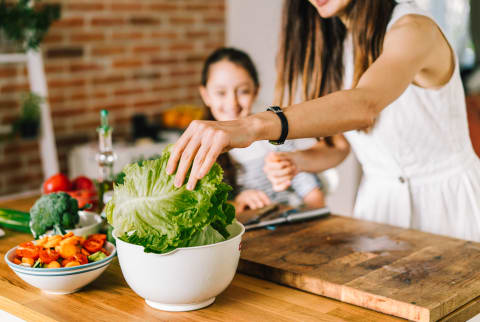 Image by Dejan Ristovski / Stocksy
May 6, 2019
Here at mindbodygreen, we believe in trying your best, but accepting that life—and parenthood—is a journey, with ups, downs, and potholes along the way. That's why this Mother's Day week we're introducing (Mostly) Mindful Mamas week, where we're offering stories to help the mother figures in our lives get back a bit of that time, through wellness that isn't perfect but feels achievable. Instead of spending one day at the spa, our stories this week focus on small changes moms can make now that will last long past Sunday. We also know this isn't an easy week and time of year for a lot of people, and our hearts are with anyone feeling tender. Wishing you all a good week...
Eating a healthy, nourishing meal is a priority of most parents out there—but after a long day, it can feel daunting to fire up a stove or prep a ton of ingredients.
The good news? It's easier than you think to make a weeknight meal in less than 20 minutes if you know the hacks to make it happen. With the help of some of our fave celeb moms, we're sharing 10 simple recipes to get a healthy meal on the table, stat, so you can spend less time in the kitchen and more time enjoying the people and activities you love.
1. Roasted Butternut Squash & Pomegranate With Garlicky Honey-Dijon Dressing
Chrissy Teigen is certainly the definition of #momgoals, and her equal parts decadent and nourishing salad is a weeknight meal that the whole family will love. According to Teigen, the "roasted squash and little pom jewels that burst in your mouth and creamy goat cheese and a dressing you'll want to put on all your other green leafy things are magic." Get the full recipe here.
2. Chickpea Turmeric Stir-Fry
With just a can of chickpeas and a few pantry staples, you can quickly whip up a satisfying, delicious meal—and all it takes is one skillet. The anti-inflammatory powers of the dish come from everyone's favorite super spice: turmeric. "Turmeric has been found to reduce inflammation in numerous studies," explains the registered dietitian who developed the recipe. "Turmeric can also help relieve pain, as shown in many studies, including one1 that showed it was as powerful as Advil in certain instances." Get the full recipe here.
3. Stone Fruit Grain Salad
If you're looking to take advantage of summer's produce bounty, this stone fruit salad will be your new go-to. With cherries, nectarines, and fresh mint, it's elevated by harissa and preserved lemon juice, which both pack a ton of flavor without requiring more time or effort. You can use your grain of choice as a base—farro is a hearty, nutty staple, but quinoa is a great option for gluten-free folks. Get the full recipe here.
4. Gluten-Free Veggie Waffles
Did you know you can turn pretty much any vegetable into a waffle? This recipe lets you choose your own adventure, using sweet potatoes, carrots, zucchini, red pepper, or a mix of all of them to make a quick and easy savory waffle that's oh-so-crave-worthy. Serve it with some peppery arugula, or top it with an egg for an unexpected weeknight meal. Get the full recipe here.
5. Sleepytime Dinner Smoothie
Smoothies are a go-to for many health experts when they don't have time to make a more typical dinner—you can get tons of nutrients in less than five minutes with a quick whiz of the blender. This recipe takes it to the next level by including two ingredients actually proven to help you fall asleep faster and get more high-quality rest. Plus, it tastes just like pumpkin pie. Get the full recipe here.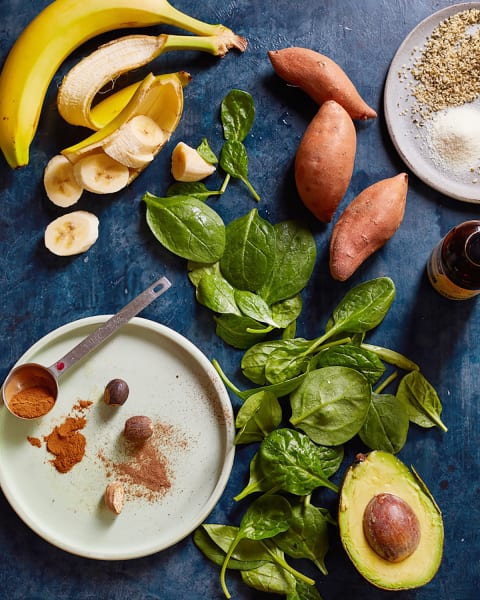 6. Jerk Chicken Sheet Pan Dinner
Daphne Oz knows what it's like to be a busy working parent, and she definitely keeps that in mind when developing her recipes. "I love this recipe because it's a one-pan roasted dinner that gets main and sides done in one," Oz told mbg. "It's healthy but super flavorful and makes for an amazing Caribbean-inspired jerk chicken salad with leftovers. My kids LOVE sweet potato (so do I), and it is only more delicious when cooked in chicken fat. I make the kids' chicken a little sweeter with a side of BBQ sauce for them to dip into, and my husband and I make ours a bit spicier with hot sauce." Get the full recipe here.
7. Black Bean and Mango Tacos
These no-cook, vegan tacos involve little more than opening a can of black beans and quickly dicing a mango—but with the addition of a few flavor boosters, they become a mind-blowing weeknight meal. Packed with protein and fiber with the perfect mix of sweet and spice, they'll be your new go-to (hot tip: If you forgo the tortillas, the mixture is a delicious hearty summer salad!). Get the full recipe here.
8. Japchae (Stir-Fried Sweet Potato Noodles)
These stir-fried sweet potato noodles are packed with veggies, totally paleo, and boast a bright, umami-rich flavor that'll get you excited about dinner. It also comes together in just under 20 minutes total. Get the full recipe here.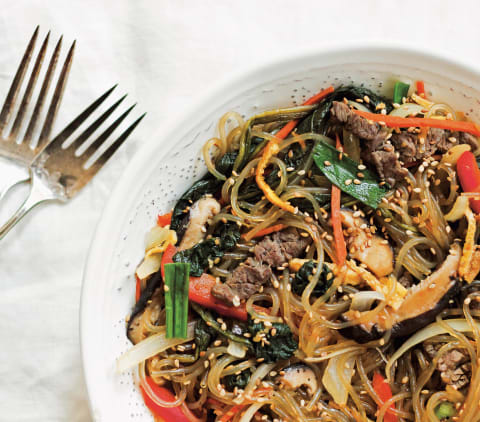 Image by Jean Choi / Contributor
9. Curried Chicken Lettuce Cups
Some ground chicken is all you need to make these piquant, flavor-packed lettuce cups, which invite in all of the flavors of curried chicken with no dairy or inflammatory ingredients. Instead, ginger, coconut aminos, and plenty of fresh vegetables and herbs are used to build layers of deliciousness—and all of that magic is wrapped in a cooling, fresh lettuce cup for the perfect warm-weather meal. Get the full recipe here.
10. One-Pot Pea, Lemon & Asparagus Pasta
Famed celebrity chef Anna Jones splits her time between developing recipes for her Guardian column, writing best-selling books, and running after her 3-year-old—so when she wants a weeknight meal, it needs to be quick but packed with flavor. "This pasta is a complete revelation," she says. "The sauce is magically made from the pasta water and asparagus as the pasta cooks—all in one pot." It's also super creamy, despite being dairy-free, thanks to the starches from the cooking water. Get the full recipe here.